In Memoriam
Remembering Wood and Sorimachi
In memoriam: Willis Wood
Willis Avery Wood, a microbiologist who studied enzymes of bacteria and metabolism of sugars and amino acids, and a member of the American Society for Biochemistry and Molecular Biology for more than 60 years, died Jan. 17. He was 99.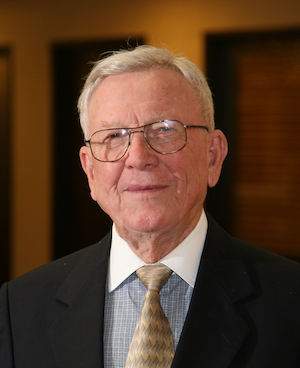 Willis Wood
Born in Johnson City, New York, in 1921, Wood was an Eagle Scout and a first lieutenant in the Quartermaster Corps during World War II. After earning a bachelor's degree in bacteriology from Cornell University in 1947, he followed his faculty advisor Irwin C. Gunsalus to Indiana University, where he received a Ph.D. in microbiology.
In 1950, Wood joined the dairy science department at the University of Illinois. In 1955 he received the Eli Lilly Award in Microbiology and Immunology. At Michigan State University, Wood helped form the biochemistry department and served as its chair from 1968 to 1974.
Wood studied microbial metabolic enzymes that use the molecule pyridoxal phosphate as a coenzyme. His lab characterized the structure and activity of enzymes involved in amino acid metabolism that use pyridoxal phosphate, from numerous bacterial and fungal strains. They also notably found that an E. coli threonine dehydratase required both the pyridoxal coenzyme and a dimerization-promoting adenosine monophosphate ligand to reach peak activity. It was the first known example of ligand-induced oligomerization activating an enzyme.
Wood developed a recording spectrophotometer with photomultiplier feedback loop and an automatic cuvette changer. This system, which could follow and record up to four enzyme-catalyzed reactions simultaneously, was widely used in enzyme research.
Wood was a founder and first president of the Neogen Corporation. In 1982, he became director of microbiology for Salk Institute Biotechnology Industrial Associates, researching microbial enhanced oil. In 1990 he joined the Agouron Institute as principal scientist and vice president.
Wood was married to Alice Jane Spencer from 1947 until her death in 1975. In 1976, he married Hazel Katherine LeGrand, who died in 2012. He is survived by a son, two daughters, four grandchildren, and four great-grandchildren.
In memoriam: Hiroyuki Sorimachi
Hiroyuki Sorimachi, a Japanese researcher and biochemistry educator, died Oct. 1, 2019, ASBMB Today learned recently.
Hiroyuki Sorimachi
Sorimachi was born April 24, 1963, in Yokohama City, Japan, the son of Yoichi and Michiko Sorimachi. He received a Master of Science in 1988 and a Doctor of Philosophy in 1992, both from the University of Tokyo.
He was head of the department of advanced science for biomolecules and project leader on calpains at the Tokyo Metropolitan Institute of Medical Science. He had been an assistant professor at the Institute of Molecular and Cellular Biosciences at the University of Tokyo from 1992 to 1997 and an associate professor at the university's department of applied life sciences from 1997 to 2004.
His interests included enzymology, the molecular bases of disease, and protein synthesis and degradation. He focused on studying the structure and functions of calpains, and his last paper as a coauthor, published posthumously, was on developing a fluorescence sensor probe to capture an activated muscle-specific calpain in living muscle cells.
Sorimachi received the Japanese Biochemical Society Young Investigator Award in 1999, a staff award from the Tokyo Metropolitan Organization for Medical Research in 2007 and a Lifetime Achievement Award from the Federation of American Societies for Experimental Biology Summer Research Conference on the biology of calpain in health and disease in July 2016, where he hosted a session, "Bioinformatics of Calpain Substrates and Measuring Activity."
Married to Noriko Toyama since February 1991, according to an online biography, Sorimachi enjoyed playing and watching baseball, computers, driving, beer and musicals.
Join the ASBMB Today mailing list
Sign up to get updates on articles, interviews and events.
Latest in People
People highlights or most popular articles