Diversity
Six questions for three presidents
College and university leaders from underrepresented groups talk about how a background in science serves them at the academic helm
All life scientists navigate academia, at least in the early stages of their careers. These encounters evolve in commitment and complexity depending on whether they occur as undergraduates, graduate students, postdoctoral fellows, faculty or — for a few — administrators.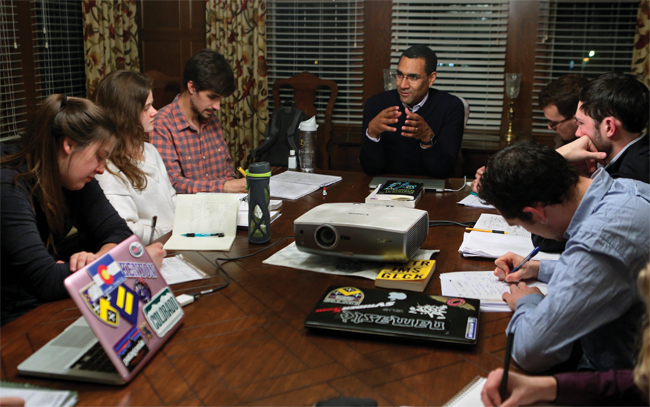 Sean Decatur, president of Kenyon College in Ohio, and students gathered around his dining room table in spring 2016 for a seminar, "Case Studies in Protein Structure, Dynamics and Function." He plans to teach another seminar, on bioluminescence, this year.
Courtesy of Kenyon College
Life sciences faculty at times assume leadership positions in academia that make good use of their background and skills as they face such issues as enrollment challenges, funding and the need to diversify certain disciplines. These administrative roles allow scientists to have a positive impact on the future of education, particularly training young biochemists and molecular biologists who ultimately will work to advance science and improve human health.
Biochemists and molecular biologists who move from the bench to college and university presidencies do so from a variety of backgrounds. Here, we present the views of three such presidents who are also from underrepresented groups: Juliette Bell of the University of Maryland Eastern Shore, Sean Decatur of Kenyon College in Ohio and Roy Wilson of Wayne State University of Michigan. Their schools and their academic backgrounds vary, but these three share certain key traits, including adaptability, a knack for picking up multiple skills and a unique ability to serve as role models for the next generation of scientists.
Describe your science background and discuss how it benefited you on your path. In your current role, how do you convey your passion for biochemistry and molecular biology or the scientific enterprise to burgeoning scientists?
BELL: I have a B.A. in chemistry from Talladega College and a Ph.D. in chemistry with a biochemistry concentration from Atlanta University. I also completed three and a half years as a postdoctoral fellow in biochemistry at the University of North Carolina at Chapel Hill. I am currently president of the University of Maryland Eastern Shore, an 1890 land-grant historically black university with a strong focus on science, technology, engineering and mathematics, or STEM, as well as agriculture and the health sciences. My science background was a great match for the priority on STEM at UMES, the University System of Maryland, and the state of Maryland. I convey my passion for science and research by actively and personally participating in and supporting undergraduate, graduate and faculty research activities. I also mentor students, work with professional organizations and work to strengthen the infrastructure for the sciences on my campus.
DECATUR: I majored in chemistry (with a minor in biology) as an undergraduate at Swarthmore College; then I went on to complete a Ph.D. at Stanford University in biophysical chemistry. My interests since graduate school have focused on spectroscopic approaches to studying protein structure, dynamics and folding, and for about 20 years (until I became president at Kenyon College), my research was supported by the National Science Foundation (including a CAREER award), National Institutes of Health and private foundations.
In my current role, I value the opportunities I have to teach and advise students (I am teaching a seminar in spring 2018, and I regularly advise students at Kenyon). In addition, I am pleased to support efforts of my faculty colleagues in the natural sciences to expand opportunities for research to students underrepresented in the sciences and to make the pedagogical approaches more inclusive. I am very proud of Kenyon's successes in this area over the past year, including an initiative funded by the Howard Hughes Medical Institute's inclusive excellence program, an NSF Scholarships in STEM program and a Clare Booth Luce grant to support undergraduate women to pursue research.
WILSON: I have a bachelor's degree in biology and pursued extra training in epidemiology/biostatics while I was in medical school. Later, when I was a faculty member, I pursued a Master of Science in epidemiology. I have collaborated extensively with trainees and junior colleagues in research work leading to publications.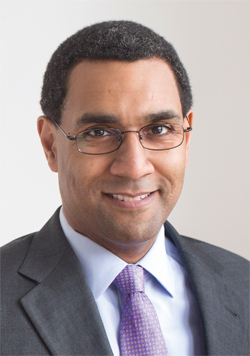 Sean Decatur, president of Kenyon College, started out as an assistant professor of chemistry at Mount Holyoke College, then was dean of the College of Arts and Sciences at Oberlin College.
Courtesy of Kenyon College
What additional experience qualified you for the position of president (for example, were you a department chair or dean)? How did those experiences help prepare you to be president?
BELL: Before becoming president, I served as director of biomedical research, dean of the college of science and as provost and vice president/chancellor at three institutions. These experiences taught me leadership and management skills, which are essential in the presidential role. I also learned financial management, fundraising/friend raising, government relations, athletics and other areas essential to the presidency. Serving as a faculty member and in these various roles also increased my credibility with faculty, since I could relate firsthand to the challenges faculty face.
DECATUR: I rose up through the traditional faculty ranks, beginning my career as an assistant professor at Mount Holyoke College. Soon after I received tenure, I became chair of my department, and after that I took on responsibility for a number of institutional grant projects, becoming an associate dean of faculty. I moved from Mount Holyoke to Oberlin College, where I took on the role of dean of the College of Arts and Sciences, the chief academic officer for the college.
In this way, my career has been a gradual rise in administrative responsibilities. But my administrative work has roots in my scientific work. It was in my research program that I learned how to manage a budget, set out a plan for work and supervise a staff, all of which have served me well in my later work.
WILSON: I came up through a traditional academic system by first becoming a department chair in ophthalmology and then dean of the medical school (Charles Drew University of Medicine and Science), then dean of another medical school and vice president for health sciences (Creighton University), then president of a free-standing health science enterprise (Texas Tech University of Medicine and Science), then chancellor of the University of Colorado Denver (consisting of the general academic and health science campus). I then did a short stint at the NIH before coming to Wayne State.
Part of leadership is being able to bring people together and to resolve conflict. What experiences do you have that enable you to do this effectively?
BELL: As president, one must respond to many constituents. These include students, parents, faculty, staff, boards, legislators, partners, colleagues, accrediting bodies, business and community leaders, funders, and the list goes on. One must be a good listener, a good communicator and a consensus builder. It is also essential that you have good analytical skills and the ability to solve problems. These are skills well-suited to scientists and researchers. I often say that I use the scientific method every day as president. Learning how to arrive at win-win solutions to problems and conflicts is an ongoing learning process.
DECATUR: Managing people and relationships was an important component of running a research program, and the skills I learned in that work formed a valuable foundation for managing larger teams and eventually for my work as president. In all of this, listening is probably the most important skill I have needed to practice and hone; often what is most important for resolving conflict is to make sure that all voices are heard and respected.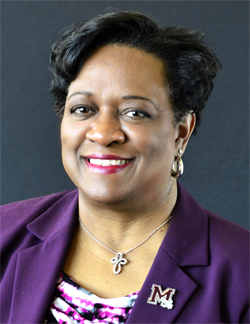 Juliette Bell, president of the University of Maryland Eastern Shore, previously served as a director of biomedical research, dean of the college of science, and provost/vice president/chancellor at three institutions.
Courtesy of the University of Maryland Eastern Shore
WILSON: No specific experiences come to mind. I learned by making a lot of mistakes and learning from mistakes.
How did being an underrepresented minority help to shape your experiences and how you serve your institution?
BELL: As an African-American female biochemist, I was often characterized as a "double minority" in many of the professional environments I worked in prior to entering academia. Having overcome many challenges in achieving my goal of a career in science and research, I chose to use my experience, skills and passion to encourage and support other underrepresented minorities in achieving their dreams. This is what led me to devote my career to teaching, research and service at historically black institutions. Leading an HBCU is the ultimate opportunity for service to my community.
DECATUR: I am the first African-American, and first person of color, to lead Kenyon College. While the work of building a diverse and inclusive community should not (and does not) fall exclusively to leaders who are also members of underrepresented groups, I do feel that it is important that I keep issues of diversity and inclusion as key institutional priorities.
WILSON: I experienced a lot of what minority students experience in higher education today, so I can identify with their challenges and struggles. I believe these experiences have made me empathetic, and I try to influence policy that will positively impact all students.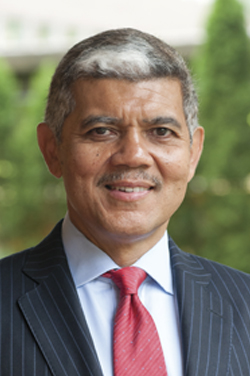 Before he was named president of Wayne State University, Roy Wilson earned an M.D., was dean of two medical schools, held administrative positions at two universities and worked at the National Institutes of Health.
Courtesy of Wayne State University
Most aspiring young biochemists/molecular biologists do not plan a path toward leadership, and many do not pursue a high-ranking leadership position. Did any specific experience(s) lead you toward that goal?
BELL: For the first 12 years of my academic career, I was content teaching, conducting my research and serving as the director of several training programs. I increasingly became dissatisfied with the level of support for research at my university. I had the opportunity to share my concerns and suggestions for change with a new president. That president told me that if I wanted things to change, I had to be willing to take a leadership role and not just stand by and complain. I took her up on that advice and accepted an interim dean's position. I subsequently applied for and won the dean's job, then provost, and the rest is history.
DECATUR: I have always been interested in educational leadership, since I was an undergraduate (my Ph.D. adviser recently reminded me that I mentioned this in my graduate school application). But, over time, my view on how I could influence the educational experience of students gradually expanded from a focus on a specific classroom experience to the departmental level to the institutional level.
WILSON: I did not have an "aha" moment. I was thrown into leadership roles from the very beginning of my career, and I performed other faculty roles, such as teaching and research, concurrently. I knew there was no turning back when I became dean of medicine at Creighton.
How have the events of the past year (demonstrations in Charlottesville and by NFL players, actions by President Trump and congressional leaders) been reflected on your campus?
BELL: As HBCU students, my students are very aware of issues impacting diversity and inclusion, equity and social justice. The events of the past year have further increased awareness, especially as it relates to events in Baltimore, home to many of my students. This has sparked discussions and social and political action among UMES students.
DECATUR: Our nation has been burdened with deep-rooted legacies of racism for a long time, and the events of the past few years (not just 2017 but dating back to the tragic deaths of Trayvon Martin in 2013 and Michael Brown in 2014) have made the struggle for racial justice more visible and more urgent. College campuses are places where the nature and impact of discrimination can be examined with rigor and are often on the front lines of positive change. At Kenyon, the events of the past few years have provoked important discussion, led to reflection about our own practices as an institution and catalyzed the process of change.
WILSON: Like many other universities, we've had to confront a number of problematic issues this past year, including the immigration ban, overt racism, the assault on science, etc. We've tried to be true to our mission and our values during these times. We've communicated frequently with our entire university community and have sponsored many discussion sessions where people can express their feelings and concerns.
Enjoy reading ASBMB Today?
Become a member to receive the print edition monthly and the digital edition weekly.
Learn more
Get the latest from ASBMB Today
Enter your email address, and we'll send you a weekly email with recent articles, interviews and more.
Latest in People
People highlights or most popular articles