Feature
2021 holiday gift guide
We hope this gift guide helps you knock your holiday giving out of the park. All these gifts can be delivered right to the recipient's door, and many are made by small independent businesses. We've got something for just about every age and price range. Whether it's for your favorite scientist or a treat for yourself, get gifting!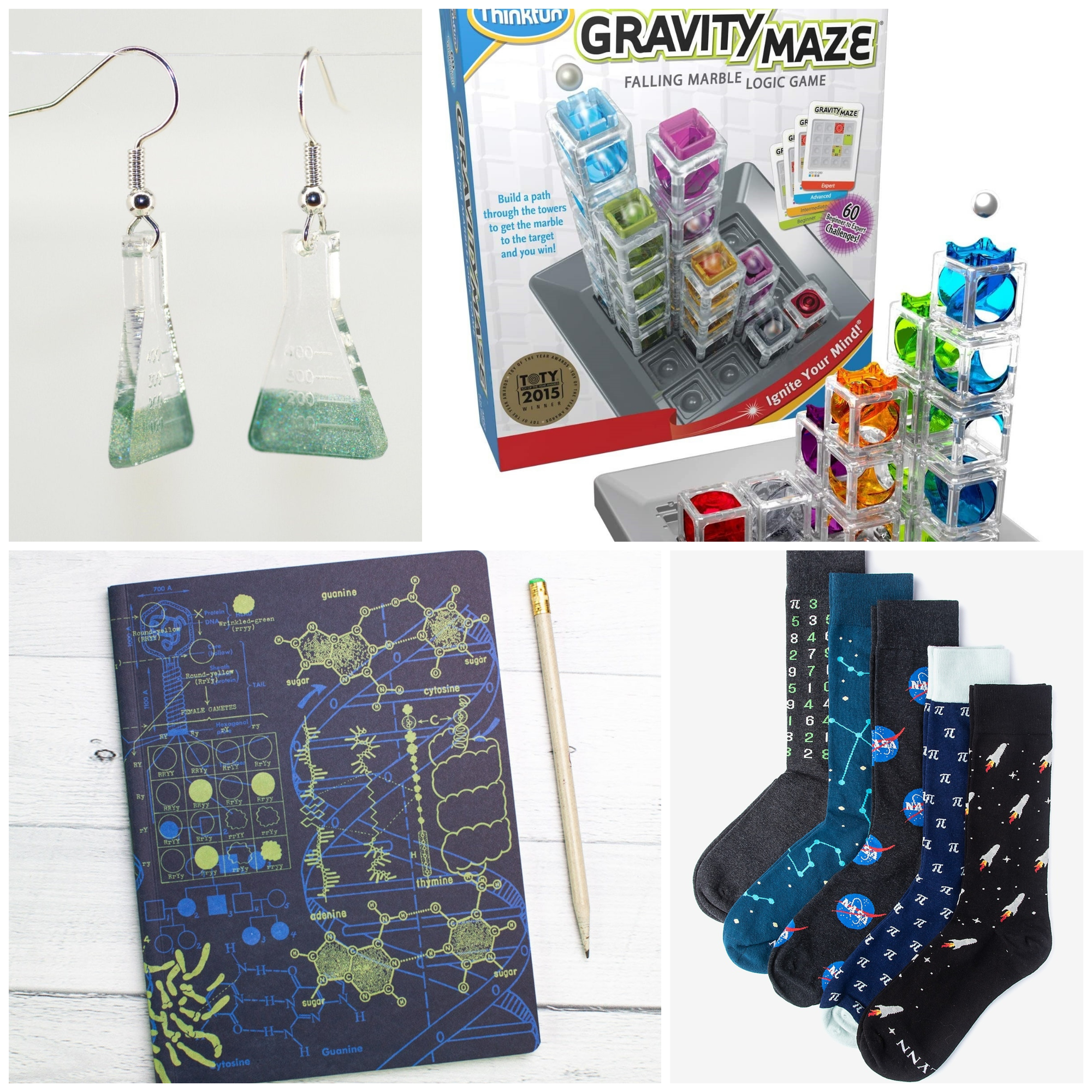 Clockwise from top left: conical flask earrings, gravity marble maze, multi-color scientist socks, genetics & DNA notebook.
Conical flask earrings
, $14.13
These acrylic conical earrings are the quintessential gift for a scientist or an aspiring scientist. Each pair is unique and handmade with love. Academics, researchers, teachers, and enthusiastic science fans will love this quirky nod to their passion.
ThinkFun Gravity Maze
, $29.99
A falling marble logic game for adults and children age 8 and older with 60 challenges from beginning to expert.
Multi-color scientist socks
, $60.50
Embrace the scientist within you with this set of comfortable socks inspired by astronomy, elements of physics and mathematics. This is the perfect gift for your favorite science nerd and will keep their toes warm during this holiday season.
Genetics & DNA softcover notebook
, $24.95
Express yourself with this DNA-inspired softcover journal notebook. Meandering around the azure cover are visualizations of DNA, pedigree charts and Mendel squares in yellow and indigo. Carry the informative theme through the pages by filling them with notes from lab, or pass it along to a loved one.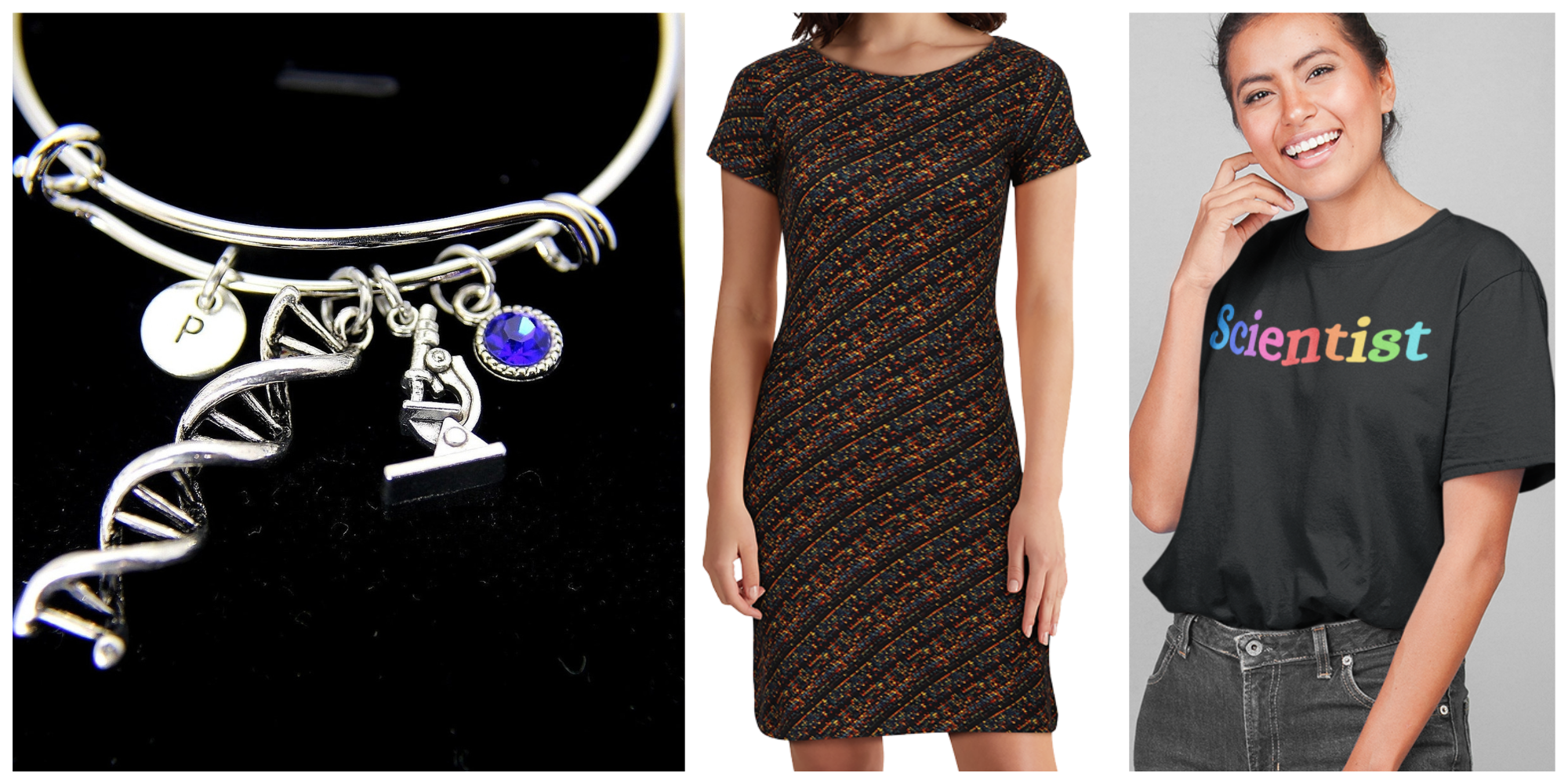 Left to right: DNA bracelet, genome Dorothy dress, scientist rainbow shirt.
DNA bracelet
, $15.40
This simple, but beautiful and versatile bangle-style DNA helix bracelet makes a great gift for your loved ones. The bracelet can be customized to include initials as well as a birthstone.
Genome Dorothy dress
,
$64.99
Do you have a scientist on your list who likes to represent their research in their fashion? If so, this dress is a great option. Per maker Svaha: "Each of the colors represents a specific base of the genetic code."
Scientist Rainbow Shirt
, $23
Show support for an inclusive scientific community and LGBTQIA+ in STEM pride with this tee from the Science Plus Coffee shop on Etsy, which has lots of other great gifts for scientists, from mental health tees to pronouns face masks.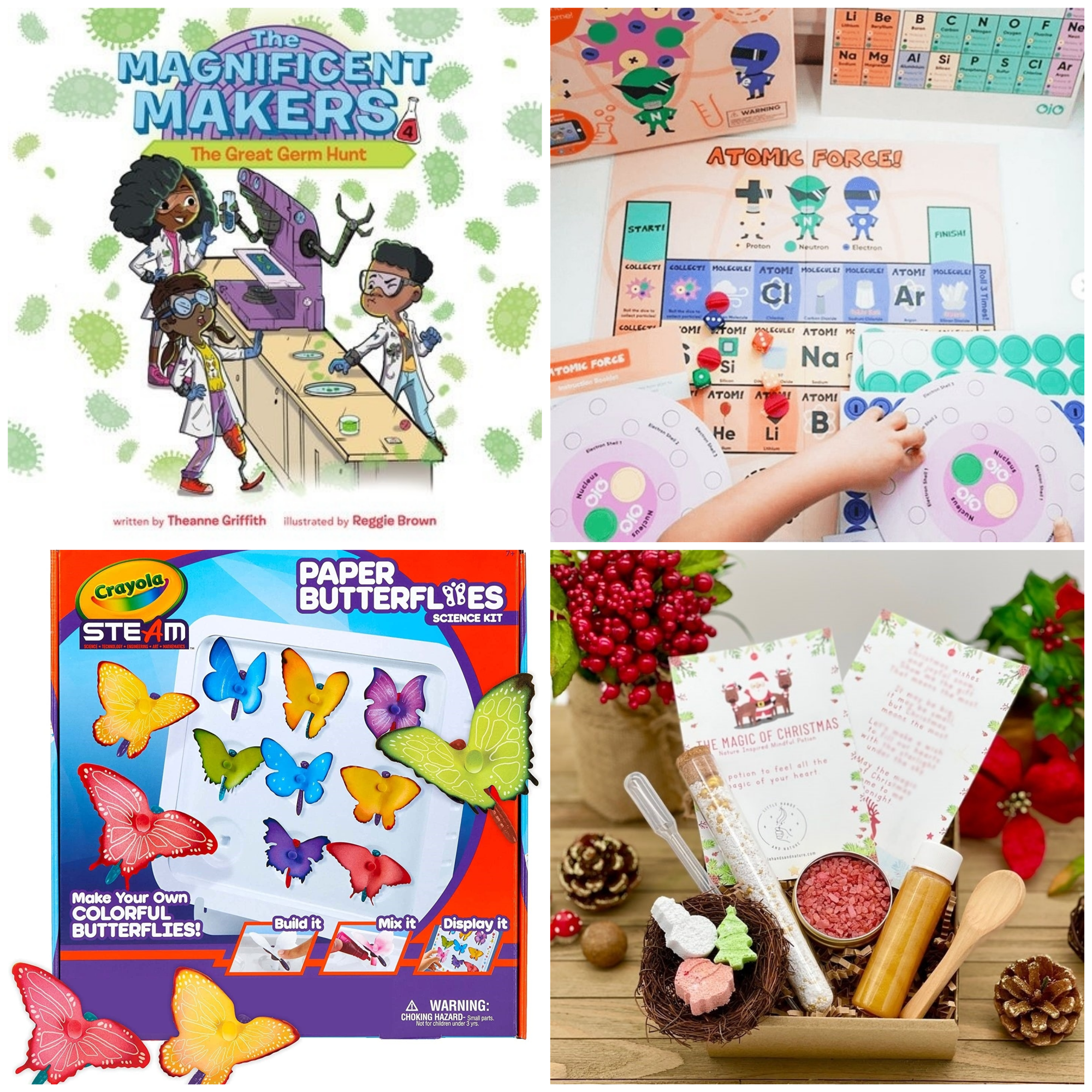 Clockwise from top left: "The Magnificent Makers" book, Atomic Force! Game, Magic of Christmas sensory set, paper butterfly kit.
The Magnificent Makers, $5.99
This early children's chapter book series written by neuroscientist Theanne Griffith is known as a modern-day Magic School Bus. The series covers everything from sound waves to icky germs with science activities included in some of the books! (Each book is ~$5.99, and they are sold everywhere from Amazon to Target).
Atomic Force!, $28.14
With this board game, children ages 6 to 8 can learn how to build chemistry elements and compounds for items they will use in their everyday life.

The Magic of Christmas – Potion and Spell – Sensory Kit for Kids
, $20.65
By mixing and scooping, children see a potion fizz, change colors, sparkle and explode.
Crayola paper butterfly science kit, $29.99
This kit contains everything you need for children age 7 and older to create colorful lepidoptera.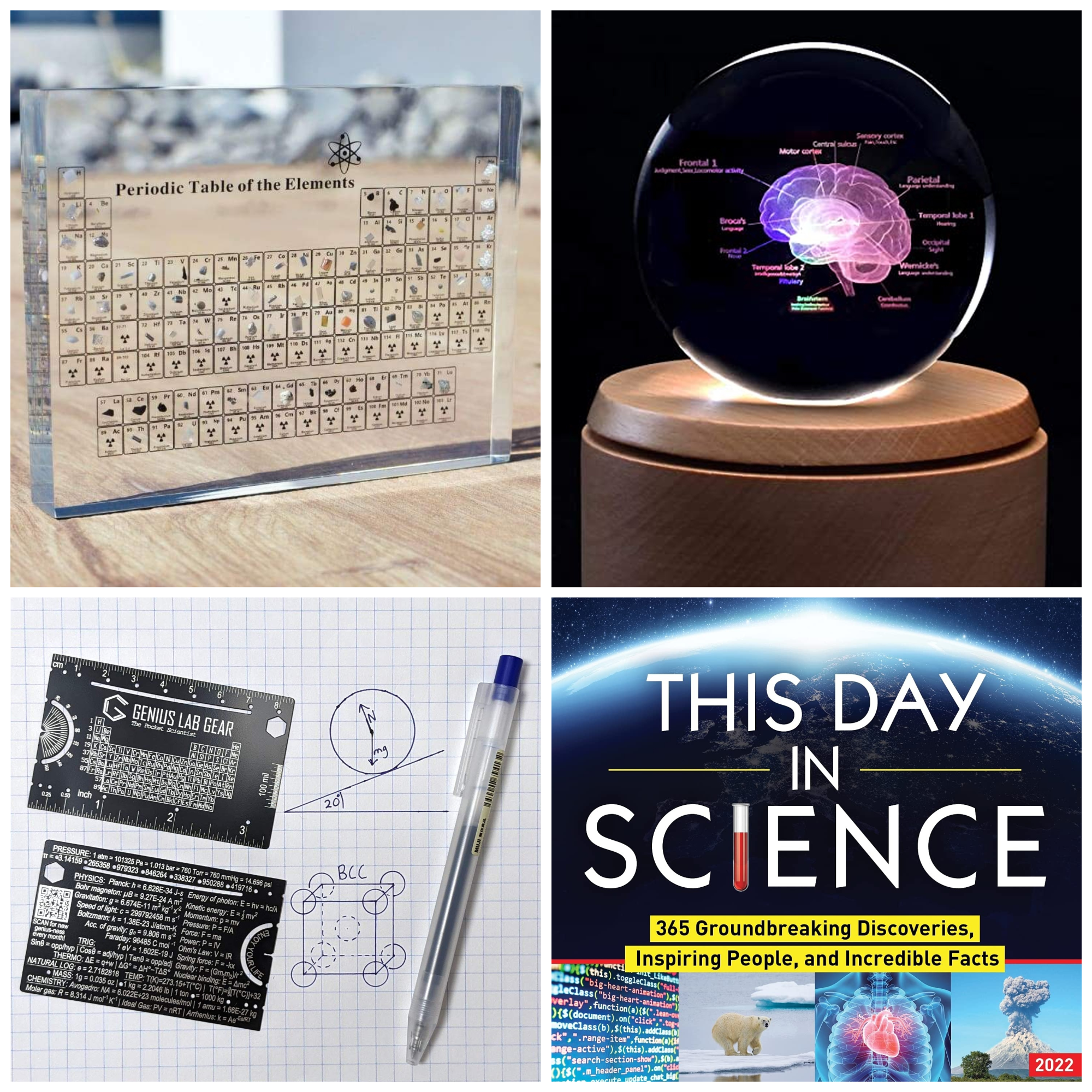 Clockwise from top left: periodic table with real elements, human brain paperweight, 2022 science calendar, pocket scientist ruler scale.
Periodic table with real elements
, $84.95
With some elements that are even more expensive than gold, this periodic table features 83 real samples for a stunning display as well as an interesting learning opportunity for young scientists. This periodic table makes it an ideal gift for chemistry lovers and science enthusiasts.
Human brain with labels paperweight
, $57.99
An interesting gift for your favorite neuroscientist. This human brain paperweight with labels makes it easy to dig into the mystery of the human brain, making it a gift with lasting impression.
2022 This day in science calendar
, $12.60
Remarkable science has never been more inspirational — or more important. Stay up-to-date with advances in science and technology, including new findings in evolution and the cosmos. This day-to-day boxed calendar features a groundbreaking new discovery for each day to fill your year with unbelievable wonders. With 365 pages of science trivia and events to fascinate, this modern-day history calendar is a perfect gift for teachers or bosses, as a holiday stocking stuffer or a desk gift for anyone.
The pocket scientist: ruler scale & unit conversion
,
$11.99
Containing 12 physical constants and 14 fundamental equations from physics as well as a quick guide for temperature, mass and pressure unit conversions, this pocket scientist ruler–protractor scale makes a thoughtful gift for everyone. As small as a standard credit card, you can carry this ruler in your wallet. Always be ready to take a quick measurement or accurately sketch a new design.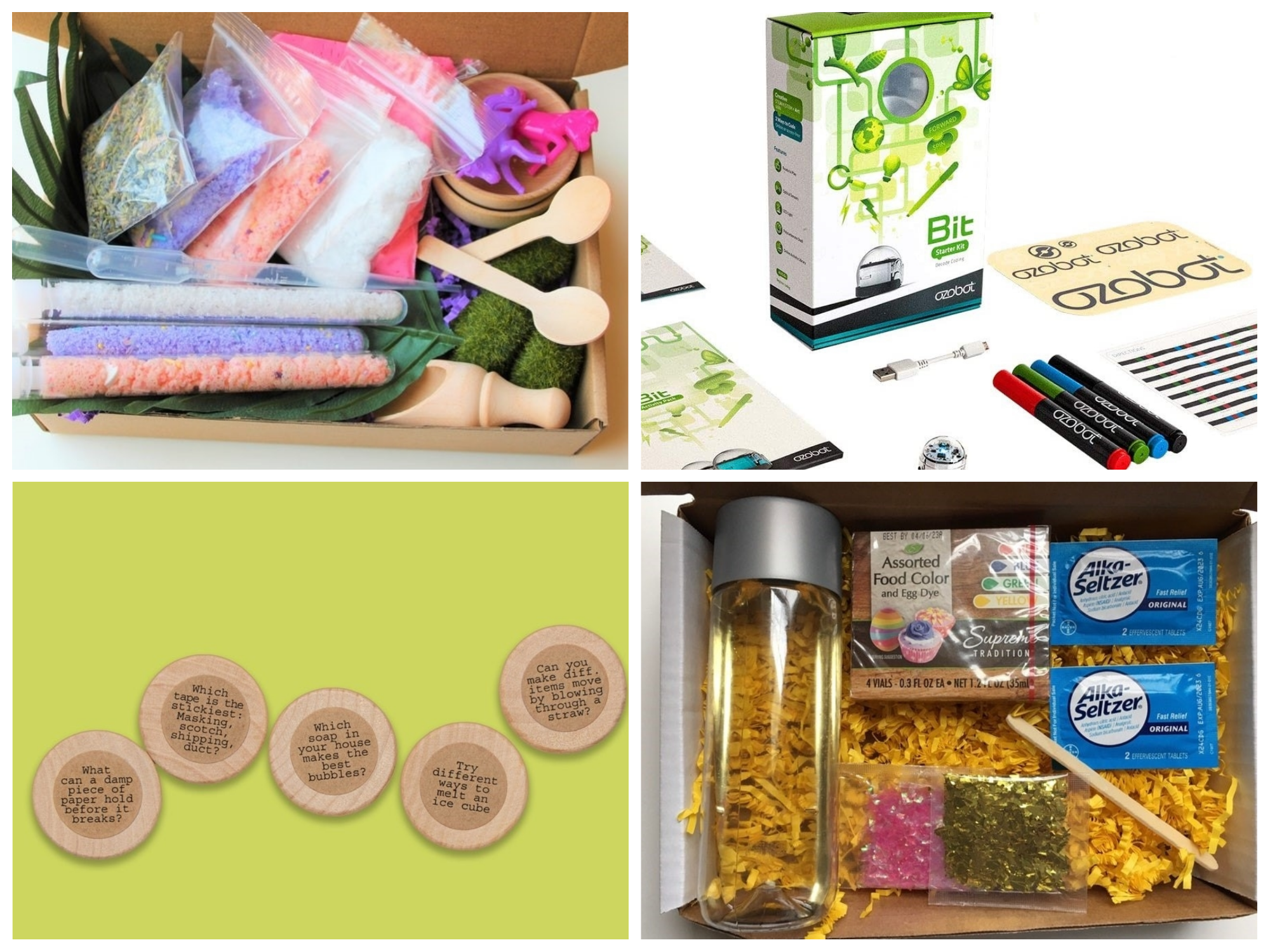 Clockwise from top left: Unicorn potion kit, coding robot, DIY lava lamp, science experiment tokens.
Unicorn sensory potion kit
, $34.00
Made from nontoxic compounds that bubble and fizz when mixed with water, this kit creates a sensory experience of sounds, shapes, colors, scents, and textures.
Bit coding robot
, $217.95
This pocket-sized basic bot can help kids age 8 and older build their beginner coding skills.
DIY lava lamp kit
, $19.99
This do-it-yourself project with household items makes a great gift for older kids and nostalgic grown-ups.
Simple science experiments
, $24.99
The box includes 60 fun and simple experiments that use household items. By placing the tokens into a box or a bag your child can select an experiment to perform at random.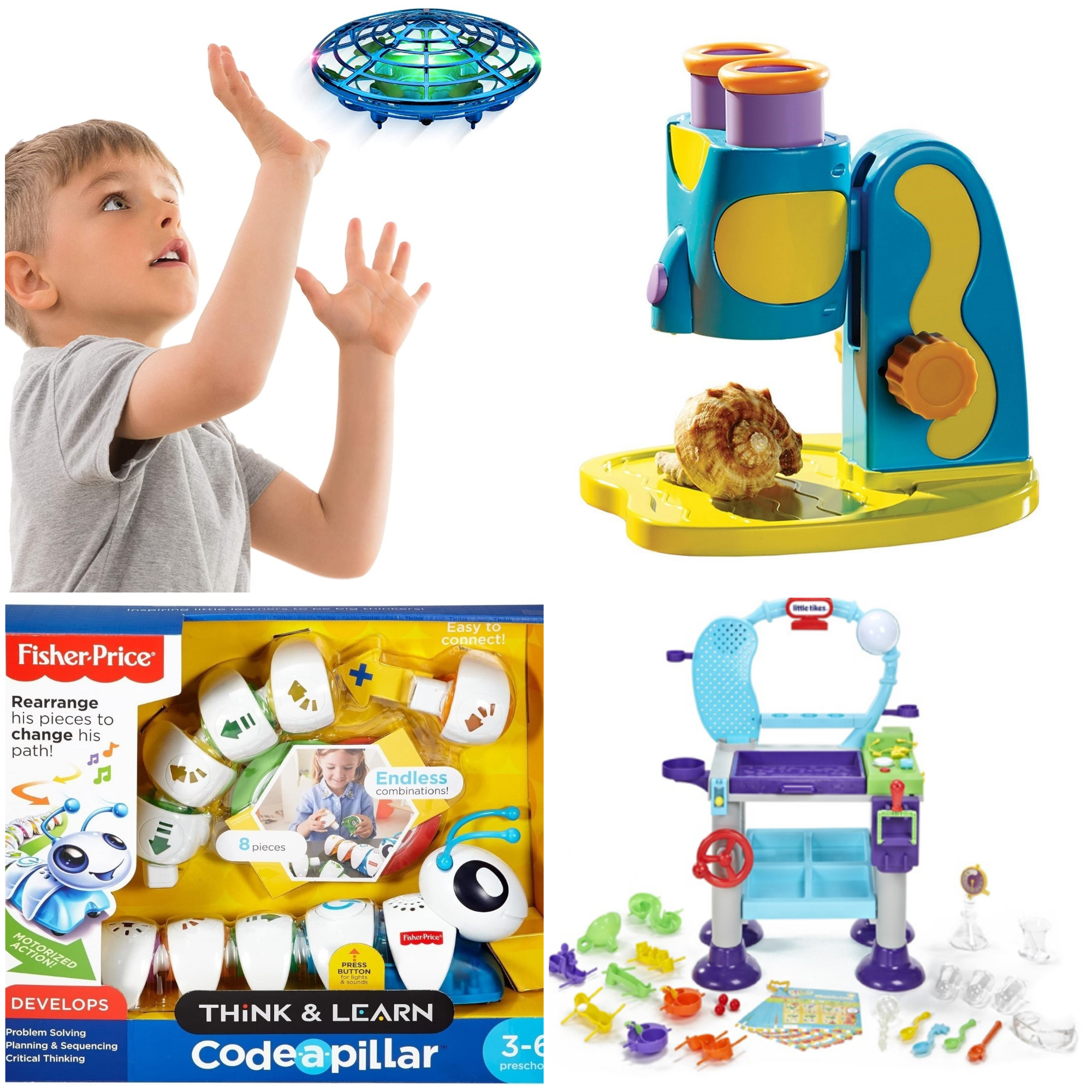 Clockwise from top left: hand-operated drone, My First Microscope, STEM Jr. Wonder Lab, Code-a-Pillar.
Force1 Scoot hand-operated drone
, $23.50
This hand-operated indoor hover drone for beginners has LED lights and motion sensors. Kids can play modern catch with family and friends, and catch it "hamburger-style" once they're done.
Educational Insights GeoSafari Jr. My First Microscope
, $24.99
It's cute and colorful and easy to use.
Little Tikes STEM Jr. Wonder Lab
, $199.94
Let your favorite 2- to 5-year-old get some early experience at the bench with 20 hands-on experiments.
Fisher Price Think & Learn Code-a-Pillar
, $249.95
This toy includes eight segments that move in different directions, create sounds and more to configure to meet targets.
Stephanie Paxson and Allison Frick contributed to this guide.
Enjoy reading ASBMB Today?
Become a member to receive the print edition monthly and the digital edition weekly.
Learn more
Get the latest from ASBMB Today
Enter your email address, and we'll send you a weekly email with recent articles, interviews and more.
Latest in Opinions
Opinions highlights or most popular articles