Essay
Master's or Ph.D.? Which is right for me?
After earning an undergraduate degree or working for a few years in industry, many aspiring researchers consider graduate school. An advanced degree can lead to more rewarding career opportunities, provide specialized training or help determine a career direction (both in and outside of bench science).
I was at this crossroad in 2016. After a yearlong internship on the campus of Virginia Tech, I applied for both graduate school and an industry position elsewhere in Virginia. I was lucky enough to be offered both. I decided to defer graduate school for a year. Instead, I worked in a Food and Drug Administration–regulated lab and earned a little bit of money to fund my graduate education.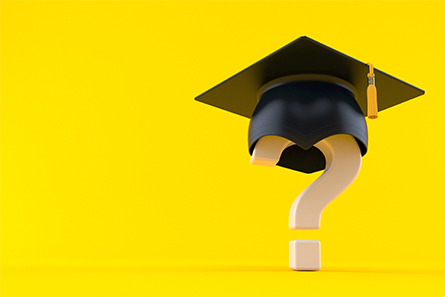 Here are some of the factors that influenced my decisions.
Expense
When I started exploring options for graduate school, I fully intended to pursue a funded Ph.D. program in the field of drug discovery. However, mentors at Virginia Tech told me that it would be easier to get into a master's program and I'd have additional time to publish quality work before starting a Ph.D. I knew I'd have to pay for a master's, so I searched for ways to fund myself and ended up deferring my acceptance an entire year to work as a scientist; some good advice guided me to this decision, and as a result, I was a much more experienced grad student.
Many institutions across the country have funded doctoral programs in science, technology, engineering and mathematics fields; students receive a stipend from their university through federal funding dedicated to increasing the number of STEM graduates with a Ph.D.
It's often a different story for students pursuing an M.S. They must figure out how to pay for tuition, rent and other living expenses, which sometimes means taking out a substantial loan. However, at your target school, you should be able to find opportunities for scholarships and fellowships that provide financial relief. Generally, the university office of student financial services or a scholarship office can help you find potentially useful financial resources.
Experience
Some people pursue graduate science degrees after years of experience working in industry or perhaps as a research technician in academia. They've spent time honing their bench science skills as well as learning how to analyze data and follow standard operating procedures — all fundamental to successful and reproducible science. This experience may make the transition to a Ph.D. program easier. Principal investigators view these people as attractive applicants because they have a knowledge base that can shorten basic training and give them a head start in the lab.
Other people apply to a Ph.D. program while completing their bachelor's degree. They might have gained lab experience performing undergraduate research or during an internship. Or they might have had limited bench time. For me, what I learned during my postbaccalaureate internship sharpened my understanding of what I wanted to do with my scientific degrees.
An M.S. program might be a good choice for someone with limited lab experience. The time it takes to complete an M.S. defense provides a taste of bench research and more knowledge about the steps needed to move through a graduate program. Additionally, it's a good way for a student to learn about a PI and determine whether a particular lab and mentor are a good fit.
My master's program gave me an extra two years to perform research that would become a foundation for my Ph.D. dissertation work. This, much like my work experience, has both improved the quality of my work and increased my job opportunities after graduation. I am not alone in this strategy. Several other students in my department are progressing rapidly through their Ph.D. dissertation research because their master's thesis work provided a strong foundation. Other students I know used their master's research time to learn what they did (or did not) like about working with their mentor and to take action (if needed) to join a lab they felt more comfortable in for their Ph.D. research.
Grades
As someone who spent most of my free time as an undergraduate skipping rocks across the New River, I'll be the first to tell you that acceptance into graduate programs can depend heavily on an applicant's undergraduate grades and scores on standardized examinations. I had to consider what doctorate programs would accept me despite my less-than-ideal grades.
I learned from personal experience that admissions faculty show greater leniency about undergraduate grades if you apply as an M.S. student. You can get in the door and prove your worth, and the department can evaluate your current knowledge before making a long-term Ph.D. investment.
By entering a master's program, several of my peers and I were able to fulfill all course requirements prior to our entry as Ph.D. students as well as present research publications, win department awards and even publish our work. This made us very competitive as applicants to Ph.D. programs whether we were retained in the same department or applied elsewhere.
Long-term goals
When I was deciding about graduate school, I had to consider my long-term goals in terms of personal and professional development. Where did I want to be in five years? 10 years? 20 years? It was challenging to plan that far ahead, but brainstorming was useful to direct my decision.
What do you like about what you've already done? Depending on what you want to do, a Ph.D. may not be necessary. Not sure where to begin? Take a trip to Indeed.com and browse interesting positions. What are their requirements for applicants?
I find that sites like Indeed and Glassdoor are excellent free tools for exploring requirements for interesting jobs as well as finding general information about working at a company in a specific role (including pay by title, interview questions and company receptiveness). In my final year of graduate school, I've been using these tools to prepare myself for life after graduation.
I know people who are managers at contract research organizations or work in research and development with just a bachelor's degree. They are successful and living comfortably. I have friends with doctorates who are doing the same.
The speed of your progression within a company and your initial starting point may depend heavily on your degree. An applicant with an M.S. and no experience outside an academic lab is likely to land a science position at least one promotion cycle down from the same applicant with a doctorate. It boils down to the amount of time you've spent in the lab.
Thinking more broadly, a Ph.D. is typically a four- to six-year journey that helps students become independent thinkers. The goal of candidacy and defense in the Ph.D. is to develop into a scientist with the knowledge and skills to conduct hypothesis-driven science and the ability to train and manage others to work as a team.
The expectations of an M.S. are adjusted for more foundational stages of independent research. The process often is completed in one to three years, and the student becomes competent at the method development, research, execution and analysis of data that lead to publication and support future research efforts. I know many intelligent and capable researchers with M.S. degrees who lead teams at contract research organizations and major pharmaceutical companies.
At the end of the day, there's no right or wrong answer. Some paths have more stringent requirements, however — I know very few university professors who did not complete a Ph.D. followed by a postdoctoral fellowship. Yet major opportunities exist for employment in small biotechs or larger industry corporations as a research scientist with an M.S. alone.
The factors I've listed, coming out of my own experience, are just a few you need to consider in making this decision. If you're trying to decide what's best for you, ask around. Chances are you work with or know someone in your field who has one (or both) of these degrees. Ask for their opinions and advice and then apply what they've learned from their experiences to your own circumstances.
Earning a master's degree or doctorate — though not always necessary — can be an engaging and immersive experience that propels you forward.
Enjoy reading ASBMB Today?
Become a member to receive the print edition monthly and the digital edition weekly.
Learn more
Get the latest from ASBMB Today
Enter your email address, and we'll send you a weekly email with recent articles, interviews and more.
Latest in Opinions
Opinions highlights or most popular articles