Essay
Learning to be a science superhero
When I was about seven years old, I knew I wanted to be a superhero who uses science (specifically, I wanted to be able to shrink down really small and fight bad bacteria like the main character in my favorite movie, "Osmosis Jones"), even though I didn't know what a scientist was. I thought there was nothing cooler than being able to be microscopic and fight the bacteria and parasites that plague us in real life.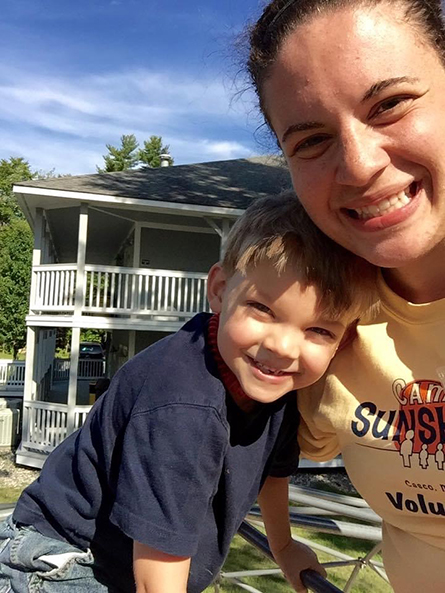 Courtesy of Allie Smith
Allie Smith poses with Andrew, a camper at Camp Sunshine in Casco, Maine, in 2015. Andrew has hypoplastic left heart syndrome, and after working with him, Smith wanted to become a cardiothoracic surgeon.
I was fascinated by the natural world around me, but I believed that was the case for everyone. My parents had high school diplomas but could not afford to go to college. I was raised by a single mother in rural Massachusetts, and it was not until high school that I realized college was an option for anyone other than aspiring doctors or lawyers. As I went through a high school where most graduates went on to attend college, I began to understand what college was and why people decided to go, but I thought it was out of my financial reach.
The summer before my senior year in high school, I volunteered at Camp Sunshine, a place that provides respite for children with life-threatening illnesses and their families. There I met 18-month-old Andrew, a child with hypoplastic left heart syndrome, or HLHS. From working with Andrew (who is now in fourth grade and doing just great), I became passionate about HLHS. I decided that I wanted to go to college and become a cardiothoracic surgeon to study the mechanisms of this congenital heart defect.
Not only was tuition expensive, but even applying for college was a financial burden; taking SATs and sending scores, requesting transcripts and submitting the Common App all cost money my family couldn't spare. Even working 20-plus hours a week, I couldn't afford to apply to many schools on my own, and I didn't feel as if my family was in a financial position to help. With this in mind, I narrowed down my choices by finding the successful teachers at my high school and applying to their alma maters. Thanks to my AP chemistry teacher, I applied to Stonehill College, a private college in Easton, Massachusetts, where I was accepted and received various scholarships such that I could afford to attend. It was there at Stonehill College that I met Bronwyn Heather Bleakley, who introduced me to the world of research.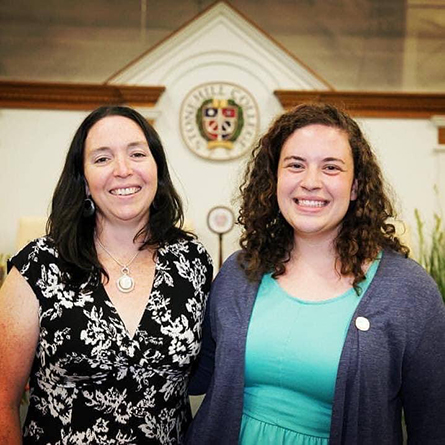 Courtesy of Allie Smith
Allie Smith, right, and Bronwyn Heather Bleakley at Stonehill College convocation in fall 2016. Bleakley had been awarded professor of the year and asked Smith to introduce her. This photo was taken after their speeches.
In my second semester at Stonehill, I took an introductory biology class with Dr. Bleakley. During a lesson about Trypanosoma cruzi, a parasite that causes a disease in humans that weakens heart walls, I asked why a similar mechanism couldn't be used to break down the heart muscle in cardiomyopathy patients. Instead of dismissing my question, Dr. Bleakley recommended I do some research. This led to a conversation about postgraduate plans. I told her I wanted to become a cardiothoracic surgeon to study the mechanisms of HLHS. She told me about other postgraduate careers in science that I didn't know existed. She told me about graduate school and earning a master's degree or Ph.D. and the many doors those degrees open — doors such as becoming a senior scientist in a laboratory, becoming a principal investigator or a lecturer at a university, or working in science policy. All careers where I would be able to ask and answer questions by doing hands-on research. It was then that I decided I did not want to be a doctor. Instead, I became passionate about going into research and then academia, hoping that one day I could be even half as good a researcher and professor as Dr. Bleakley.
After I completed the intro biology class, Dr. Bleakley let me join her lab, studying the genetics of social behavior in guppies, Poecilia reticulata. I spent three years and two full summers doing research in that lab, learning every technique and concept I could, quite literally, get my hands on. I had found a place where I could bloom as a scientist.
After graduation, I moved to La Romana, a coastal city in the Dominican Republic, for a year of service at the Hogar del Niño for the Patronato Beneficio Oriental. This school serves more than 1,700 of the most economically vulnerable children in La Romana, ranging in age from 14 days through high school. It is the only school in that entire region for people who are deaf; children who are deaf are taught Dominican Sign Language as well as all mainstream subjects so they can be integrated full-time into the classroom in eighth grade. The children who can hear also learn Dominican Sign Language to decrease the language barrier across peers as the children who are deaf are integrated into extracurriculars from preschool on. The school offers medical, dental, psychological and sociological services as well as three meals a day and clothing for each child.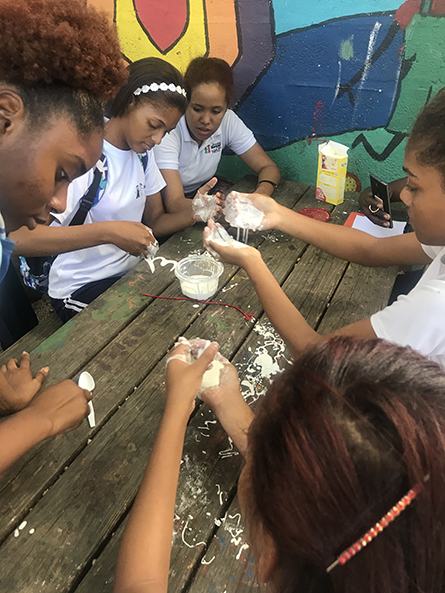 Courtesy of Allie Smith
Juniors at Hogar del Niño learn English and science at the same time. They did an experiment with ooblek (a mixture of cornstarch and water), and Allie Smith had them describe the experiences of their five senses in English.
At the Hogar del Niño, I taught English to more than 330 students from seventh to 12th grade at all levels of English proficiency. The intermediate level was my personal favorite; they had the passion for English and lots of room for growth. During this year, due to the economic demand in the city, the school increased its acceptance rate until the student-to-teacher ratio was about 35:1, squeezed in classrooms that didn't allow for much, if any, movement.
With the space constraints and little funding, hands-on science experiments were not an option. I thought back to my childhood when I had wanted to be a superhero who uses science. I had wanted to be a superhero because I didn't know that I really wanted to be a scientist. And now I couldn't stop thinking about the more than 1,700 children at the school. How many of them also wanted to be superheroes who use science?
With this in mind, I started Science Wednesdays in my English classroom of about 15 students. I wanted to give them access to hands-on science while also reinforcing their English communication about science topics. I used my $60-per-month stipend to buy household items we could use in our science experiments. On Wednesdays we would go outside to the playground area, where we extracted DNA from fruit, hypothesizing which fruit we would get the most DNA from (it was mangos), or dissolved the eggshell off an egg.
The 15 students in each of my classes soon were joined by all the science teachers and then by students outside of my classrooms. Random students I had never even met started telling me about their eggs at home and how someone from my class was showing everyone in their neighborhood the experiment. What started as a few students turned into a science revolution.
My year in La Romana quickly came to an end, and I moved to Bloomington, Indiana, to start my Ph.D. That was more than two years ago, but to this day, I am still searching for funding that will allow me and a few fellow graduate students to fly annually to the Dominican Republic to train science teachers how to do hands-on science experiments they can perform using everyday household items.
What's better than a world full of superheroes? A world full of superheroes who use science.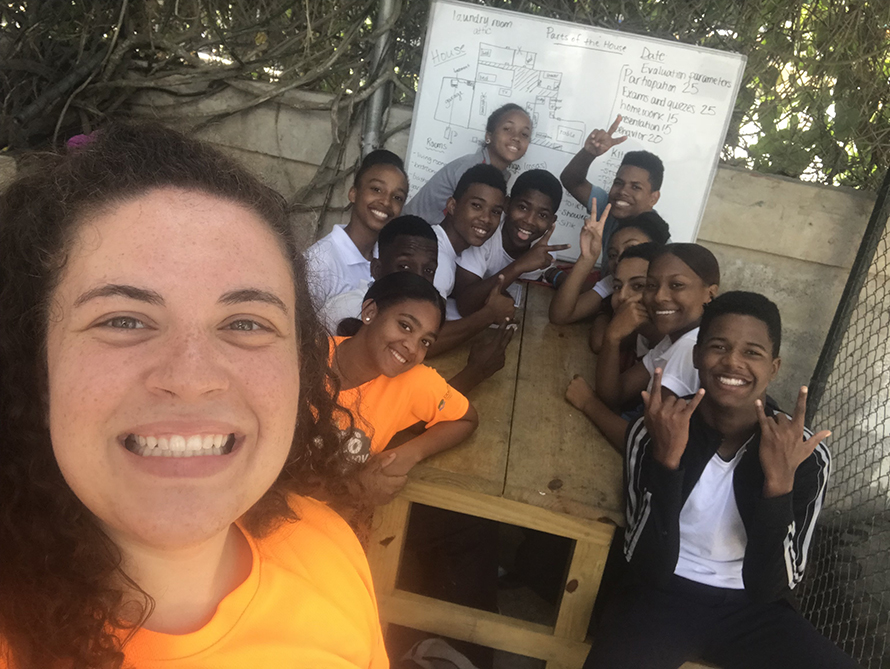 Courtesy of Allie Smith
Allie Smith takes a selfie with a group of sophomores in the outside science classroom at Hogar del Niño.
Enjoy reading ASBMB Today?
Become a member to receive the print edition monthly and the digital edition weekly.
Learn more
Get the latest from ASBMB Today
Enter your email address, and we'll send you a weekly email with recent articles, interviews and more.
Latest in Opinions
Opinions highlights or most popular articles