Wellness
Taking the measure of my treadmill
As I approached age 58 in 2010, I realized I was entering a zone full of health dangers, including heart attacks, cancer, Alzheimer's disease, diabetes, osteoporosis, obesity and depression. I read a lot of scientific literature, and I always look for tips for healthy living and good aging. I learned that one intervention helps with all of these diseases — exercise.
But how much exercise is optimal? I'd played tennis once a week for 40 years. Was that enough? My family doctor said no. Most health experts recommend a 30- to 60-minute daily routine, five days a week.
I decided to take matters into my own hands and start exercising more frequently and more rigorously.
The treadmill regimen
COURTESY OF Eleftherios Diamandis
Eleftherios Diamandis and his treadmill in November 2019. He has been working out on the treadmill for almost a decade and keeps detailed records.
I live in a 17th-floor condominium apartment with a large bedroom and windows all around. My building has a fully equipped exercise room. Exercising in common areas has advantages such as motivation from others, but the disadvantages can include wasted transit time and no privacy. I decided to buy my own treadmill. My wife predicted it soon would become an expensive trouser and shirt hanger.
I also bought a flat-screen tablet and high-quality speakers. I am a music lover. I have access to more than 200,000 songs (including a huge collection of Greek music), a Spotify subscription and unlimited YouTube access. I play the music through my speakers — I hate headphones when exercising.
My doctor suggested I start with 30 minutes of exercise per day, aiming to burn about 300 calories. I decided to more than double his suggestion, hoping for more benefit. I created a 70-minute program (including warmup and cool-down). My wife predicted that I would last a few days. How on earth could somebody my age be on a treadmill five days a week, 70 minutes at a time?
My regimen includes five minutes of warmup and 55 minutes of intense workout (fast walking, running and climbing on a slope), followed by about 10 minutes of slowing and cooling down. But this is not written in stone. I modify the program to fit my desire and mood, which vary daily. I am usually on the treadmill around 5:30 a.m. with the aim of finishing by 7, taking a shower and then walking to work. Following this protocol five days a week is more of a mental than a physical battle; early in the morning, my mind questions my ability. To overcome this obstacle, I've persuaded myself that this daily routine is not negotiable. That made everything easier.
To sustain the routine, I also have discovered that I must transform it from a punishment into a party.
The party and the data
The party starts with music transmitted from my phone or iPod to the speakers. Next, I turn on my tablet and watch videos of my liking, in most cases without audio. The combination of music and the visual effects creates a fantastic morning party atmosphere. When I sing, my poor wife shouts, "Shut up — it's too early."
Mondays, after two days off, are the most difficult. However, I have come up with a helpful strategy. Whatever I achieve on Monday in terms of time on treadmill, distance and calories burned I take as a baseline, even if the numbers are poor. I then am motivated to improve each day to have the best run of the week on Friday.
A motivating factor of this routine is my meticulous record-keeping of various parameters, including time spent on treadmill, distance covered and calories burned. I look forward to entering these data into Excel after my workout. I then can compare my current numbers to the previous day or any other day. Other tabs on the file summarize weekly output, monthly averages and yearly total. On Dec. 31, I compare the year's numbers to the previous years' to see where I stand.
Though they are not impressive in terms of athletic performance, I am proud of these numbers. I have walked or run 13,000 kilometers on a treadmill (farther than the distance from Toronto to Beijing) and burned 1 million calories (equivalent to about 2,000 Big Macs). I've covered the equivalent of 300-plus marathons.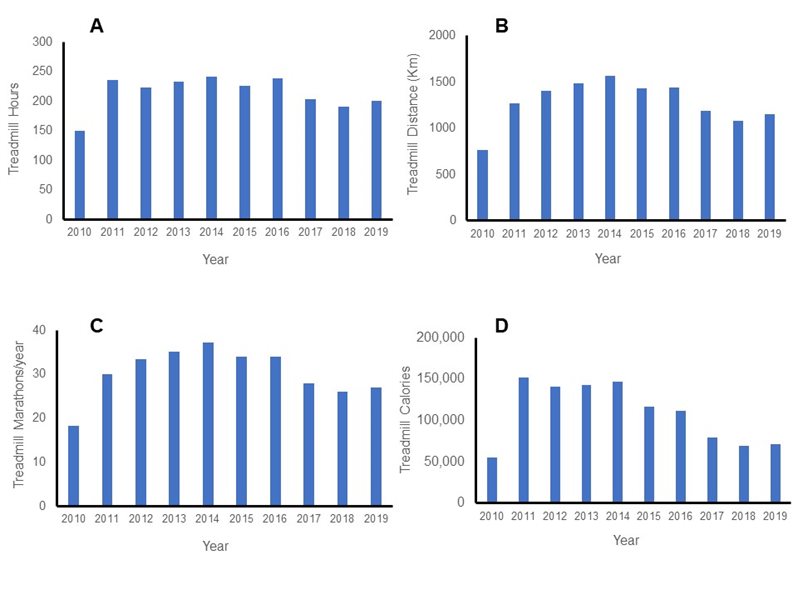 Eleftherios Diamandis
A: Hours on treadmill from 2011 to 2019. Lifetime: 2,141 hours. B: Distance covered on treadmill from 2010 to 2019. Lifetime: 13,000 km. C: Marathon equivalents from 2010 to 2019. Lifetime: 303 marathons. D: Calories burned from 2010 to 2019. Lifetime: 1 million kcal.
Benefits and a bed
I started exercising rigorously at age 58. Since then, I feel better and healthier, I am more energetic and confident, and I maintain my weight.
The 10 commandments
Here are the most important lessons I have learned for recreational exercise.
Win the mental battle; refuse to negotiate with your brain.
Listen to your body; do not push too hard or you will get injured.
You are stronger than you think.
Compete only with yourself and try to improve daily.
Have fun while exercising.
Sing and dance if you feel like it.
Work through and survive the bad days.
Keep meticulous records.
Be proud of your efforts.
Accept and adapt to the inevitable decline.
But the health benefits might no longer be the major reason I exercise. My best time of day is sometimes my early party time. I'm not sure how long I'll be able to do this, but I have no plans to stop. However, at 67, I'm not optimistic that my numbers ever will improve; my metrics show a definite decline, most likely due to aging. I am not worried; this is expected.
I have noticed no drawbacks with this activity except that my wife might be jealous of my treadmill. One day, she measured the distance between me and her in our king-size bedroom and the distance between me and the treadmill and found that the latter is shorter.
The proximity to my bed means the treadmill could function as an emergency cot if my wife ever kicks me off our bed. All I need is a good pillow, and I can start claiming much more than the 10 full days on a treadmill per year that my statistics show. I doubt that sleeping on a treadmill will evoke any health-related benefits. But you never know. This experiment has not been done yet, but it is clearly within my reach.
Enjoy reading ASBMB Today?
Become a member to receive the print edition monthly and the digital edition weekly.
Learn more
Get the latest from ASBMB Today
Enter your email address, and we'll send you a weekly email with recent articles, interviews and more.
Latest in Opinions
Opinions highlights or most popular articles