Wellness
From grief to healing in the year of COVID-19
When COVID-19 news began circulating, I was not overly concerned. I recall chatting with my family and friends, convincing them that the situation was under control and the U.S. government and health professionals would nip the virus in the bud. My friends and I continued to make plans for what we referred to as "the best summer ever."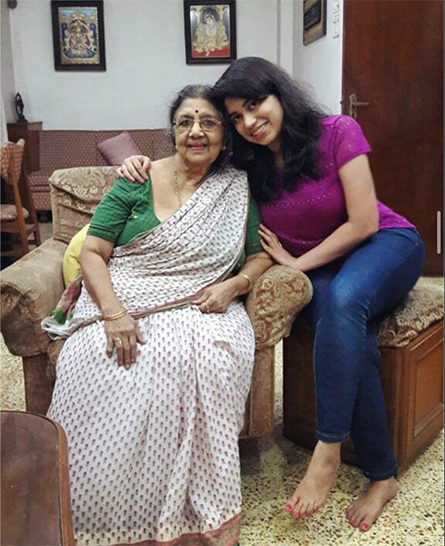 Courtesy of Nivedita Uday Hegdekar.
Nivedita Uday Hegdekar's undergraduate university was near her grandmother's
house, and the two, shown here in 2016, shared a love for cooking, good literature
and British period TV shows.
However, my concerns grew as the pandemic moved to the forefront of our lives. I was at the University of Maryland, 8,000 miles away from my family in India. My parents both have preexisting conditions that put them are at higher risk for COVID-19. My father, a doctor, was in regular contact with geriatric COVID-19 patients.
I was particularly concerned for my maternal grandmother. She and I had always been extremely close: Ever since I was an infant, my mom and I visited her almost every weekend. We grew even closer after my grandfather died in 2003. My undergraduate university was near her house, and I often ran errands for her after class, followed by enjoyable evening chats. We shared a love for cooking, good literature and British period TV shows.
In mid-February, my grandmother suffered a major cardiovascular stroke, her third in two years. Thankfully, she was able to leave the hospital before the lockdown in India came into effect.
Before COVID-19, I had plans to visit home during the summer of 2020. However, when the international travel ban went into effect, I resigned myself to the fact that there was little I could do to help my loved ones in India. The last time I had seen my family was in April 2019.
Meanwhile, in Maryland, the first university employee tested positive for COVID-19; our campus completely shut down for in-person instruction, and all research ground to a halt. My lab euthanized most of its mice colony, and just like that, three months of experiments were obliterated.
As a senior Ph.D. student, I had a 12-month timeline to complete my degree and find a job. As an international student on an F1 visa, my life revolved around organization and deadlines. The university's work-from-home order sent me into a panic. To do my work, I had to be in my research lab. I was in a constant state of anxiety, feeling sometimes as if I had lost my purpose.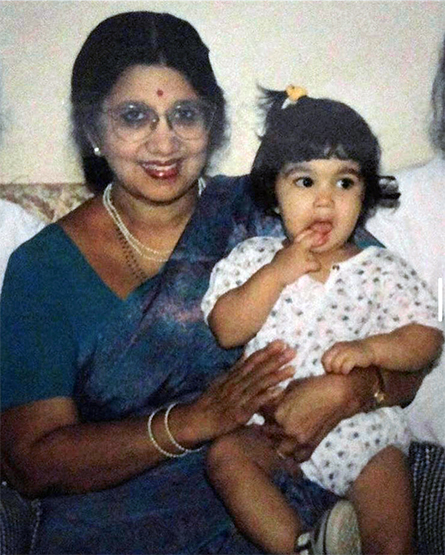 Courtesy of Nivedita Uday Hegdekar.
Nivedita Uday Hegdekar poses on her grandmother's lap in 1993. When she
was very young, the author visited her grandmother every weekend.
Beginning in May, my grandmother's health began taking a turn for the worse. She lost the ability to walk independently, and she forgot how to read and write. Relatives hired helpers to take care of her, but she was traumatized by the absence of her family during this trying time. Most of her children lived overseas, and even my mother was unable to go to her due to travel restrictions. When India relaxed its restrictions in July, my mom was finally able to go take care of her. However, my grandmother's health had crossed to the point of no return, and in August, she passed away quietly in her sleep.
My grandmother meant the world to me. Nothing could have prepared me for her death or the anger I directed at myself for being unable to help her during her final months. I withdrew from other people and retreated into my shell. Grieving is always a lonely journey, but the thousands of miles separating me from my family compounded the isolation.
My grandmother's death coincided with the phased reopening of research at my university, Initially, I threw myself into work, thinking that this distraction would keep the grief at bay. After a few torturous weeks, I realized that this was an unhealthy coping mechanism. I took a few days off work to catch up on sleep and take care of myself.
Since August, the healing process has been uphill, but I see light at the end of the climb. I think wellness is an active process of making choices toward a healthy and fulfilling life. More than being free from illness, for me it has been a dynamic process of change and growth.
Striving for wellness this year has been tough, but my struggles with anxiety and loss have made me kinder and more empathetic. I believe these experiences will help me face the uncertainties of the future.
Steps to survival and wellness
During these months of loss, I realized that I needed to train myself to focus on controlling those things that were under my control and to seek the help I needed. Many of us are enduring losses. Here are some actions I found helpful.
To cope with the pandemic:
Stress limits. I took note of everything that caused stress in my daily life, and then I limited my intake of the news and social media to one hour per day.
New hobbies. Working from home blessed me with extra hours of free time. I finally read several books from my ever-growing to-read list. I also took up meditation and brisk 15-minute early morning walks (with a mask!). I discovered a passion for baking.
Connections. My friends and I missed our regular hangouts and made a pledge to keep in touch. I kept a weekly schedule of virtual meetings with friends and loved ones and also made sure to check up regularly on friends who lived alone and those who had lost a job or whose graduation had been delayed.
Shared anxiety. I reminded myself that many people I knew also were suffering from loneliness and anxiety. During low moments, we reached out to each other. When we communicated our hopes and fears and listened to each other, we shared the burden and increased our connection.
To endure grief:
Take time. I learned that healing can't be forced or hurried, and there is no normal timetable for grieving. I had to be patient with myself and allow the process to unfold.
Routine. Once I came to terms with the fact that life moves on, I began reintroducing normalcy to my routine. I planned my day in chunks of time, including meals, exercise and time to grieve. This helped me make the transition back to my work routine. At the same time, I had to forgive myself for lapses and remind myself that progress comes slowly.
Seek support. I learned that unresolved grief and prolonged sadness can lead to emotional damage, health problems and depression. When other people confided in me that they were coping with personal loss, this knowledge that I was not alone provided a lot of comfort. Eventually I sought professional help from my university's telecounseling services as well as an online support group.
Enjoy reading ASBMB Today?
Become a member to receive the print edition monthly and the digital edition weekly.
Learn more
Get the latest from ASBMB Today
Enter your email address, and we'll send you a weekly email with recent articles, interviews and more.
Latest in Opinions
Opinions highlights or most popular articles