Interview
A turbulent industry: 5 questions with Paul Wright
After finding his first job at an American Society for Biochemistry and Molecular Biology meeting in the 1980s, Paul Wright spent his career in the pharmaceutical industry. Now retired, Wright serves on the ASBMB's Industry Advisory Committee. This interview has been condensed and edited.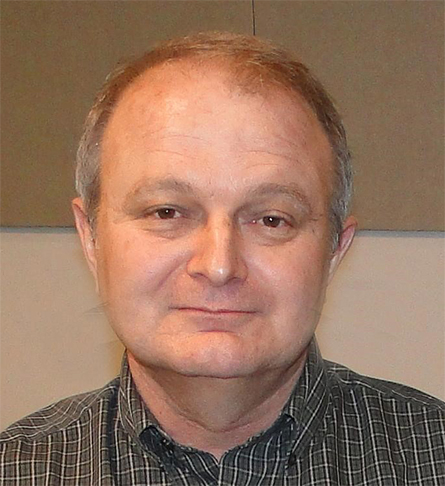 Name: Paul Wright
Current position: Retired
Career path: Ph.D., Purdue University
Postdoctoral research: Postdoctoral research: University of Iowa and University of California, Davis
First job outside of academia: Associate scientist, Merrell Dow Pharmaceuticals
Favorite molecule: Adenosine triphosphate synthase. "It is the most fascinating molecule."
What did you work on?
Quite a few things. I was with Sanofi for 28 years; when I started, it was called Merrell Dow Pharmaceuticals in Cincinnati. They were acquired, and then they were acquired and they were acquired, until finally it became Sanofi. Later, Sanofi spun off their site here in Tucson to Icagen.
As the owners changed, I would find a position within the company that fit my background. I ended up working in different therapeutic areas: parasite biology, molecular pathology, metabolic diseases and oncology.
I've worked at the very early end of drug discovery, using combinatorial chemistry and high-throughput screening to identify lead compounds, I've led project teams carrying compounds into preclinical research and I worked on the clinical project team for one drug candidate.
After all those changes, do you feel there's an optimal company size?
I really liked a small to midsize company, big enough that they could fund their projects but not so big that there was a gap between the people running the company and the research divisions. In a large company, you may have less opportunity to communicate directly with senior leadership.
Is there a project that you're proudest to have worked on?
Doing compound discovery for angiogenesis early in my career was very rewarding. At that point I was still able to devote my time more purely to research. Later, I went from being a lab scientist to a project leader, then a department director. Those were rewarding, but I feel best about the work I did right at the interface between research and project leadership.
What's most important to know about leading scientists?
For me, the challenge was to keep good people involved at a high level in their projects, while realizing that in two or three years, it could be quite different. It's hard to say, "If you accomplish this, it's going to have this final outcome for the company." You have to train people to realize that things will change every few years, and they're going to have to be ready to carry their skill set into a different area.
Advice for aspiring industry researchers?
An internship or a postdoctoral stint is a great starting point. It's an opportunity to see how a company works, how you might fit in and whether you would like to fit in.
If you've developed a research interest, see if you can find a company that's looking for someone in that area. If not, be flexible to get a start. See if you can find a good working group in a nice environment. Can you bring your skills, your talents into that and have an impact?
(Would you like to suggest an ASBMB member who works in industry for a Five Questions interview? Send an email to ASBMB Today.)
Enjoy reading ASBMB Today?
Become a member to receive the print edition monthly and the digital edition weekly.
Learn more
Get the latest from ASBMB Today
Enter your email address, and we'll send you a weekly email with recent articles, interviews and more.
Latest in Industry
Industry highlights or most popular articles