Interview
'I could not ask for more'
5 questions with Moderna's Hardik Jani
Moderna may have been a little-known biotech company before the COVID-19 pandemic, but its name is now a household word. ASBMB Today asked Hardik Jani, who has worked at the company since 2017, about his experience helping to develop the company's revolutionary vaccines.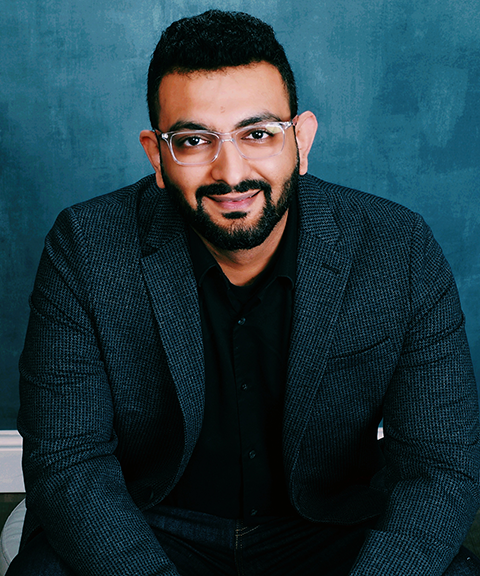 Name: Hardik Jani
Current position: Principal research associate, Moderna
Career path: M.S., biotechnology, University of Houston–Clear Lake
First job outside of academia: Senior research assistant, Base Pair Biotechnologies
Favorite molecule or protein: Without any doubt, nucleic acids, especially RNA. "The world just witnessed what mRNA technology can achieve. And it's going to transform how medicine works."
What has changed the most at Moderna in the course of the pandemic?
When I joined Moderna in 2017, I was impressed by the company and its vision. Their pipeline was phenomenal. Even the tagline, "Helping the body make its own medicine," was really inspiring. I've completed almost four years at Moderna, and so far, it has been an amazing roller-coaster ride with lots of lessons and achievements. I'm looking forward for an exciting future at Moderna.
Moderna's values of being collaborative, bold, relentless and curious have always been a constant. I believe these values have been a guiding force for our success even after so many years and exponential growth of the company. I would say nothing has changed for me or Moderna.
Tell me about your role?
I am a principal research associate in the platform automation center of excellence team, part of the biological science research team. As the name suggests, our goal is to find automated solutions for the high-demand manual assays performed across Moderna's research platform and therapeutic areas. I lead collaborations with the infectious disease team to transfer developed manual enzyme-linked immunoassays, called ELISAs, to an automated platform. Thus far, I have found and implemented automated solutions for various programs, including cytomegalovirus, SARS-Cov-2 and associated variants and flu programs. My contributions provide learnings about our vaccines in the preclinical research phase, which is vital for evaluating our drug product performance and understanding the underlying science.
Of course, I am proud to be part of the COVID-19 vaccine team, but we still have a long way to go. We have a crazy pipeline and many programs that everyone at Moderna works tirelessly on to make a difference.
What's been most challenging about that work?
During the pandemic, we certainly had to improvise on the go. It has been a challenging time for everyone around the globe. Personally, it was tough for me to manage work–life balance especially, as I have a 2-year-old baby, and I was not able to give full time (to her). I sometimes feel I missed out on the best phase of her life.
We have a big lab space and many people in our team, but due to COVID-19 restrictions we were only allowed 10 people at a time. To keep the work going, some of us would come in early, work in shifts, sometimes come on weekends. These were small challenges, but ultimately, we knew we were working for the same goal. That really pushed us hard.
The company values the work, efforts and the sacrifices made by each of us. In the end, I would say it was not a challenge but an honor that after so much hard work we were able to develop a vaccine that works to treat patients.
What was it like when the clinical trial results were announced?
To be honest, it was an emotional moment for all of us. I still get goosebumps to think about what we achieved in such a short period. It was, is and will be the proudest moment of my life.
Unfortunately, this project has also been a bittersweet reality. The past year has been challenging and emotional for everyone across the globe with so many lives lost. I believe in destiny, and I am certain we were chosen to fight this pandemic. I also believe we were chosen because we invested a significant amount of time in understanding all aspects of our technology, and we believed we could transform the future of medicines. I am extremely proud, humbled and honored to be a part of this incredible team.
Thinking back, what made you pursue a science career?
When I finished high school in the early 2000s, the biotechnology field was very new. However, everyone talked about the scope and potential future that the field could encompass. In India, you must choose your field of interest right after high school, and there are limited options and flexibility for students to explore and jump fields. I chose biotech, as I believed I could be good in science; my strongest subjects were biology and mathematics, although I struggled in chemistry and hated physics. Little did I know biotech also includes many aspects of chemistry.
Knowing what I know now, if I could go back in time, I would still only either be a scientist or a singer. Fortunately for me, I have been able to balance both my passions, which has been an absolutely satisfying experience so far.
I have been performing since I was a kid. I am trained in Hindustani classical music and have been part of many reality shows in India such as "Indian Idol" and "V Super Singer." It was my longtime dream to have a studio at home, and finally I made it happen during the pandemic. Due to work, I'm not able to spend as much time as I would like on my music. But whenever I can, I make a point to spend one hour every Sunday with my daughter going over ragas. I'm practicing, and she's learning something.
I'm glad that I still have music in my life. It keeps me sane. And it's the best feeling to have both your passions in your life. I could not ask for more.
(Would you like to suggest an ASBMB member who works in industry for a Five Questions interview? Send an email to ASBMB Today.)
Enjoy reading ASBMB Today?
Become a member to receive the print edition monthly and the digital edition weekly.
Learn more
Get the latest from ASBMB Today
Enter your email address, and we'll send you a weekly email with recent articles, interviews and more.
Latest in Industry
Industry highlights or most popular articles