Interview
How to run an ASBMB Student Chapter
John Tansey is the faculty adviser of the American Society for Biochemistry and Molecular Biology Student Chapter at Otterbein University, a primarily undergraduate institution in Westerville, Ohio. As winner of the 2023 ASBMB Outstanding Chapter Award, Otterbein's chapter has developed to positively impact the community while providing opportunities for students to pursue compelling research and make strides toward future contributions to biochemistry and molecular biology.
Tansey sat down with Hailey Reiss, the ASBMB undergraduate education coordinator, to discuss his work with Otterbein's chapter. The interview has been edited for length, clarity and style.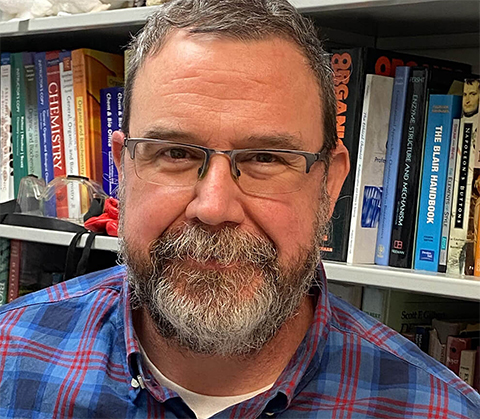 "I am in the business of creating people to create new knowledge of biochemistry and molecular biology. I produce graduate students."
JOHN TANSEY
How did you get involved with ASBMB, and what is your connection today?
A few years ago, I went to the ASBMB's "Transforming undergraduate education in the molecular life sciences" meeting. That's where I really found my community. I had gone to the ASBMB annual meeting and saw some of the people and heard some of the talks. But the education community is where I really started to find a home.
I got more involved with the society and began to work more with people in ASBMB. I got involved in the accreditation program, and then a few years ago, I was asked to join the Science Outreach and Communication Committee. Most recently, I was asked to join the Education and Professional Development Committee.
I can't say enough about the society. I have been really thrilled about my involvement.
How did you get involved with Student Chapters?
Before it was Student Chapters, it was the UAN, or Undergraduate Affiliate Network. We were trying to give our biochemistry majors at Otterbein their own student organization, so we got involved around 2011 or 2012. We've maintained the chapter since then because there are so many benefits, including travel awards and access to opportunities such as networking and exclusive awards.
What makes your chapter outstanding?
We've had a very solid student chapter for quite a long time. Sometimes it comes and goes, such as during the pandemic. I think a lot of it comes down to people and who you have running the chapter. I've noticed that a lot of organizational success comes from the students.
This past year, Olivia Miller, an Honor Society inductee, has been fantastic. She shows up the first week of the semester with a list of ideas. We decide which initiatives we'll pursue, and from there, we design the budget. She has also brought other people in to help. Strong leadership like this is critical to our chapter's ongoing success.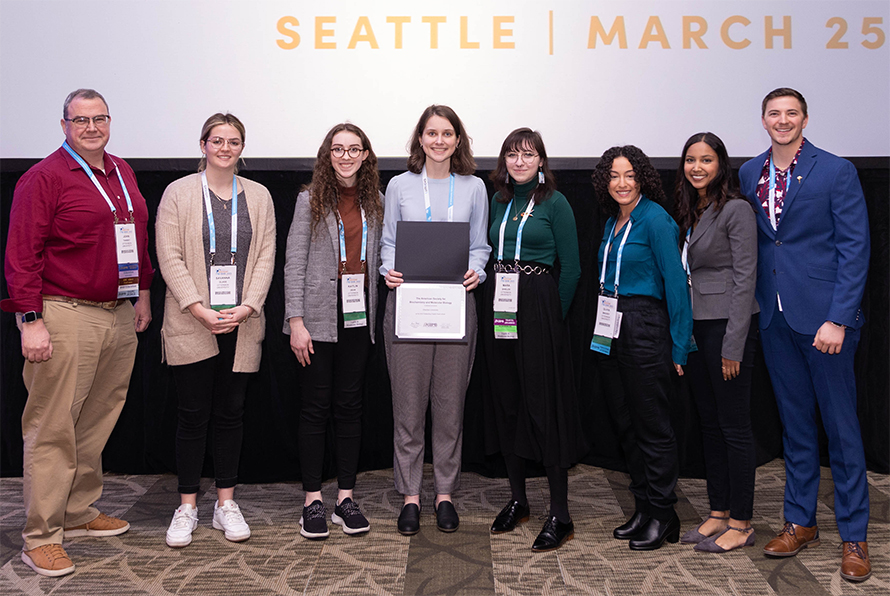 ASBMB
John Tansey, left, and Otterbein Student Chapter members Savanna Glass, Kaitlin Dean, Olivia Miller, Mara Shields, Olivia Brickey, Ashni Patel and Mason Nolan were honored at Discover BMB, the ASBMB 2023 annual meeting in Seattle.
What are some of your chapter's most memorable and successful activities?
For Valentine's Day, the chapter students made candy bags that people could pick up or that the students could deliver to different offices on campus. To add some science flair, they included little flyers about oxytocin or other biochemistry facts. This wasn't difficult to do, but it got our name out there.
On a related food note, we've made Cajun food to share with nonchapter students, and then we talk about spicy food and what, chemically, makes it spicy.
Off campus, we want to create a positive image around being a scientist. At a science festival in Columbus, we had a booth devoted to the science of gross things. We had tubes of gross-smelling substances and then built the structures of those molecules. We had a board to demonstrate how those molecules docked into different proteins. Little kids and adults loved it.
I think our outreach activities are generally very memorable.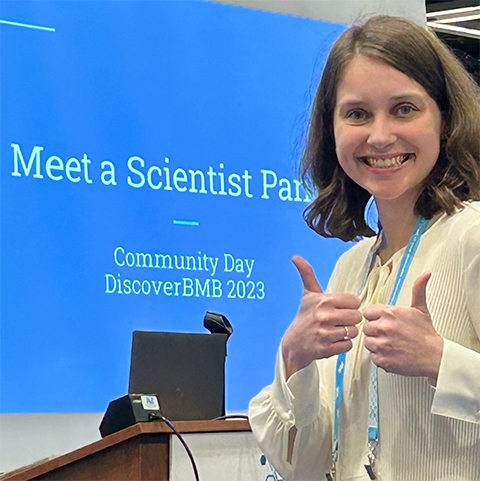 Senior and student chapter leader Olivia Miller was a member of the Science Outreach and Communication "Meet a Scientist" panel at #DiscoverBMB 2023.
As the adviser for your chapter, what challenges have you encountered?
The pandemic was definitely one of our biggest challenges to date. Our chapter does a lot of social activities, so it was hard when COVID-19 hit. At first, we tried to have weekly meetings online and just hang out. We sent silly emails to members of the chapter. We were trying to give people something to look forward to during lockdown.
When we came back to class in the fall of 2020, everything was distanced and often outdoors. We knew we wanted to host our coffee hours again, but we needed to figure out how to do it effectively. We'd always had Oreos in the past; now we had to eat them individually wrapped and six feet apart from each other.
We kept things going during the pandemic, but we had nowhere near the level of engagement that we were used to. We had enough student buy-in to keep everything afloat, and a permanent staff member on standby was really important during this time to maintain channels of communication and encourage student participation in virtual events.
Talk about the logistics of running your meetings and promoting awards.
We generally have two types of meetings. Our coffee hour is generally casual, without official business. And I'll meet with our leadership team early in the semester to organize our activities for that semester. We typically try to do one special activity each month. I think that really helps to get people involved.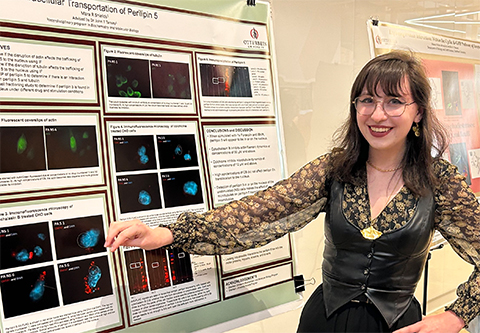 Senior Mara Shields discusses her research at Otterbein's Honors senior reporting day.
When it comes to awards, we do different types of promotions depending on which award we're looking at. With the travel award and Honor Society, the faculty and I typically decide who will receive the award or which students we nominate to the Honor Society. With the Undergraduate Research Award and Marion B. Sewer Scholarship for Distinguished Undergraduates, we tell the students about them and let them choose if they'd like to apply. With chapter-wide awards, such as the Outstanding Chapter Award, Regional Meeting Award, Science Fair Award or Outreach Grant, we encourage the students to put together an application. We will help them and review it with them, but I think it's a great experience for the students to do it themselves.
What advice would you give faculty members interested in starting a student chapter?
Be a little more hands-on to start. Make sure there's a good organizational structure in place, consider starting small, develop partnerships with other groups on campus and figure out what the students are interested in — try to meet them there.
You can look at what other groups on your campus are doing to see where there might be gaps. At Otterbein, for instance, we have plenty of great pre-med groups that bring in lots of speakers. But we found there was a need for a pre-med group that prepares students for medical school entrance exams, so we started our MCAT prep sessions.
About Student Chapters
What is the ASBMB Student Chapters program?
ASBMB Student Chapters are a national community linking undergraduate students and faculty members with an interest in biochemistry and molecular biology. The chapters work to advance research, education and outreach in biochemistry and molecular biology.
How do I start a chapter?
Each chapter must have a faculty adviser who is a regular member of the ASBMB. This adviser must complete the application. Each chapter also needs a minimum of five students to receive full benefits. Chapter dues are $100 per year and cover up to 10 students. If you have more than 10, each additional student will be another $10.
The 2023–2024 renewal period for Student Chapters opens Sept. 1. To start a chapter, access the ASBMB student chapter registration system at asbmb.org/education.
What are the benefits of the program?
Both students and faculty members benefit.
Students have membership in the ASBMB and are eligible to apply for exclusive awards and grants such as travel awards, the ASBMB Honor Society and the Undergraduate Research Award. Students can also participate in professional development opportunities and network with each other on a national scale.
Faculty can receive funding to support their undergraduate research and science outreach efforts. They may also engage in education and professional development opportunities exclusive to chapter advisers, including a journal club and an online community of undergraduate educators.
Do you have questions about Student Chapters? Need guidance setting up a chapter? Email education@asbmb.org.
Enjoy reading ASBMB Today?
Become a member to receive the print edition monthly and the digital edition weekly.
Learn more
Get the latest from ASBMB Today
Enter your email address, and we'll send you a weekly email with recent articles, interviews and more.
Latest in Education
Education highlights or most popular articles