Outreach
Small grants power outreach
Did you know that outreach programming is one of the most effective ways for scientists to build trust with nonscientists? And that K–12 students who participate in science outreach activities are more likely to identify themselves as scientists.
The COVID-19 pandemic, climate change and other global challenges have raised public awareness of science and motivated a growing number of people to engage with the scientific process. Through outreach programs, scientists can communicate and engage nonscientists in their communities.
The ASBMB Science Outreach and Communication Committee supports science education by teaching effective communication skills and providing financial assistance for outreach programs.
The committee now provides up to five $1,000 Science Outreach and Communication mini grants each year to help ASBMB members develop and implement engaging outreach programs, particularly for underresourced and historically marginalized communities. These projects use innovative strategies to engage aspiring scientists of all ages and backgrounds.
By sharing here the work that's been done by three mini grant recipients, we hope to inspire others to think about outreach in their communities.
A DNA summer camp
Joshua Sokoloski, an assistant professor of chemistry at Salisbury University on Maryland's Eastern Shore, is committed to developing educational outreach initiatives. The grant was a perfect match for his enthusiasm.
"I have a strong personal conviction that outreach is a core part of being a scientist," Sokoloski said, "and I am fortunate enough to have a department and a school who support me and my colleagues in outreach activities."
Starting an outreach program can be difficult even with financial support. One key to Sokoloski's success was taking advantage of existing infrastructure and programming. Salisbury's Summer Enrichment Academies, or SEA, is a summer day camp for local middle school students. Using the existing SEA structure as a starting point, Sokoloski designed a two-session outreach program to show middle school students "just how awesome nucleic acids are and all the possibilities nucleic acid biotechnology offers for society."
Most of the 36 middle school students in the program were from groups traditionally underrepresented in the STEM disciplines. In the first session, they learned all about DNA, from its history to base pairing to modern RNA therapies for COVID-19. The students used 3D printed models of nucleotides with magnets to replicate hydrogen bonding and performed DNA extraction activities on fruit while hypothesizing which type of fruit would yield the most DNA per gram; it turns out strawberries won, with blueberries a close second.
In the second session, students learned how DNA gives each person a unique marker, like a fingerprint, that can be used in crime scene investigations. They worked to identify the culprit who stole a top-secret slime recipe — using lab equipment to prepare samples and run an agarose gel electrophoresis.
To develop a successful outreach project, Sokoloski recommends recruiting volunteers from your institution or related organizations. In his case, help came from undergraduate members of the ASBMB Student Chapter at Salisbury who were eager to work with middle school students.
With the support of the Student Chapter and the SEA program, Sokoloski was able to design engaging, hands-on scientific experiences. And middle school students got to work and think like scientists as well as consider what a career in science might be like.
Workshops seed the future
Haley Albright, an assistant professor at Shepherd University in West Virginia, wants to show young students that science and chemistry are happening around them every day.
Albright used the SOC grant for what she called "Seeding your Future." She teamed up with four other faculty members at Shepherd to host four workshops that exposed more than 50 middle and high school students to science. They extracted caffeine from soda and tea and DNA from food; they built a robotic arm and a water filter. Each workshop included both hands-on activities and take-home portions for continued exploration.
The faculty members collaborated with undergraduate volunteers to organize and run the sessions. Communication was critical, and Albright used email to coordinate the workshops and keep participants in the know.
"The most challenging part was the planning of the event," she said. "A lot of this planning was done in increments."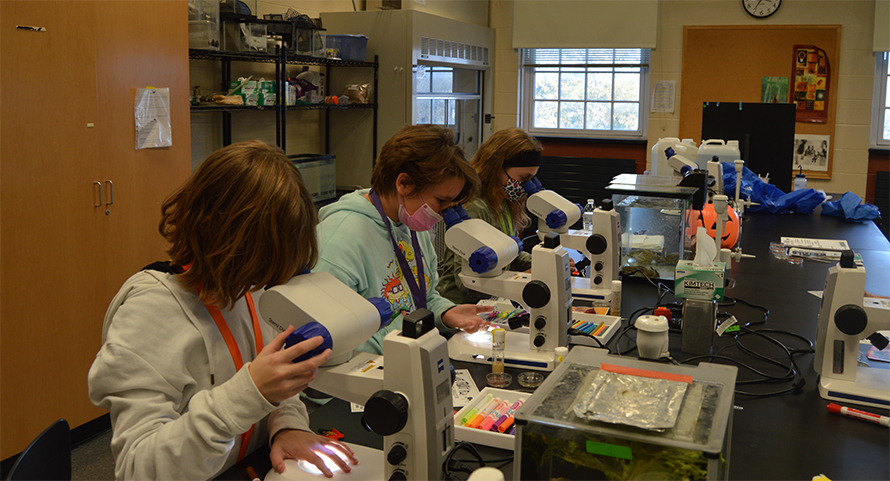 Haley Albright
Students look through microscopes during the "Seeding your Future" workshop series at Shepherd University in West Virginia.
Looking ahead to future projects, she said that, with so many faculty involved, an initial meeting to sort out details and get supply lists earlier on could streamline the process. And it's important to be flexible, she added, "since normally 20 students sign up for a workshop, and we had 70 students sign up."
Albright chose middle and high school students because "studies have shown that, especially for girls, interest in STEM significantly drops in middle school. We wanted to offer opportunities for students to keep that interest. Having a tie to real-life applications seems really important."
In Albright's workshop on extracting caffeine from soda and tea, participants establish connections between the beverages they or their parents consume and the diverse array of molecules those beverages contain.
"I like Mountain Dew, but I didn't know that there was caffeine in it or that caffeine was a type of molecule," one student said.
Parents provided positive feedback, including this comment via Facebook: "My son has loved every single workshop! This has been a wonderful experience for him."
Engaging young biochemists in Nigeria
After Victor Nweze, a biochemistry research assistant at the University of Nigeria in Nsukka, noticed that young people in his community did not pursue careers in biochemistry because it's less lucrative than other fields, he decided his aim would be to raise a new generation of African molecular biologists for global impact.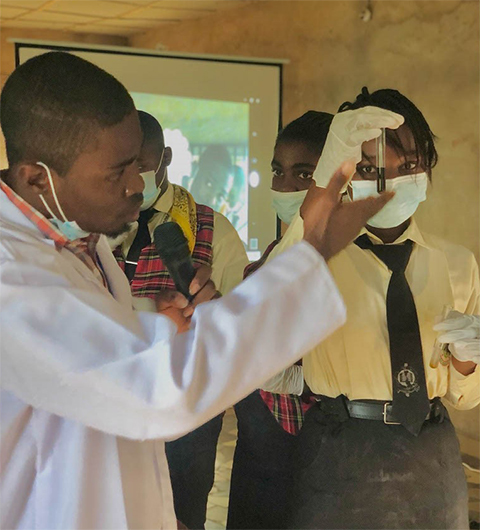 Victor Nweze
Victor Nweze (left) leads students through a hands-on workshop in the Nsukka community in Nigeria.
Nweze's project presented basic science via a symposium and workshops to help build a passion for biochemistry among students aged 12–18. The symposium included keynote speeches, a spelling bee, debate competitions and virtual lab presentations. The workshops involved hands-on techniques such as viewing bacteria and plant cells using microscopes, DNA extraction from cheek cells, a comparative study of saliva on starch using iodine tests and a session on career paths in biochemistry and molecular biology.
Coworkers from the biochemistry department, members of the university's Ethnopharmacology, Food and Drug Delivery Research Group and teachers at the three host secondary schools all helped Nweze. The program was held at each school over two days, with the symposium and competitions on the first day followed by a day of hands-on workshops in a chemistry lab.
More than 500 students participated. One of them was Favour Oluchukwau of the Nsukka community, who said, "I can testify that the ASBMB outreach made a great impact in our lives. As an African child, this was the best outreach I have ever experienced."
Chibuzo Nanadiebube agreed: "The ASBMB outreach was very well organized, impactful and enlightening. I can attest that the outreach created a new mental construct in the lives of the younger generation to become global problem-solvers and national transformers."
After completing this outreach project, Nweze was inspired to consider starting up a nongovernmental scientific organization to champion the advancement of biological sciences in Africa.
So how do I get started?
Interested in applying?
Visit asbmb.org/outreach-grant for more information about mini grants and application procedures. Applications are being accepted through Oct. 31. Contact outreach@asbmb.org with any questions about this program or any aspect of the SOCC's work.
Starting an outreach project can be a daunting task. Building a successful program involves a variety of logistical challenges, and the content must be engaging for a chosen target audience.
These three mini grant awardees lowered some logistical barriers by looking for established programs that could facilitate recruitment and provide an existing structure on which to build.
Albright linked into "Your Future Initiative," an active program on her campus, while Sokoloski built his program into an existing summer day camp.
The awardees also suggest recruiting others who are passionate about outreach to help develop and implement ideas. Schools with ASBMB Student Chapters, like Salisbury, have an excellent source of prospective volunteers who may be eager to work with their community on scientific outreach. Nweze reached out to colleagues and students at the University of Nigeria to help implement his outreach ideas.
Seed-money success
No matter how exciting your ideas are and how many volunteers you recruit, a lack of funds can stand in the way of developing a successful outreach program. The SOC mini grant helps alleviate this barrier so awardees can focus on developing the programming and community connections that make their ideas succeed.
As awardees develop community connections, the committee hopes the mini grants will help seed long-term outreach programs around the world by forging bonds between ASBMB scientists and local organizations.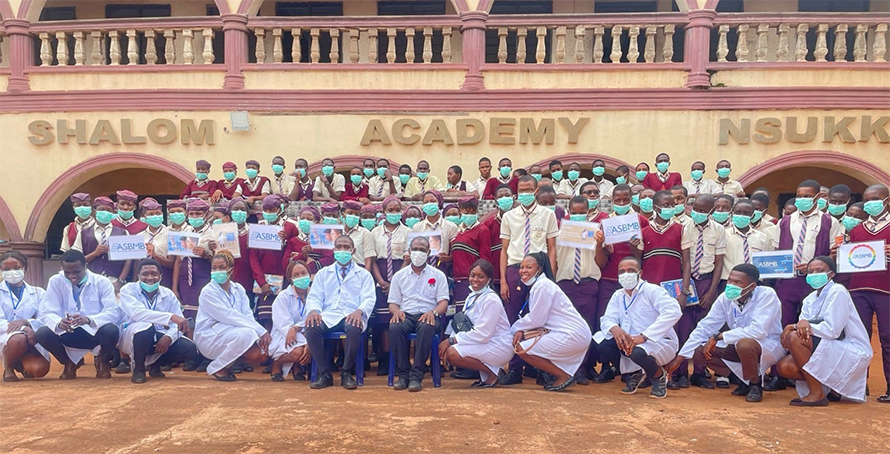 Victor Nweze
A group photo of organizers and students from Shalom Academy in Nigeria, one of three schools that benefited from Victor Nweze's vision to raise a new generation of minds for global impact.
Related reading
Enjoy reading ASBMB Today?
Become a member to receive the print edition monthly and the digital edition weekly.
Learn more
Get the latest from ASBMB Today
Enter your email address, and we'll send you a weekly email with recent articles, interviews and more.
Latest in Education
Education highlights or most popular articles