Interview
A science communicator explains it all
Diana Chien is senior program manager at the Massachusetts Institute of Technology School of Engineering Communication Lab. She talked to ASBMB Today about being a science communicator, her career path and the abstract pyramid. This interview has been edited.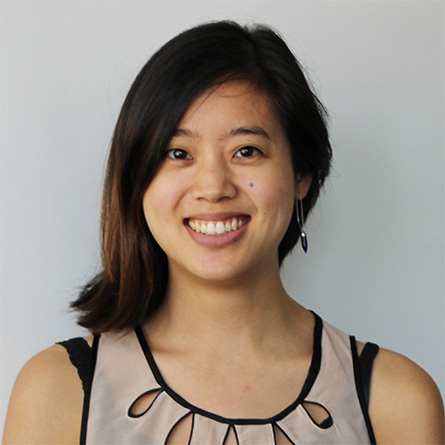 Q: What is a science communicator?
I like to default to the most expansive definition possible, which is someone who is trying to communicate their science clearly to an audience, but the range of science and the range of audiences is wide. It could be someone giving a presentation within their field, but it could also be a podcaster or a science journalist.
Self-identification as a science communicator is relatively new and goes along with the growing sense that scientists need to be engaged citizens and reach diverse audiences — not just people who speak the same technical language. They need to be able to go to Congress and advocate for causes that they care about.
There's a sense of empowerment, social engagement and civic responsibility — obviously not in all cases, but science communication is affiliated with that culture. It's a bit of a departure from the more traditional idea that science is a field in which very specialized forms of communication take place.
Q: What did your path to this career look like?
Really early on, I enjoyed reading and writing, and creative writing in particular. My mother was really supportive, and that provided me momentum to pursue that. In undergrad, I majored in ecology and evolutionary biology and minored in creative writing, specifically poetry. I had the usual existential undergrad crisis of "What do I want to do with my life?" I thought that going into industry might allow me the structure to retain the energy and initiative in my personal time to keep creative writing as my hobby or side gig.
I definitely got lucky in terms of timing. I became involved in the Communication Lab as a third-year grad student in microbiology at MIT, which is the time when you're starting to wonder what you'll do with your life after grad school. Comm Lab amplified my work as a grad student and helped me feel more confident and organized overall, and I learned many professional skills that were complementary to my Ph.D.
The Comm Lab founder, Jaime Goldstein, was very active as a mentor and gave me the opportunity to grow with the lab, which meant I had the chance to practice leadership and project management skills, develop my experience in pedagogical skills and grow my educational thinking. By my final year of grad school, I had accelerated the timeline of my thesis to take a position as Biological Engineering Communication Lab manager and instructor. Thankfully, my PI and lab mates were extremely supportive.
It was an intense transition in terms of the speed with which it had to happen; I didn't get to take a break between defending and starting the job. What made it emotionally feasible, and what had convinced me to take this career path in the first place, was the idea of taking your professional steps based on the people that you'll be working with. The intellectual and supportive community of the Comm Lab felt like a good place to be.
At this point, I consider myself a science communication educator, because I'm not regularly writing press releases or doing interviews or actually talking about research; it's more facilitating other people talking about their research.
Q: Tell me about the communication lab model at MIT?
We have two models: an educational model and an operational or organizational model. The educational model is peer to peer, just in time and discipline specific. Under the umbrella of the School of Engineering Communication Lab, each department has its own communication lab with its own peer coaches (fellows) led by a departmental manager. Each team creates discipline-specific resources such as workshops about how to write proposals for graduate fellowships. However, the fellows of all the departments come together for training on communication tools and educational principles.
In the organizational model, teams of local experts respond to local needs, and we aggregate experiences and resources across those local branches. There's a strong sense that we should have these local incubators to identify the unique needs and apply the just-in-time principles to respond to the culture they are serving.
Q: Can you give a specific example of a communication tool?
In the first year of Comm Lab, we scheduled an all-day weekend retreat. It was very scrappy at the time; we had just one or two professors come in and talk about their views on best practices for communication. Jaime Goldstein, who founded the lab, divided us into pairs and asked each pair to create a teaching tool to support MIT biological engineering professor Eric Alm's breakdown of what he views as a good scientific abstract.
My team came up with some kind of waterfall metaphor, but the team that had Alm's grad student Scott Olesen in it came up with an hourglass visual and metaphor — the abstract starts broad, goes narrow and gets broad again.
We were not the first people to come up with this, but it ended up being one of those images or metaphors that is so sticky it feels like the most appropriate way to teach that content. It's one of the most fundamental tools we use to this day.
Q: What jobs are forms of science communication?
Science journalism is clearly a form of science communication that has been around longer than the term "science communication," but I think science journalism is a subset of science communication. Technical writers and medical writers are also science communicators, even though they had a professional identity before the term "science communicator" came into play.
People now work on advanced data visualization or other forms of branding for others doing technical work. Firms and consultancies work to help create visuals that tell the story scientists are trying to get across.
Increasingly, I see some unique roles within academia listed for very specific science communication needs; a bunch of academics identify a bottleneck in their workflow that boils down to something like templates for grant writing, and they hire a science communicator.
For the most part, our fellows don't see a dramatic pivot in the job they plan to take after their Ph.D. or postdoc, but they do see the possibility that communication can enrich the practice they already planned to go into, whether that's in academia or industry.
RESOURCES
NPR Scicommers, a community formed out of the "Joe's Big Idea" podcast hosted by NPR science correspondent Joe Palca, links up STEM students and postdocs interested in science communication.
The SciComm Trainers Network is a growing professional network for people who work on the education side of things.
The MIT Communication Lab's CommKits for each department are available free to all online.
The American Society for Biochemistry and Molecular Biology offers The Art of Science Communication, an online course that focuses on how to present science to a nonexpert audience in a formal setting, such as a public lecture.
Enjoy reading ASBMB Today?
Become a member to receive the print edition monthly and the digital edition weekly.
Learn more
Get the latest from ASBMB Today
Enter your email address, and we'll send you a weekly email with recent articles, interviews and more.
Latest in Careers
Careers highlights or most popular articles