Jobs
Account managers as problem solvers in industry
I recently spoke with Cleyde Helena about how she helps academic clients get the instruments they need to move their research forward. Helena manages the sale, setup and maintenance of instruments within academic labs and manages the accounts from start to finish. She works as an independent contractor and is part of an analytical solutions consulting group that has contracts with several companies.

Helena primarily works with Agilent Technologies, an analytical instrumentation company, and covers the academic territory from the Florida panhandle up to eastern Tennessee and into Alabama. As far as territories go, they are what they sound like — these are the market sectors that account managers are assigned to in order to give different clients specialized help. When she first started, Helena was assigned to the industry territory and worked with biopharmaceutical and biotechnology companies. But she soon was assigned to the academic territory, which she said she likes better.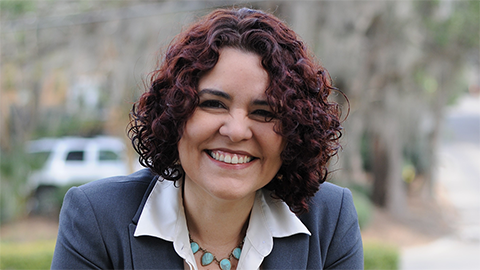 Courtesy of Cleyde Helena
Cleyde Helena has a Ph.D. in human physiology with an emphasis in neuroscience. In addition to working as an account manager, she is a co-founder of the
Recovering Academic
website and podcast.
Helena works with laboratories at academic research institutions to sell Agilent's line of products (including chromatography instrumentation, mass spectrometers and more) and also provide support for exiting instruments. She said she likes being "academic adjacent" and still getting to interact with researchers and hear about their projects.
Helena works remotely but does site visits as needed, typically around once or twice a month, to talk about a product with a client or to check in to make sure an instrument is operating smoothly.
"Nothing really substitutes for face-to-face interaction," she said. "I like being able to check in on the academic labs and hear about the research they're doing."
When not doing site visits, her days are varied depending on customer needs. A lot of her work requires discussing instrument requests with academic clients to understand their needs and talk about what offerings in their line of products might work. Then she prepares a proposal and sends it to the client for further consideration and hopefully purchase.
But she also has to address problems as they come up. For example, she sold an instrument that ended up being shipped with the wrong software. Helena needed to coordinate the return of the incorrect software with the shipping of the correct software and also needed to find a technician to install the software on site. She coordinated these tasks behind the scenes, so the customer had to talk to only her to get the problem solved.
"Sometimes I feel like my title should be 'problem solver' instead of account manager," she said.
The path through academia to account manager
Helena is originally from Brazil. Growing up, she told me, she didn't really think of being a scientist as a possibility. She didn't know any scientists, and it wasn't until starting undergrad that she first heard about doing research for a living.
"I thought it sounded cool because it was something different, and I would be paid," she said. "By the time I finished school, I realized I liked to be in the lab more than outside of it."
This inspired her to attend graduate school at the University of Sao Paulo, where she earned her Ph.D. in human physiology with an emphasis in neuroscience. After graduating, she did one postdoctoral fellowship in Brazil and then moved to the United States to do another. "I really wanted to be a researcher, and that was what I was working toward," Helena said.
After a few years in her second postdoc, she started applying for tenure-track positions, and, while she got a few interviews, none of them ended up working out. Then the faculty member who ran her lab retired and someone else started to take over the research. Helena's position was funded by an R01 grant, which was up for renewal. The group started to work on the R01 renewal about a year before the deadline, and that's when she started to think about other options.
"With the renewal coming up, I knew we were kind of on standby, so I started to think about what I wanted to do with my life," she said. "I thought I'd be out of a job soon."
She didn't want to do another postdoc, so she applied for a few research associate positions and also started thinking outside of the box. "I thought maybe academia isn't the way to go and maybe there are other things I'm interested in," she said. She found job hunting outside of academia difficult and confusing. Plus, she genuinely liked academic research.

She found guidance and support in her network — including social media. "I started to use Twitter and LinkedIn to connect with people outside of academia and to explore other career options," she said.
She set up informational interviews, which she said gave her a better sense of the jobs she would not want over jobs she would want. For example, she talked to a science writer and, after hearing about how they don't interact much with other people face-to-face, knew that type of role wouldn't be for her. "I highly recommend that anyone looking for new positions talk to as many people as they can to get a sense of what a new job entails," she said.
Since leaving academia, she and a few friends started the Recovering Academic website and podcast, which shares information about different people's career paths. It's a great resource for those job seekers looking to conduct informational interviews or access career advice.
Finding the right position
Helena's current role isn't one she would have pictured for herself if you asked her 10 years ago.
"I never really thought about going into sales," she said. "Everyone in academia has that sense of dread when a salesperson shows up in their lab, and I did not want to be that person."
But she had a good friend who was a VWR International representative, and he told her she was great with people and that she would do well in a sales-related role. He put her in touch with a sales rep from Eppendorf and she did an informational interview with them. She thought the job sounded interesting and started to apply for similar positions.
As an account manager, Helena handles only specialized sales — she doesn't do cold calls or show up unannounced in lab spaces. She said she found the job challenging when she first started, largely because of her lack of chemistry background and the technical nature of the products with which she was working.
But, she said, she learned to ask questions and speak with the rest of the account team, including technicians and product representatives, to help her better understand the chemistry or answer more detailed questions. Although the beginning was difficult (she told me that she almost signed up to take chemistry classes), she was eventually able to lean on her knowledge of the products themselves.
"People told me that you don't have to understand everything, just understand the equipment you work with and their capabilities," she said. "Give the client the options, and they can decide what they need."
She said her favorite aspect of the job is the flexibility. She can work from home on her own hours as long as she's responding to client concerns within a reasonable amount of time. (Agilent expects responses within 48 hours.) She's going to Brazil soon for a few weeks and will be able to take her computer with her and work from there as well. She does still partially work on commissions but can work fewer hours some days to maintain her workload while traveling.
Tips and advice
For those interested in a similar career path, Helena said to keep in mind that you will be interacting with people 90% of the time, so make sure that's something you'd enjoy. Being an extrovert is not a requirement, but enjoying interactions with other people is.
"When working on your résumé, highlight things that prove you are good with people," she said. "For instance, teaching, mentoring, giving presentations — communication skills are important."
Being able to manage multiple projects and your time are also important skills to highlight, and Helena said to be specific. Academics know how researchers manage multiple things, but people outside of that space might not.
For example, instead of listing all your publications, say that you have "excellent communication skills as proven by my five publications." Or you can say you're experienced with project management as evidenced by "establishing and maintaining three independent projects and one project with an external collaborator."
Her biggest piece of advice is to start early. Start thinking about leaving academia at least one year in advance, and then start applying for jobs about six months out. The extra time will help make sure you don't have a gap in employment and allow you to take your time figuring out what path sounds best.
"The earlier you start, the more people you can talk to," she said. "It's a process and will take some time, so make sure to take that time and know everything will be fine."
Enjoy reading ASBMB Today?
Become a member to receive the print edition monthly and the digital edition weekly.
Learn more
Get the latest from ASBMB Today
Enter your email address, and we'll send you a weekly email with recent articles, interviews and more.
Latest in Careers
Careers highlights or most popular articles