Interview
Productive mentoring meetings: A conversation
We recently participated in a moderated session titled "How to have a productive meeting with your mentor/mentee" hosted by the Johns Hopkins University Postdoctoral Association, or JHPDA. Our discussion covered best practices and proposals for better mentoring of postdocs. The event originally was aimed at the Hopkins community, but we believe this is an important topic beyond our institution. One takeaway message is that postdocs need structured access to mentors because they fall into a mentoring gap.
(Editor's note: This conversation has been edited.)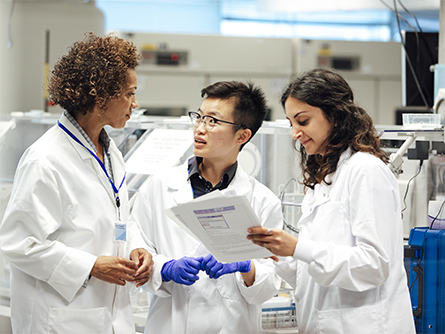 ID: What is the best way to approach a potential mentor?
RR: This depends on career stage. Predoctoral students have structured access to mentors through thesis committees, rotation advisors and teachers. Junior faculty may have mentoring committees and department chairs to advise them on career development. Unfortunately, postdoctoral fellows fall in between and often lack access to mentors, especially outside their lab. We can change this.
ID: What are signs of a good mentor? How do you recognize them before reaching out to a faculty member?
JC: For me, a good mentor is one who would not only guide my growth as a scientist but also help and support me in reaching my career goals. I don't think this is something you can easily determine from their publications or websites, so you really need to talk to them and to their lab members. You need to discuss their mentoring style and expectations and see if these match your needs and personality.
RR: A good mentor must make time for their mentee. If they are too busy to meet with you, then find someone else. A mentor may have expertise in a scientific field that complements that of your lab mentor (typically the principal investigator) and model a shared life experience (for example, as a woman of color) or specific career that matches your aspirations.
ID: How frequently do you meet? Do you meet regularly or at the mentee's request? How do you prepare for these meetings?
JC: I meet with my mentor, who is also the principal investigator of my lab, every week at a fixed day and time. The day before, I send them a weekly report, which includes a summary of the previous meeting, updates, other issues that need to be discussed and plans for the following week. This gives me a chance to organize my results and plan for the meeting, while it allows my PI to prepare by giving them time to look at my data and think about any issues. This is also a good way to make sure I am on track and goals are being met.
RR: I individualize the frequency of meetings depending on the mentee's needs and career stage so that there continues to be growth and development in our discussions. I prepare for the meeting by reviewing any notes from prior meetings and going over their research plans. If the mentee is not a trainee in my lab, I may ask for an updated CV to review their career trajectory.
ID: Do you set a mentorship plan with goals and milestones to be accomplished every month/year and follow it, or is it more on a question/answer basis?
JC: When I started, my PI and I discussed not only my project goals but my professional goals as well. This allowed us to tailor my research projects so that I can gain skill sets beneficial for my next career step after this fellowship. Postdocs are also required each year to accomplish an individual development plan with their PIs, so this is a great opportunity to plan and think about goals and milestones.
RR: I strongly recommend separate plans for short-, medium- and long-term goals that can be tracked at different intervals. It's important to develop your career in the direction of your long-term goals. For example, if you would like a job at a predominantly undergrad institution, such as a liberal arts college, get a teaching certificate and real-world experience teaching at a local college. Find a mentor who is already in the career that you want.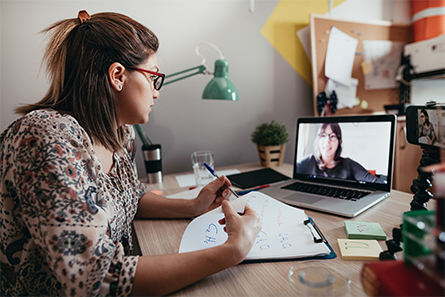 ID: How do you handle conflicts and disagreements in mentor–mentee relationships?
JC: Fortunately, I haven't had any major conflicts, and this is mainly because I always had a chance to share my opinions and be listened to with an open mind. Disagreements are normal, but if you talk about them and each party has a chance to explain their thoughts, then hopefully you can agree on a solution. Most of the conflicts I've seen are usually due to lack of communication, and so I think this is key in maintaining a good relationship with your mentor or PI.
RR: In addition to good communication, mutual respect and trust are also important in mentor–mentee relations. If you find yourself in a toxic relationship, be sure to seek advice from other mentors and peers. It may be better for your career and health to move on, however hard and scary that may seem.
ID: How can you foster interdepartmental mentorship programs? What might faculties do for that? How can postdocs take initiative to seek expertise outside of their department/school?
JC: I only had opportunities to have interdepartmental collaborations from my research projects. I also look out for seminars from other departments that interest me. Additionally, our professional development and careers office at Hopkins has useful seminars about career options. However, you really have to take initiative and use spare time for these seminars, so I think it would be very useful if there were a system in place for postdocs to find mentors.
RR: We should normalize having a mentoring committee for each postdoctoral fellow, as is required for the National Institutes of Health Pathway to Independence (K99/R00) award. This committee could provide feedback on research proposals, practice job talks and offer networking connections. Departments that are recruiting new faculty could allow postdocs to view candidate chalk talks. To build a mentoring network outside of their institution, postdocs should join a professional society in their field, regularly attend the society's annual meetings and volunteer on society committees.
Enjoy reading ASBMB Today?
Become a member to receive the print edition monthly and the digital edition weekly.
Learn more
Get the latest from ASBMB Today
Enter your email address, and we'll send you a weekly email with recent articles, interviews and more.
Latest in Careers
Careers highlights or most popular articles