Jobs
Working as an environmental educator
Maija Niemisto teaches and conducts research on the Hudson River
For the second article in my series about teaching science outside of the traditional classroom, I spoke with Maija Niemisto, an environmental educator and researcher with the state of New York and the Water Resources Institute at Cornell University.
Niemisto works at Norrie Point Environmental Center in Staatsburg, N.Y., where the headquarters of the state Department of Environmental Conservation's Hudson River National Estuarine Research Reserve is located.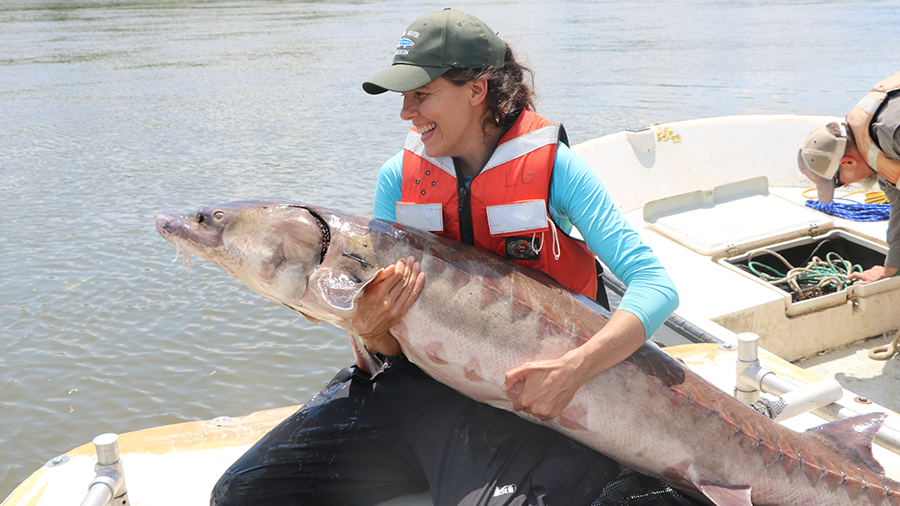 Courtesy of Chris Bowser
Maija Niemisto holds a Hudson River sturgeon before tagging it for research and releasing it back into the river.
It's clear that Niemisto loves science, the river and teaching. She speaks about all these things with an intensity and directness that caught me off guard the first time we spoke.
Central to her job as a science educator is establishing an environment in which students can thrive, try things, make mistakes and learn in a joyful and curious way. She seeks to give students a supportive place unlike any others they might have in their lives.
"A whole person is invited into exploring the world," she said. "Sometimes students come so scared to mess up that they aren't trying. And science does not advance if you don't try and make mistakes. So we leave a ton of latitude for making mistakes. Students can feel OK with making mistakes. And then, as they learn, they can see why precision and accuracy matter, why replicates matter. It becomes internal motivation, without the external pressure and fear that keeps them from innovating."
The job
So what is she actually doing every day? That varies quite a bit with the seasons.
Norrie Point and the DEC have a lot going on, with long-term research projects and teaching. This includes programs for community members, teachers and high school and college students, as well as summer camps.
Spring and fall are filled with field trips and other daylong programs for students. Niemisto gives lessons and leads experiments to educate visitors about watersheds, water quality, and animals and plants. Students measure oxygen in the river water and collect and identify fish.
While Norrie Point isn't required to teach N.Y. state curriculum, the educators keep the curriculum in mind and work with teachers to help meet their needs.
Some data collected by students are for demonstration purposes only, but some become part of ongoing research programs.
Niemisto's favorite programs take place during the summer. Over two weeks, groups of students get to plan and carry out their own experiments and really get to know their teachers, peers, the river and the process of research.
"Students get to feel what it's like to be a part of the scientific process from beginning to end," she said.
Niemisto introduces students to the ongoing research on estuary and teaches methods of data collection, including mapping where plants are growing, tagging and releasing fish (including eels) and monitoring microplastics in the waterways. Then the students create their own projects. "We turn them loose to do their own research," she said.
Winter is when Niemisto can focus on her own research. She's involved in two projects, one about microplastics and one about bioacoustics — or, as she calls it, "listening to fish."
"We can publish," Niemisto says, but unlike in academia, "there's no pressure to publish."
Inclusive teamwork
Niemisto makes sure students from different backgrounds work as a team. "We want to build a cohort of young people who can really relate to each other," she said.
She continued: "In order for us to do better science and understand the world better, we need more inclusive efforts in science. More voices — racial, cultural, age, gender. We just need more different kinds of folks doing research because they will think of things differently."
She said she hopes to create experiences that they can draw on for the rest of their lives.
"If they go out into a lab and are maybe the only woman or queer person or person of color, they can remember this group and how they were all able to contribute, so they know their contribution is valuable," she said.
Sometimes, she said, a student just needs a pal — "someone they can relate to." Sometimes she is that pal; other times she helps find a good match.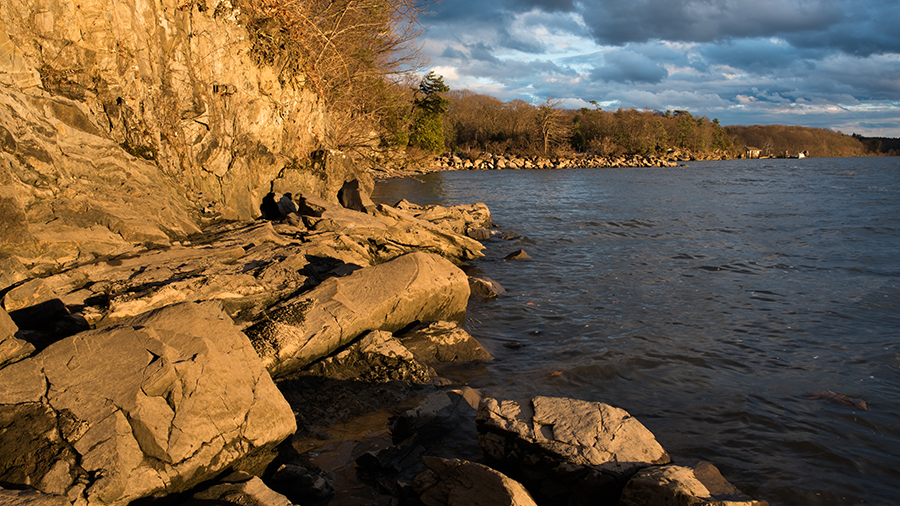 The eastern bank of the Hudson River at Margaret Lewis Norrie State Park in Hyde Park, N.Y.
The path to the job
This job certainly seems like the perfect fit for Niemisto's personality and goals: She's always been an enthusiastic, passionate and driven person seeking out new experiences and trying to find the best way to solve problems. But exactly how that all would fit together wasn't always clear.
She grew up in Minnesota and studied environmental science and international relations at the University of Wisconsin-Madison. She considered working on international water policy, studying abroad and learning languages to prepare.
But, she said, "the better people understand the science, the better decisions they can make." This thinking set her on her path toward education rather than policy.
She also knew she wanted adventure in her life.
After graduation, she moved to New York and become a crewmember aboard a 108-foot wooden sailing vessel.
The Hudson River Sloop Clearwater was built in 1969 for folk singer and activist Pete Seeger to cultivate love for the Hudson River and get people to fight for the environment. Today, the boat spends much of its time sailing with classes of fourth-graders from the surrounding Hudson Valley on three-hour field trips, so kids can learn about the river and gain a lifelong appreciation for it.
On the Clearwater, Niemisto and others taught lessons about biology, chemistry, the environment, human history, and even music and arts relating to the river. She planned and organized the logistics of how each class trip would unfold, worked with teachers to focus lessons or guide what topics were covered, and directed fellow crewmembers and volunteers on board to make the trips go smoothly. She stayed at Clearwater for several years, moving to a mostly on-shore, bigger-picture job eventually.
She then decided to dig deeper into the science and the practice of research, and she left to pursue a master's in marine science at Stonybrook University's School of Marine and Atmospheric Sciences.
Having made the Hudson Valley her home, including raising two kids there (ages 5 and 8, and equally as adventurous as she is) with her partner, she knew of Norrie Point and saw it was a place where she could put her research skills and teaching skills to good use.
After getting her master's, she spent time at Norrie Point teaching, volunteering and taking on a few different roles. Persistence and preparation paid off in this case: "I just kept on showing up there until this job came up," she said.
Perspective
Niemisto said that she can see the importance of her work every day, especially in light of the effects of the COVID-19 pandemic on students' development and lives.
"Students come now sometimes with problematic behavioral things that come up when they are face to face again. And things that used to be natural, like working together on simple tasks — even just folding up a tarp together — they've lost the skills to do that naturally, and stand there waiting for instructions," she said. "So it's really important to be working together right now. And the students find calmness and emotional restoration in the outdoors."
Author's note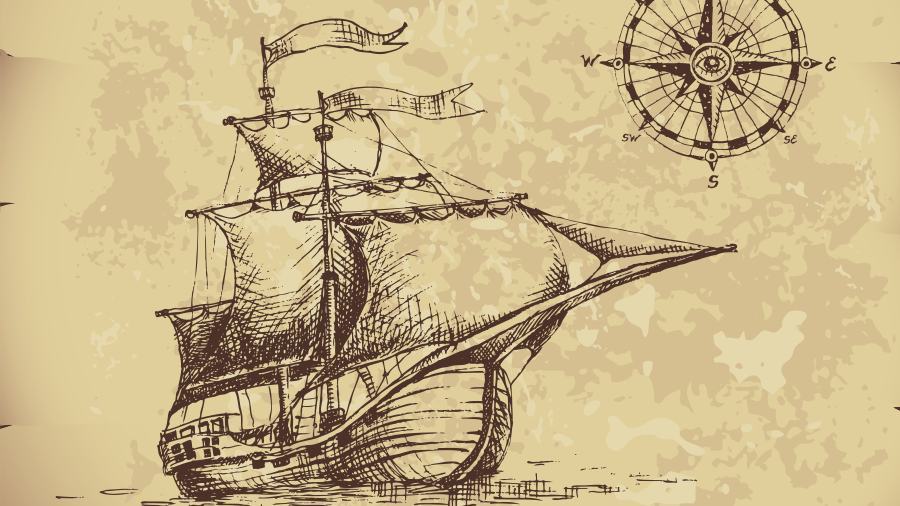 Taking time before a Ph.D.:
For
a previous column
, Elizabeth Stivison talked to four people who, like her, found direction and learned a lot about themselves by working between undergrad and grad school.
I met Maija in 2008, when she was a new educator on the Clearwater and I was lucky to get a job as crew between my junior and senior year of college. I returned to the Clearwater many times in a few different positions over the years before I left sailing to start my Ph.D. in 2012. I still model much of my mentoring style after Maija's: I try to listen carefully to everyone and remember that each person brings something valuable to the table no matter their age or experience. I hope to create, in all the labs that I work in, the same respectful and inclusive environment that she helped foster on the Clearwater and continues to build in her current role at Norrie Point. — Elizabeth Stivison
Enjoy reading ASBMB Today?
Become a member to receive the print edition monthly and the digital edition weekly.
Learn more
Get the latest from ASBMB Today
Enter your email address, and we'll send you a weekly email with recent articles, interviews and more.
Latest in Careers
Careers highlights or most popular articles