Education
Can an engaging online workshop replace the in-person experience?
BioMolViz is a community of educators who promote instruction in visual literacy. We host community-building workshops where faculty share tools for teaching biomolecular visualization and learn to write effective visualization-based assessments in teams. The assessments are designed to probe students' visual literacy, and the work in teams builds diverse connections and collaborations within the biomolecular visualization community.
When the SARS-CoV-2 pandemic hit, we had to figure out how we could engage participants in applied, hands-on workshops that didn't feel like just another Zoom meeting. To succeed, we needed to provide support for BMV educators and maintain a community of practice for the explicit instruction of visualization. Thus, we aimed to continue to foster the sense of community in the online space that we had worked so hard to build in our in-person workshops.
How could we reimagine the hands-on workshop experience in a virtual space? How do we take advantage of the benefits of online meetings to create valuable experiences? These adaptations have the potential to deliver professional development opportunities in a more inclusive manner. Educators who find travel challenging now have a world of training available from their homes.
Before March 2020, our core group operated as a dispersed team with members located across the country, so we knew how to work remotely. We had an online workflow that enabled us to collaborate, publish papers and secure funding. We modeled our remote workshop on these team experiences.
First, taking a lesson from our group's weekly remote meetings, we used the workshop agenda document as the launching place for all links, handouts and collaborative documents. This way, participants had one centralized file for all activities, from joining the Zoom meeting to developing their own assessment in groups.
To keep participants engaged, we decided that presentations needed to be brief, with a good balance of interactive activities. We provided a short introduction to each topic, immediately followed by an immersive experience intended to allow participants to put the idea into practice. For example, we integrated short breakout sessions of about 10-15 minutes where three to five participants shared an assessment question they've used in their teaching and matched it to our BioMolViz Framework, which details 12 overarching themes in visual literacy, 27 learning goals and 119 learning objectives.

BioMolViz
The BioMolViz group created a web interface to a database designed to provide users access to resources for curriculum development. Online at: biomolviz.org/framework.
BioMolViz
This example assessment question for the database probes visualization of molecular interactions.
We approached community building in several ways. We asked participants to introduce themselves using three photos, and we allotted significant time for introductions. At small working sessions shuffled between the main sessions, participants could interact and collaborate with new faces. We built in an optional morning coffee talk to start the day and an evening happy hour where participants could informally share their personal projects and visit in a low-key atmosphere.
We ended the workshops by sharing the assessments that were created during the working sessions. We invited participants to remain engaged beyond the workshop by continuing to develop, enhance and/or vet assessments that will be included in the repository. Several of our workshop participants have continued remote work with us weekly, allowing us to make progress on our repository beyond the workshops.
In preliminary feedback from the two virtual workshops hosted this past winter, participants indicated that they enjoyed the workshops overall and that we met our goals. By the end of their online experience, attendees were able to build the requisite content knowledge, engage with the workshop material, review assessments written at prior workshops and create their own. Participants from both workshops lauded the workshop's organization and commented on our hands-on hosting. However, they had mixed feelings about belonging to the community, and some did not feel the connection to BioMolViz at the end of the workshop that we had hoped for.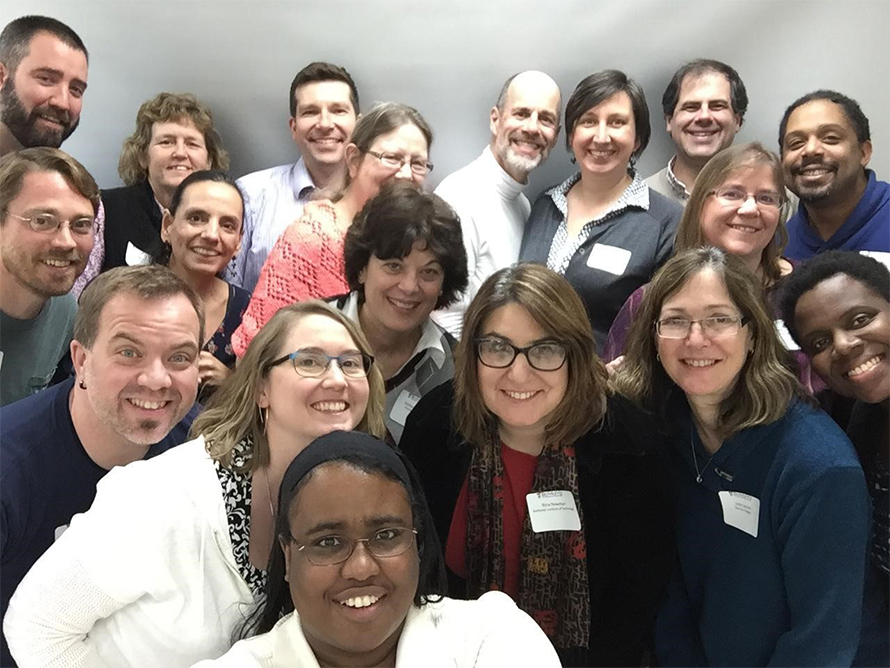 BioMolViz
Participants at the last pre-pandemic in-person BioMolViz workshop included, in front, Shanen Sherrer; second row, James Endres Howell, Kristen Procko, Dina Newman, Judy Levine and Pumtiwitt McCarthy; third row, Josh Beckham, Jacqueline Fajardo, Kathleen Cornely and Rebecca Roberts; and in back, Brian Chiswell, Kelly Keenan, Wally Novak, Margaret Franzen, Paul Craig, Julia Koeppe, Dan Dries and Jamaine Davis.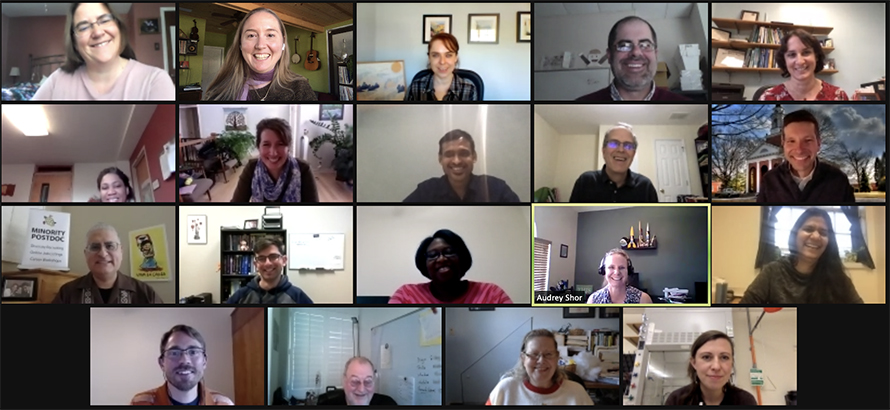 BioMolViz
A more recent workshop included some of the same faces but in a virtual setting: top row, Rebecca Roberts, Kristen Procko, Shelly Engelman, Dan Dries and Pamela Mertz; second row, Aeisha Thomas, Karin van Dijk, Venkatesh Nemmara, James Nolan and Wally Novak; third row, Alberto Roco, Nik Tsotakos, Charmita Burch, Audrey Shor and Swati Agrawal; and bottom row, Josh Beckham, Ellis Bell, Margaret Franzen and Eva Rose Balog.
Based on this feedback, we believe hands-on interactive workshops can be reimagined successfully in the online format. While a sense of community is not built easily during an online meeting even while engaging small groups and offering social events, it is not impossible.
Going forward, we hope to incorporate more strategies for building community. For example, we are creating multiple touch points beyond the initial workshops so participants can stay involved. The group now hosts semi-monthly Visualization Conversations on Zoom where presenters share their ongoing visualization-based work through informal discussions. And we have extended participant involvement by partnering returning contributors with a BMV steering committee member to work together through the assessment revision process.
We hope these regular interactions will engage participants and establish the sense of community we strive to build for successfully reimagining the workshop experience.
Kristen Procko of the University of Texas at Austin, Rebecca Roberts of Ursinus College and Shelly Engelman of Custom EduEval contributed to this article.
Enjoy reading ASBMB Today?
Become a member to receive the print edition monthly and the digital edition weekly.
Learn more
Get the latest from ASBMB Today
Enter your email address, and we'll send you a weekly email with recent articles, interviews and more.
Latest in Careers
Careers highlights or most popular articles