Professional Development
Making the most of a conference as an undergrad
Scientific conferences can be beneficial no matter the stage of your education or career. They are great venues to share your work, learn about new research and collaborate. But conferences can be intimidating, especially if you haven't been to one before. For undergraduates, it may seem even particularly daunting to interact with graduate students, investigators and other researchers.
This week, I talked with two undergraduate students about their experiences at the annual meeting of the American Society for Biochemistry and Molecular Biology. They offered advice for first-timers headed to Discover BMB in March in Seattle.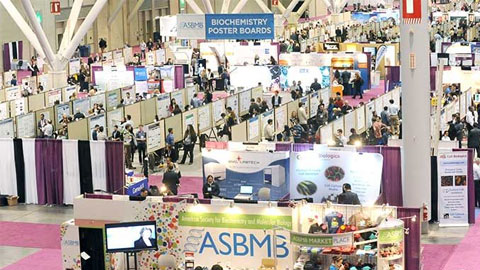 Ether Dharmesh is a biomedical engineering major in her junior year at Saint Louis University. At the ASBMB's 2022 annual meeting in Philadelphia, Dharmesh won an honorable mention in the microbiology and lipids/membranes category as part of the undergraduate poster competition. It was the second time she had attended a conference.
Sam J. Shepard is a chemistry major and neuroscience minor at the University of North Carolina at Asheville and is graduating in May. Shepard, who uses the pronoun they, also attended the 2022 meeting, which was their first national conference, and received an honorable mention in the protein structure and enzymology category as part of the undergraduate poster competition.
While both Dharmesh and Shepard went to the meeting to present their work, I want to emphasize that going to a conference as an attendee (without a poster presentation or research talk) can be valuable. I would highly recommend attending a local, regional or national conference if you can, even if you aren't going to present.
In fact, Shepard said they were surprised by how much they learned at the conference outside of the presentation: "I had been told that it was essentially going to be a smorgasbord of science, but I hadn't expected to find out about so many interesting and exciting fields, projects and more. It was truly invigorating."
Preparing for a conference
Attending a conference warrants preparation. Many event organizers publish the schedule of sessions ahead of time, which can help you plan. Dharmesh recommends identifying key talks, workshops and posters you want to learn more about.
"I would suggest attending a wide variety of oral presentations to learn about different research specialties, which can inspire and motivate your own research goals," she said.
It can also be a good idea to talk to your lab mates or mentors about other opportunities (such as networking events) that may be beneficial to attend to make the most of your time at the conference.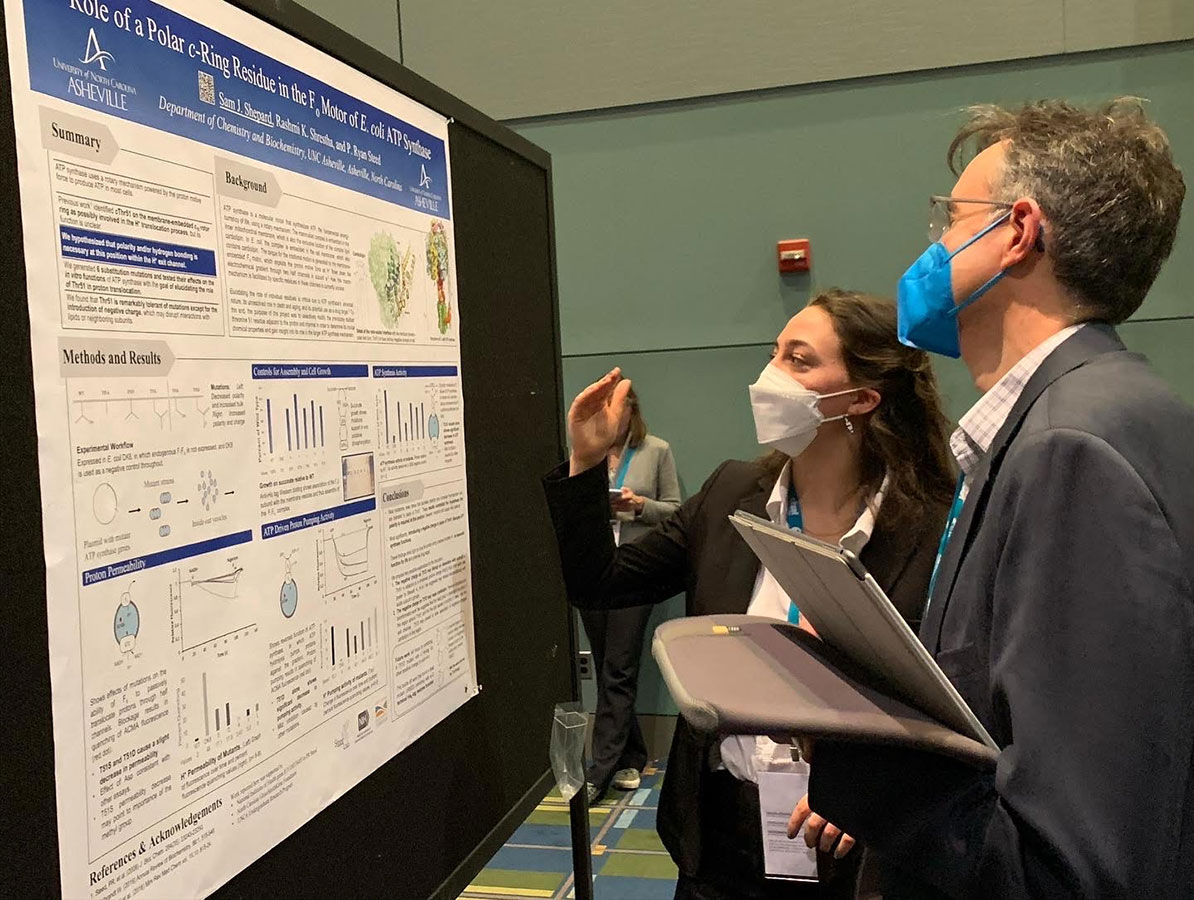 Courtesy of Sam J. Shepard
Sam J. Shepard, left, won an honorable mention for their presentation at the ASBMB's annual undergraduate poster competition in Philadelphia in 2022.
Preparing for a presentation
If you're going to a conference to deliver a poster presentation or research talk, your preparation may be more involved. For example, Dharmesh made sure she knew more than just her presentation material for her rapid-fire talk at her first conference.
"I prepared by making a rough outline of my talk and practiced delivering my talk out loud several times," said Dharmesh. "I also made sure I knew how to answer the most common questions I received about my research."
Thinking about what questions your talk or poster audience may ask is a good way to be prepared. Dharmesh said she recommends asking your principal investigator or mentor (or even fellow lab members) about what type of questions are typically asked. You could also try presenting in front of friends who aren't in your area of research and see what questions they ask.
Dharmesh said she used a similar approach to prepare for her poster presentation at the 2022 meeting, by making a rough outline of the main talking points and practicing it out loud several times. Shepard prepared in a similar manner: They practiced their poster informally with lab mates beforehand and then on their own the morning of the competition.
"What I find helpful going into any presentation, and certainly the poster competition, is having a clear project narrative that communicates the reasons for my research's trajectory, having a clear and concise idea of what I want people to get from my poster and presentation, and keeping in mind that this is a chance to talk about my work, look at it from a different perspective, and get important feedback," Shepard said.
Dharmesh also shared what she said was the best advice she received for her poster presentation: "Assume that the listener has no scientific background, and explain the research in a simple manner that can be understood by everyone," she said. "I recommend not making a script for your presentation, as this allows your presentation to flow naturally and will allow your passion for the science to shine."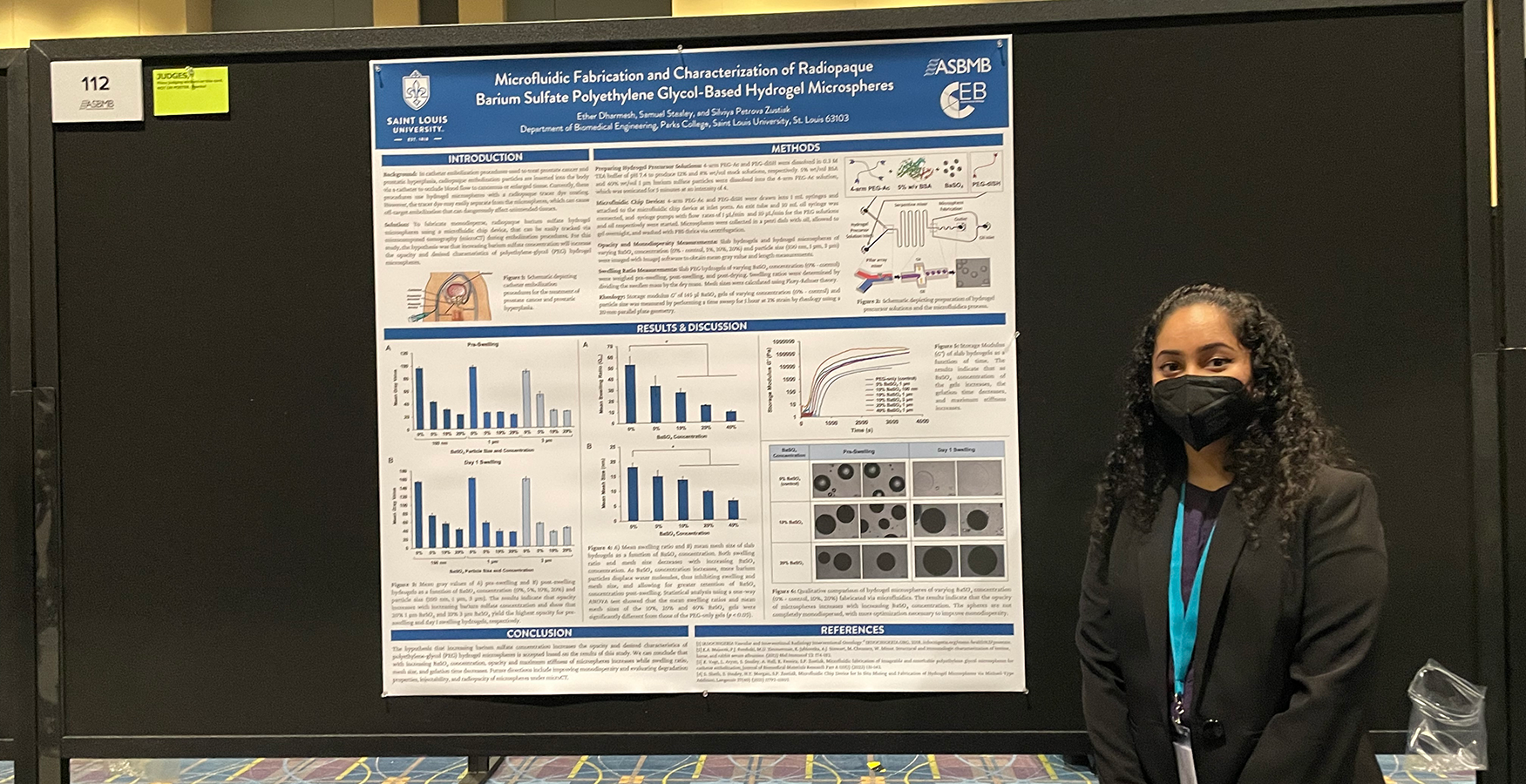 Courtesy of Ether Dharmesh
Ether Dharmesh won an honorable mention for her presentation at the ASBMB's annual undergraduate poster competition in Philadelphia in 2022.
Getting the most out of conferences
Shepard had the following advice for undergraduates preparing to attend a conference, although the advice is good for any career stage:
"My humble advice would be to peruse the schedule and find talks that you might find interesting, talk to other undergraduates and find out about their experiences, attend networking events, and generally just take in as much as you can," they said. "Also, always apply for travel awards or grants."
Dharmesh also had advice with undergrads specifically in mind.
"I would also highly encourage going to the booths of university representatives who attend these conferences to showcase their graduate programs," she said. "This is a valuable opportunity to expand your network. For example, I met with a dean of a graduate program at one of the booths at ASBMB and was able to invite him as a guest speaker for an event at my university."
Conferences can be an invaluable avenue to gain scientific communication skills and make connections that can be beneficial after graduating, regardless of your future career path.
Stay tuned for more presentation tips, and happy conferencing!
Enjoy reading ASBMB Today?
Become a member to receive the print edition monthly and the digital edition weekly.
Learn more
Get the latest from ASBMB Today
Enter your email address, and we'll send you a weekly email with recent articles, interviews and more.
Latest in Careers
Careers highlights or most popular articles