Case Study
Taking technology out of the lab and into the world
Rachel A. Cassidy talks about a career in technology transfer
Science, intellectual property (which includes patents, copyrights, trademarks and trade secrets) and business converge in the field of technology transfer. Its focus is the transfer of IP rights from the nonprofit academic sector to the for-profit sector for commercialization so that academic innovations can be turned into products and services for public good.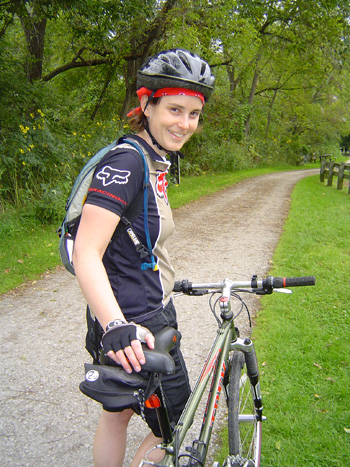 Rachel Cassidy takes on the 20-mile Northern Central Railroad Trail in Maryland near the Pennsylvania border.
The interdisciplinary nature of technology transfer attracts people with all kinds of academic backgrounds. Some may have science or engineering undergraduate degrees and law degrees. Others may have earned M.B.A.s. As an associate director at Johns Hopkins University's Technology Transfer Office in Maryland, I fall into the group of people who have doctoral degrees in science. I earned my doctorate in biophysics and biophysical chemistry at Johns Hopkins University in 2003 under the guidance of Paul S. Miller. My thesis project focused on triplex formation in DNA, and it touched upon biochemistry, biophysics and chemistry. I enjoyed my time in the lab and really liked working with my adviser. However, in the third year of graduate school, I realized that I did not want to pursue the traditional academic career path. Although my experience in lab was great, it wasn't a perfect fit for me. I wanted to interact more with people. I was interested in science on a broader scale and didn't want to spend the rest of my life focused on a tiny microcosm of science. I also found the idea of working with science that was closer to being a product very exciting.
Luckily, my adviser supported my search for a career away from research. One of my first resources was a book called "Alternative Careers in Science" by Cynthia Robbins-Roth. A good friend of mine from college was working as a patent attorney. I picked her brain about what a typical day was like for her. She helped me contact others in her field so that I could request informational interviews. I asked people to share with me the stories of their career paths and tell me about their job descriptions.
As I entered my last year of graduate school, Johns Hopkins University's Technology Transfer Office started a two-year internship program. I immediately applied. I knew that I was interested in technology transfer, but I wasn't sure if I was more geared for science and law, or science and business, or the combination of science, law and business, which is technology transfer. I saw the internship as the perfect opportunity to determine where my interests and strengths lay and was overjoyed when I got accepted.
In my first year of the internship, I passed the Patent Bar Exam. Individuals may sit for the Patent Bar Exam if they have a certain number of undergraduate science credits even if they have not gone to law school. Because I hadn't gone to law school, passing the exam made me a registered patent agent (as opposed to a patent attorney). I was actually promoted early from the internship program to a technology-licensing associate position. I took to the work quickly and loved it, managing my own docket of cases.
I left technology transfer for a while and took a position as a patent agent within an R&D group at a medical device company. I wanted to gain experience working in industry and see things from a different perspective. Working in industry was a great experience, but, as sometimes happens, the company disbanded the R&D group where I was working. As luck would have it, my previous technology transfer office was hiring!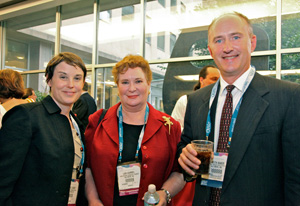 Cassidy attends the 2011 BIO International Convention in Washington, D.C., with Lani Hummel, director of corporate partnerships at Johns Hopkins University, and R. Keith Baker, senior director for licensing at the Hopkins tech-transfer office.
I had started my first year of a part-time M.B.A. program at the University of Maryland while I was working at the company and finished that degree after my return to academic technology transfer. Working full time and going to school part time was surely a grind, as anyone who has experienced it will tell you. However, I am very grateful that I rounded out my scientific knowledge with the business knowledge and acumen that I acquired through my M.B.A. program. I feel my doctoral and master's degrees and patent agent status touch upon all three cornerstones of technology transfer.
Our office receives Invention Disclosure Reports from faculty in the general areas of devices, diagnostics, therapeutics, and research tools and reagents. In my initial review of an IDR, I use my science background to understand what the invention is. I also tap into my business experience to begin thinking about how this invention might be translated into a finished commercial product. In the early stages of review of a new IDR, my colleagues and I do preliminary patent landscape and market analyses to see if other patents and patent applications already exist in the field of the invention and whether the invention has the potential to generate revenues.
Another major component of technology transfer is business-development outreach and marketing. It is critical to find the right homes for technologies for further development. The first step is finding a potential licensee. Once a potential licensee confirms interest in a technology, then the negotiation process begins! Of course, one of the most important aspects of any new negotiation is determining the value of the technology. The goal of the negotiation is a fully executed license agreement.
To enter the world of technology transfer, I believe that you must have a broad interest in science. You should also demonstrate critical and analytical thinking and multitasking abilities. Good communication and people skills are crucial, because you have deal with a variety of people, ranging from the academic scientist to a company representative.
A great resource for learning more about technology transfer is the Association of University Technology Managers (http://www.autm.net). Many people in the field also belong to the Licensing Executives Society in the U.S. and Canada (www.lesusacanada.org; for international members, it's www.lesi.org). An organization with a focus on intellectual property is the American Intellectual Property Law Association. Another resource that I would recommend can be found at http://www.cogr.edu/Pubs_intellectual.cfm.
Both the National Cancer Institute and the National Institutes of Health offer fellowships in technology transfer. For more information, please see http://ttc.nci.nih.gov/employment/crtafe.php and http://www.ott.nih.gov/about_nih/IRTA.aspx.

Alternatively, volunteering at your university's technology transfer office is also a great way to learn more about the field and begin to gain experience. I suggest you contact your university's technology transfer office and ask about volunteer opportunities.
Join the ASBMB Today mailing list
Sign up to get updates on articles, interviews and events.
Latest in Careers
Careers highlights or most popular articles