Jobs
Program highlight: BD's Technology Leadership Development Program
If you survey the many companies that make up the pharmaceutical, medical device and biotechnology industries, no two will be the same. Even within the same company, tasks and responsibilities vastly differ between locations and projects. Getting experience in the different areas of industry can be challenging, yet gaining a solid understanding of how the parts of an operation work can position you for success.
Enter the Technology Leadership Development Program (TLDP) at BD (short for Becton, Dickinson and Company), a global medical technology company.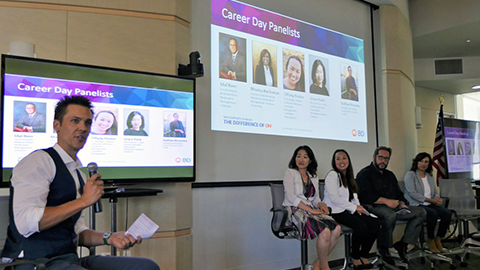 BD
Each BD program participant completes three rotations in different business units.
I am highlighting the TLDP this week as an example of a paid postgraduate program in industry, and I spoke with a current participant to get a better understanding of all the program has to offer. I'm writing about this program now because applications for the next cohort will be accepted beginning in March.
TLDP is just one of several industry-focused post-bachelor's or postgrad programs. Check back in upcoming months for articles on similar programs, including the Industrial Fellowship Program through the North Carolina Biotechnology Center and the Pall Corp. Graduate Research and Development Leadership Program.
The TLDP isn't so much an internship program as it is a career accelerator — it provides in-depth technical training, mentorship and leadership opportunities. Simply, the program consists of three R&D-based assignments that span multiple business units, locations and roles. Each participant has a personalized track. Salary depends on credentials and previous experience. Most participants end up staying with the company after completing the program.
Nuts and bolts of the TLDP
Anyone with a Ph.D., master's degree or M.D. and a research-based thesis related to the life sciences, engineering or chemistry is eligible to apply. Applicants must be eligible to work in the U.S. without visa sponsorship. BD looks for outstanding academic and research performance and considers any experience with medical technologies, healthcare or other life science industries a plus. Typically, more than 300 people apply for three to six spots during each application cycle.
Once accepted, program associates complete three assignments, with each rotation increasing in complexity. The assignments vary in length, from 18 months to two years, depending on the business units and projects and can touch on multiple facets of the company, including research and development, marketing and business development.
BD has locations across the U.S. at which program associates can choose to work, including the company's headquarters in Franklin Lakes, New Jersey, and cities such as San Diego, Baltimore, Vernon Hills, Illinois, and Sandy, Utah. All associates must rotate through at least two locations.
Associates receive mentoring and customized tracks based on their skills, interests and future career plans.
First-hand perspective
Emilie Mainz is a staff engineer and is two-thirds of the way through the program. She earned her bachelor's degree in biochemistry at the University of Kansas and her Ph.D. in analytical chemistry at the University of North Carolina at Chapel Hill, where her research focused on kinase signaling pathways and their impact on diseases, including rheumatoid arthritis. During graduate school, she became interested in developing diagnostic solutions to detect changes in kinase activity levels and translating that to disease diagnosis and patient care.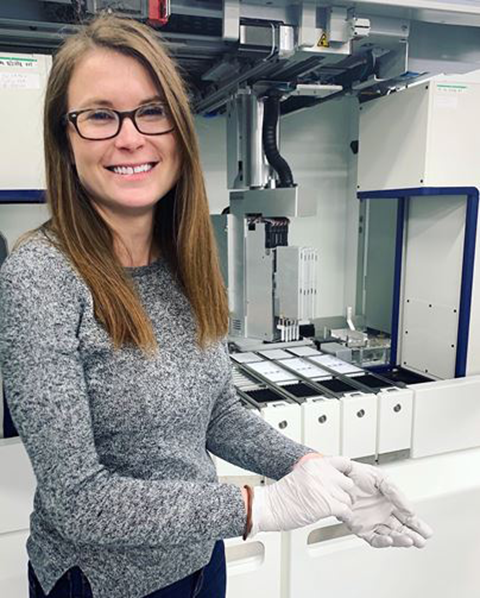 Emilie Mainz is finishing her second rotation in the BD program.
During the final year of her Ph.D., Mainz started looking at different career paths. She knew she enjoyed the technical complexity of her work and wanted to be part of a team that provides tangible solutions for healthcare and disease-related problems. She found the BD program and applied.
"I was immediately struck by how unique the program was and how committed BD was to working with program participants and transforming them to be leaders in their departments," she recalled. "TLDP graduates have a clear and direct impact on the direction of the company."
She said the most rewarding part of the program so far has been being a part of the many different project teams that are working to develop products and technology that will have a real-world impact on healthcare.
"I can go out and work with the patients and healthcare partners that rely on our products to get a real sense of the impact we are having," Mainz said.
As she has progressed through the program, she said, she has had more opportunities to take on leadership roles and has had the help of numerous mentors, both of which have been fulfilling.
Rotations at a glance
Mainz's current assignment is with the integrated diagnostic systems business unit. She and her project teammates have been working to develop assays and instruments for automated testing of human papillomavirus and analytes related to cervical cancer and other infectious diseases.
In addition to the R&D side of producing the complex instrumentation and associated software necessary to succeed at automated diagnostics testing, Mainz has gotten an inside look at how products are launched and marketed.
While the company plans to bring the instrument Mainz is working on to market in different regions, it is initially focusing on Europe. Mainz said she has spent a lot of time with customers overseas to understand how the product will meet their needs.
"I'm able to see the application of my Ph.D. focus within my rotation and the impact of the skillset I'm developing can have on the market at large," she said. "It's exciting to see how my work can have impact on real-world problems."
Life after the TLDP
Mainz will soon start her final rotation. It'll be with BD's corporate business development arm, where she'll be working with BD leaders to identify, evaluate, value and negotiate new business — including acquisitions, divestitures, strategic alliances and equity investments. The skills and experiences she has gained while in the program will be beneficial within BD or other companies, she said, thanks in large part to the individualized attention she has gotten in the program.
"The program description includes a blurb about an individualized career path, and that really is true," Mainz said. "The program is completely tailored to each associate's career goals and interests."
During the program, Mainz said, she has been able to use her background in biochemistry and analytical chemistry while also gaining skills in engineering, leadership, product development and clinical research data management.The technical complexity of her assignments has increased, and she has been given more responsibility and leadership roles.
Mainz isn't settled on what she'll do after she completes the program, but she still has time to decide.
"I'm leaving the future open," she said. "But I know I'll come out of the TLDP well prepared to lead a team toward developing future products."
If you think a career in industry is for you and you want to see all that a company like BD has to offer, consider applying for the TLDP. To learn more or apply, visit jobs.bd.com and search "TLDP." Spring recruitment opens in March and will close in early April.
Enjoy reading ASBMB Today?
Become a member to receive the print edition monthly and the digital edition weekly.
Learn more
Get the latest from ASBMB Today
Enter your email address, and we'll send you a weekly email with recent articles, interviews and more.
Latest in Careers
Careers highlights or most popular articles