Jobs
When does a postdoc end?
So, you've finished your Ph.D. Now what? Postdoctoral research is the typical next step, especially for those hoping to make a long-term career in academia (although doing a postdoc can be advantageous for other career fields too).
Fellow career columnist Elizabeth Stivison has written before about how to find a postdoctoral position, so I won't go into specifics about that. Instead, I want to talk about the other side of things: Once you've started your postdoc, when does it end?
This question doesn't really have a one-size-fits-all answer. Unlike a Ph.D. or master's program, which has a certain amount of structure and a semi-guaranteed timeline for completion, a postdoc is typically open-ended and doesn't have a set timeline. Postdoctoral fellowships have also gotten longer, with many stretching to five to six years (if not more). Postdoc job offers and contracts are also extremely variable in structure and are less standardized than graduate programs — some are on a fixed timeline, others aren't. Some are tied to specific projects or funding lines, and some are broader in scope.
There are countless outcomes that can come from a postdoc, and they are influenced by factors such as funding, area of research, career opportunities and personal choice. There are also industry postdoctoral opportunities, which I'm not talking about here either. The outcomes below are generalized and are more specific to academic postdocs.
So, what comes next?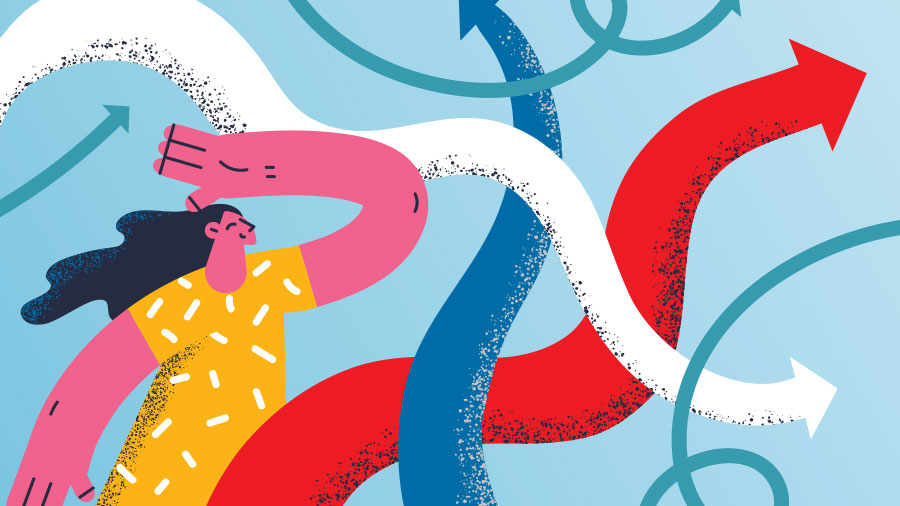 Faculty position
For most, the primary goal of a postdoc is to receive the additional training, and oftentimes funding, to land a full-time faculty research position. The exact nature of that position will depend on your goals. For example, a faculty job at a primarily undergraduate institution will differ from one at an R1 (high research activity) institution.
Showing that you can secure your own funding, whether it be a training grant or career-transition award, is a good way to demonstrate you are a good candidate.
Faculty positions are extremely competitive, so starting the hunt early is also advisable. One early-career faculty member I talked do during my postdoc said she applied to over 50 faculty positions over the course of two and half years before she accepted her current position. If your end goal is a faculty position, you may have to be prepared to stick out your postdoc until that new job offer comes, which can extend postdoc timelines.
A second postdoc
It is becoming more common for researchers to do two postdoctoral stints, although there hasn't been a solid comprehensive study that gives a sense of how prevalent this is.
As difficulties in finding permanent faculty-level positions persist, some postdoctoral scientists are opting to further expand their skill set in a second postdoc position. This move is often made a little earlier into the postdoc timeline, say after three to four years at the first.
If you're committed to further expanding your skills and are happy in the postdoc life, this could be a good option to become a more technically diverse faculty candidate.
Another academic position
Some universities will promote postdocs to research associates, or similar positions, typically after many years of postdoc work.
These positions are a step above postdoctoral work in the sense that you typically are not considered a trainee anymore and can take on more departmental responsibility, which can be advantageous to building a strong CV.
Many universities and departments have job listings specifically for research associates, so this can be another good way to get more experience within academia. This type of promotion does often remove you from postdoc-specific funding opportunities though, so keep that in mind if you are still interested in securing independent funding.
Position outside of academia
Many leave their postdocs for positions outside of academia, either because they have found another area of interest or because they no longer wish to apply for faculty positions.
Postdoctoral training can still offer many advantages in fields outside of academia, so doing a postdoc to feel out the academic career space, even if you ultimately end up leaving academia, can be a good idea.
Postdoc positions can help prepare you for careers in industry, regulatory science, project management, careers in academia outside of research, and more.
As I said earlier, these are just some of the ways a postdoc can end and vary greatly from person to person. If you're curious about specific details, reach out to a postdoc in your department or university (or even on LinkedIn), and they'd probably be happy to share their experience.
Enjoy reading ASBMB Today?
Become a member to receive the print edition monthly and the digital edition weekly.
Learn more
Get the latest from ASBMB Today
Enter your email address, and we'll send you a weekly email with recent articles, interviews and more.
Latest in Careers
Careers highlights or most popular articles