Blotter
NIGMS to pilot new grant program
The first pilot cohort of MIRA awardees will be established researchers, and the second will include early-stage investigators
When Jon Lorsch became the director of the National Institute of General Medical Sciences in August 2013, he had a vision for a new type of research-funding mechanism – funding research programs instead of individual projects. The pilot program for Lorsch's idea, Maximizing Investigators' Research Award, or MIRA, will begin in the summer.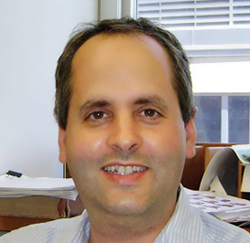 Jon Lorsch
In an interview about the program, Lorsch said he believes grants that fund individual projects (i.e., R01s) are inefficient and discourage researchers from proposing innovative, creative projects due to the potential instability of their funding in the long term. "Having a system be as unstable as it is, with investigators constantly worried they're going to go from being funded to having no funding at all, causes a certain conservatism in the system both in terms of the types of projects investigators will take on and the way the review panels view the science," Lorsch said.
Furthermore, R01 applications require defined experiments proposed in advance, leaving little room for investigators to follow new research directions within the grant's cycle. Lorsch is also concerned that the time spent writing grants is increasingly burdensome.
The MIRA program, developed by Lorsch and other NIGMS leaders, will fund renewable five-year grants of up to $750,000 for direct costs each year. Applications for MIRA awards, which the NIGMS hopes to begin accepting in the summer, do not require specific aims. Instead, applicants must describe the overall questions they are interested in exploring and will be evaluated based on the importance of the proposed research and their track records. Applicants also must discuss the efficiency, rigor and reproducibility of their past work. MIRA awardees will not be eligible to apply for most other types of NIGMS grants and must dedicate 51 percent of their research effort to the MIRA-funded work. Finally, NIGMS will be able to scale MIRA awards (up or down) depending on renewal reviews instead of abruptly terminating them.
The first pilot cohort of awardees will be established investigators with two or more NIGMS R01 awards or a single R01 award of more than $400,000 in direct costs. Applications are expected to be due in the summer. The second pilot cohort will include early-stage investigators. If the initial pilots are successful, the NIGMS plans to broaden eligibility to include all investigators working in areas relevant to the institute's mission.
Lorsch said he believes the flexibility and stability of MIRA awards will give investigators the freedom to explore new avenues of inquiry and will allow the maximum return on taxpayer investments through a broad, diverse NIGMS research portfolio.
"We hope that by creating the stability for investigators, we can really empower them to be more ambitious and more creative in their research," he said. "We also hope to increase the flexibility for investigators to follow new ideas and new research directions as they arise during the course of their work. If they discover something very interesting … they'll be able to follow that."
There already has been interest from other leaders within the National Institutes of Health who are awaiting results from the MIRA pilot.
Concerns from the science community
The NIGMS solicited comments from the research community about the program in July. The response was overwhelmingly favorable, Lorsch said, with positive comments from 80 percent of 300 respondents.
Lorsch indicated the two main concerns raised by respondents were somewhat contradictory. First, some were worried that funds would be unevenly distributed. Joseph Haywood, president of the Federation of American Societies for Experimental Biology, echoed that sentiment in a public letter in August to Lorsch. "We are concerned about the possibility that (NIH) funding will become concentrated among a small number of (investigators) or institutions," Haywood wrote.
However, Lorsch insists that one of the program's goals is to broaden the NIGMS portfolio by increasing the total number of investigators and number of research areas and preventing funds from being concentrated in the hands of a small number of elite researchers. "It is impossible to know in advance where the next breakthroughs will arise. Having a broad and diverse research portfolio should maximize the number of important discoveries that emerge from the science we support," Lorsch wrote in a NIGMS Feedback Loop blog post in January.
Second, some respondents indicated the cap on funds – $750,000 – would not be enough for some investigators who have large labs with many employees, trainees and projects and who are used to receiving more money. Lorsch said he hopes the stability of the program and the desire on the part of principal investigators to write fewer grants will be incentives.
Lorsch also said he believes concentrating the limited funds in only a few hands is inefficient and that several studies, including a 2010 analysis by the NIGMS, have shown that large research budgets usually do not give the best return on investment.
"These and other lines of evidence indicate that funding smaller, more efficient research groups will increase the net impact of fundamental biomedical research: valuable scientific output per taxpayer dollar invested," Lorsch wrote in January on his blog. In addition, he wrote, the tight funding environment often means that funding a single investigator with multiple R01s precludes funding other researchers at all.
Lorsch said that the NIGMS is developing an evaluation plan for the MIRA pilot, and he indicated that it will include feedback from both reviewers and grantees. It also will determine whether grantees altered their original research plans based on new data and whether MIRA allowed for a more diverse NIGMS portfolio.
While most in the science community feel that MIRA is a promising program, there are still a number of unknowns.
Benjamin Corb, public affairs director for the American Society for Biochemistry and Molecular Biology, ticked off a list of questions that he and others have: "What will be the buy-in from the community? How will reviewers adapt to the different review guidelines? What will the final evaluation plan look like? For most of these questions, we won't know the answer until the experiment (the MIRA pilot) is complete, but I am looking forward to seeing the results."
Enjoy reading ASBMB Today?
Become a member to receive the print edition monthly and the digital edition weekly.
Learn more
Get the latest from ASBMB Today
Enter your email address, and we'll send you a weekly email with recent articles, interviews and more.
Latest in Policy
Policy highlights or most popular articles