In Memoriam
In memoriam: Akira and Hideko Kaji
Akira and Hideko Katayama Kaji, a husband-and-wife research team that helped decipher the genetic code, died just months apart earlier this year. They had been members of the American Society for Biochemistry and Molecular Biology for decades.
Hideko Katayama Kaji, a longtime professor of pharmacology at Thomas Jefferson University and an ASBMB member since 1968, died on Jan. 18. She was 91.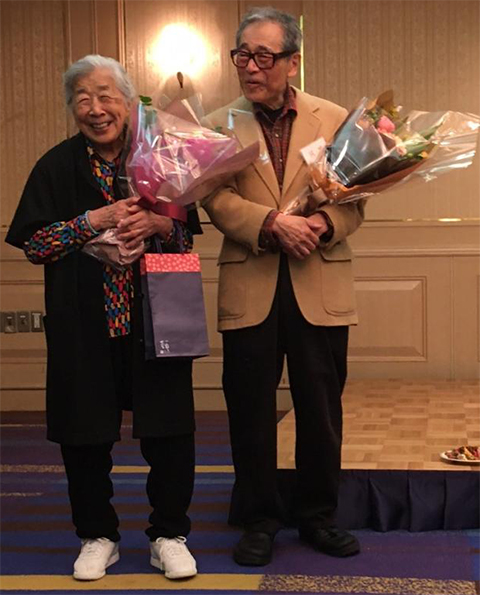 This photo shows the Kajis at a lab reunion in 2019. It was posted on a public gallery, where you can
see other photos
.
Akira Kaji, a longtime professor of microbiology at the University of Pennsylvania and a member of the ASBMB since 1966, died May 13. He was 93.
Working together, Akira and Hideko Kaji discovered that transfer RNA binds to ribosomes in the presence of messenger RNA to help facilitate translation — a key to Marshall Nirenberg winning a Nobel Prize in 1968 for "the genetic code and its function in protein synthesis." In his Nobel speech, Nirenberg said the Kajis' findings provided the "clue to the solution" of how base composition within codons specifies each amino acid.
Akira Kaji was born on Jan. 13, 1930, in Tokyo, Japan. He earned a bachelor's degree at the University of Tokyo in 1953, then received a Fulbright Scholarship and earned his Ph.D. at the McCollum Pratt Institute of Johns Hopkins University in 1958. In 1963, he joined the faculty of what became the Perelman School of Medicine at UPenn. The next year, he became an associate professor, and in 1973, he became a full professor.
In the early days of molecular biology, Akira Kaji studied protein synthesis and earned a Guggenheim fellowship to support this work. He discovered that dedicated machinery was required to terminate translation and recycle ribosomes from mRNA and contributed to studies of tRNA binding to translation complexes and the functional outcomes. He obtained the first patent for the use of an antisense oligonucleotide for the control of Herpes virus pathological effects.
Hideko Kaji was also born in Tokyo, on Jan. 1, 1932. She earned a bachelor's degree at the Tokyo College of Pharmacy in 1954, a master's from the University of Nebraska in 1956 and a Ph.D. from Purdue University in 1958. She was a postdoc at Johns Hopkins School of Medicine and the Oak Ridge National Laboratory and later held positions at Vanderbilt University and the Institute for Cancer Research in Philadelphia, which later became the Fox Chase Cancer Center, before joining the faculty of Jefferson Medical College in 1976. She became a full professor of biochemistry and molecular pharmacology in 1983 and remained on the faculty for 45 years.
She discovered specific tRNA binding to mRNA-ribosome complexes, N-terminal protein modification by arginine and ribosome recycling in eukaryotes, the last step of protein synthesis.
The Kajis both enjoyed swimming and snorkeling. Akira Kaji was an ice hockey player in his youth and later took up ice dancing.
They are survived by two sons, Kenneth Kaji and Eugene Kaji, and two daughters, Naomi Shodhan and Amy Kaji.
Enjoy reading ASBMB Today?
Become a member to receive the print edition monthly and the digital edition weekly.
Learn more
Get the latest from ASBMB Today
Enter your email address, and we'll send you a weekly email with recent articles, interviews and more.
Latest in People
People highlights or most popular articles