In Memoriam
In memoriam: Catherine Squires
Catherine L. Squires, a microbiologist whose research reflected her lifelong interest in how bacterial ribosomes work, died Aug. 3 at her home in Winters, California.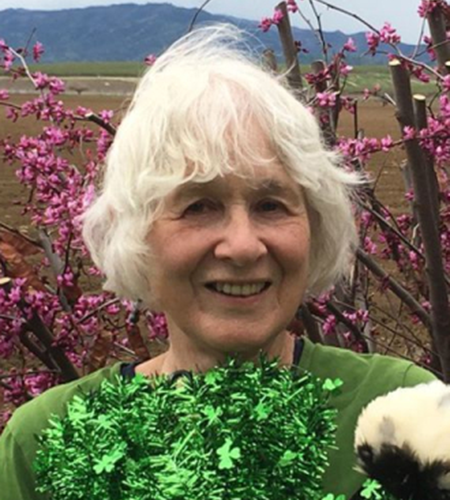 Catherine Squires
Born April 9, 1941, in Sacramento, Squires grew up visiting dairy and chicken ranches owned by members of her family. She gained a lifelong appreciation of nature and agriculture, according to her obituary; in an autobiographical article, she described taking water samples from her father's chicken coop to school for show and tell. She received bachelor's and master's degrees at the University of California, Davis, where she met and married her husband, Craig.
While earning a Ph.D. in molecular biology at biochemistry at UC Santa Barbara, Squires determined the structure of several transfer RNAs in E. coli. During a postdoc with Charles Yanofsky at Stanford University, she investigated transcription and translation of genes in the trp operon, which became a famous model system for biosynthetic feedback because its activity is high when its product, tryptophan, is low and vice versa.
Squires began her career as an assistant professor at Dartmouth University, then moved to Columbia University where she became a professor of biology. In 1994 she was appointed professor and chair of the department of molecular biology and microbiology at Tufts University School of Medicine, serving until her retirement in 2007. She returned to California and completed her teaching and research career as a visiting professor at Stanford.
As an independent researcher, Squires was interested in how ribosomal RNAs were transcribed and in transcription antitermination, which occurs when a polymerase reads through what would ordinarily be recognized as a stop site. In one study, published in Cell in 1984, her lab identified "the antitermination system involved in E. coli ribosomal RNA transcription." She continued to work on ribosomal RNA operons and what controlled their transcription, expanding into an interest in why bacteria have so many rRNA operons. In the late 1990s she and colleagues generated an E. coli strain that had no RNA operons and depended on plasmid-derived ribosomal RNA to survive. The strain enabled researchers to study bacterial evolution and horizontal gene transfer; Squires' lab also used it to reorganize genes from an rRNA operon and demonstrate that transcription order was not very important for ribosome assembly.
In addition to more than 35 years as an American Society for Biochemistry and Molecular Biology member, Squires was a member of Sigma Xi, the American Association for the Advancement of Science and the American Society for Microbiology. She served as both editor and editor-in-chief of the journal Microbiological Reviews the latter publication.
Squires is survived by her husband of 55 years, Craig; brother, Thomas E. Kearney; sons and their spouses, Sean and Dorene, Ciaron and Juri; and her grandchildren, Caitlin and Aidan.
Join the ASBMB Today mailing list
Sign up to get updates on articles, interviews and events.
Latest in People
People highlights or most popular articles