Blotter
Meet Sarina Neote
She's the ASBMB's science policy manager
Sarina Neote joined the American Society for Biochemistry and Molecular Biology team in early January. She works with Benjamin Corb, the ASBMB's director of public affairs, to advocate on behalf of ASBMB members for policies that strengthen the scientific workforce and promote an inclusive environment that is supportive of discovery. Neote previously worked at the National Pharmaceutical Council. She spoke to ASBMB Today about her education, her career path and what she hopes to accomplish in her new position.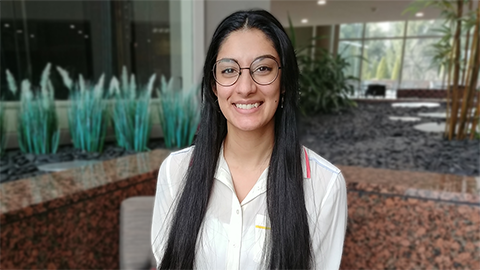 Allison Frick/ASBMB
Sarina Neote has worked on health insurance and prescription drug pricing.
Tell us about your education and training.
I earned a B.A. in international relations from American University and an M.A. in biomedical science policy and advocacy from Georgetown University. I was focused on understanding how policy frameworks can aid scientific research and innovation and the challenges that underrepresented communities face in science, technology, engineering and mathematics fields. I then worked as a research associate at the National Pharmaceutical Council, a health policy research organization. I've worked in the health research sector, private industry and advocacy organizations.
What made you interested in pursuing science policy?
While I was writing my undergraduate thesis, I focused my research on the intersection of international affairs and access to medicines on a global scale. I became very interested in this topic, and from there I pursued it in whatever way I could — whether it was through health- or science-related internships, learning about the research-and-development pipeline, or attending science policy events around D.C.
I came to see the importance of working in science policy and amplifying the voices of science to Congress or the federal agencies, and I wanted to be a part of that work. That led me to pursue my master's in science policy.
And how do you define science policy?
Science policy means building a framework and an environment where people can exchange ideas, create a community and promote scientific endeavors. Science policy must establish a fluid and productive framework for ensuring institutional change that allows such environments to flourish and attract people from diverse backgrounds. Science policy is a tool to do just that.
What was your work like at the National Pharmaceutical Council?
The NPC focuses its research on innovation, health spending, access to medicines and value-based pricing frameworks for medicines and devices. While I was there, I worked on several research projects specifically relating to policies of health insurance companies, policies that help patients make informed decisions with their health providers and policies that affect the price of medicines in the U.S.
What are you looking forward to most here at the ASBMB?
As much as I learned and grew from my role at the NPC, I missed advocacy work, especially advocating for scientists and underrepresented communities. The issues that the ASBMB works on, such as diversity and sexual harassment in STEM, are the areas I'm very excited to work in. I believe discussions on underrepresented women of color need to be at the forefront of science policy. The ASBMB really listens to its members and advocates on their behalf, and I think that's so important, especially regarding science policy.
What's your life like outside of work? Any hobbies, pastimes or special interests?
I come from an immigrant family, and both my parents moved around a lot throughout their lives. I grew up traveling around the world, and that's definitely something I try to maintain, even now. Through my travels, I'm exposed to so many different food cultures, and that has made cooking one of my favorite pastimes. I love trying out new dishes and exploring new cultures through their food. Aside from traveling and cooking, I love seeing plays and reading as much as I can.
Enjoy reading ASBMB Today?
Become a member to receive the print edition monthly and the digital edition weekly.
Learn more
Get the latest from ASBMB Today
Enter your email address, and we'll send you a weekly email with recent articles, interviews and more.
Latest in People
People highlights or most popular articles