Retrospective
Lina Obeid (1955 – 2019)
Lina Obeid, a professor of medicine, dean of research and vice dean for scientific affairs at the Renaissance School of Medicine at Stony Brook University, died on Nov. 29. She was 64 years old.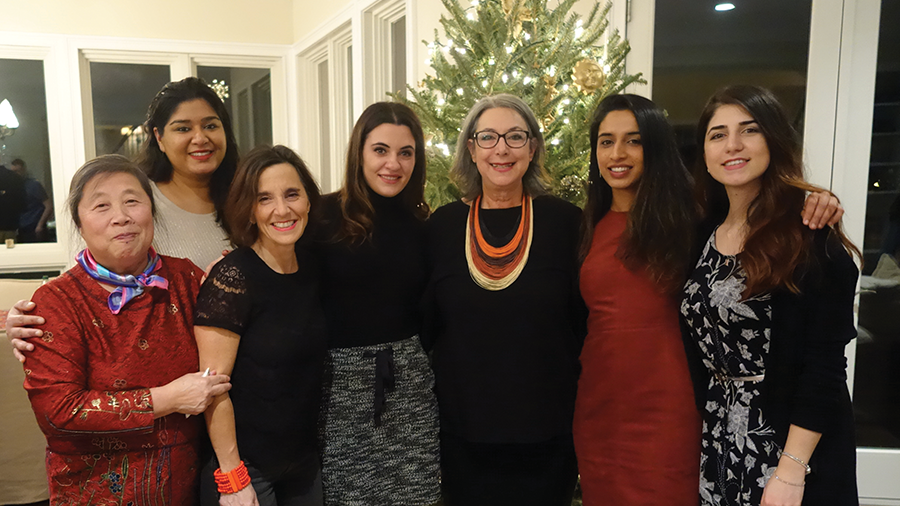 In this December 2018 photo, Lina Obeid, third from right, poses with members of her lab group.
Lina was a pioneer and leader in the sphingolipid field. She was also a personal and scientific mentor to many scientists, including myself. Lina opened her laboratory to many of us to teach us how to become independent investigators and behave as true researchers with open minds. She had great compassion and was a role model and mother figure to the whole field.
I have known Lina since 1999 when she and Yusuf Hannun, her husband, accepted me in their laboratories as a research assistant professor in the department of biochemistry and molecular biology at the Medical University of South Carolina. I was very lucky to have mentors like Lina and Yusuf, who gave me a chance to succeed in academia with great scientific and personal guidance. I could not have achieved anything that I have so far in my academic and research career without Lina's support, and she continued to help me at many levels, even just before she passed away. Her efforts to boost her mentees' careers and personal lives were exceptional, and this is one of the golden standards that we will carry forever in honor of Lina.
Lina's discovery that ceramide induces apoptosis was published in the journal Science in 1993. Since then, this field has exploded, and more than 4,000 manuscripts have been published in the ceramide–apoptosis-related research area (as reported in PubMed).
Lina was also a pioneer in the field of regulation of senescence by ceramide signaling, which provided the first clues for the link between lipid metabolism and aging. Her contributions to sphingosine 1-phosphate metabolism and signaling in inducing cancer growth and metastasis were instrumental in taking this field to the next level. I know firsthand that Lina was among the most brilliant scientists and made exceptional contributions to the field of bioactive lipids not only with strong science but also by providing novel and innovative ideas with pioneering discoveries.
Lina's research also opened doors for understanding the mechanisms of ceramide signaling for the regulation of cancer cell death, leading to clinical and preclincial trials. Her insights as a physician–scientist were critical for the development of many new ceramide-based drugs, such as cationic ceramides and acid ceramidase inhibitors, which are important regulators of inflammation and related diseases.
Her record of steady funding from various national sources for many years and her exceptional publication record also show that Lina was, without any doubt, a leader and pioneer in the field.
There are not enough words to describe how much we love Lina. Her contributions to the sphingolipid field are not only about exceptional research but also about her touching so many lives at a personal level with no expectations in return. She will be remembered for her bright personality and beautiful smile as she leaves behind a legacy that will last forever.
We miss Lina so much already. May she rest in peace.
Enjoy reading ASBMB Today?
Become a member to receive the print edition monthly and the digital edition weekly.
Learn more
Get the latest from ASBMB Today
Enter your email address, and we'll send you a weekly email with recent articles, interviews and more.
Latest in People
People highlights or most popular articles