Coordinates
Pushing myself to explore Maine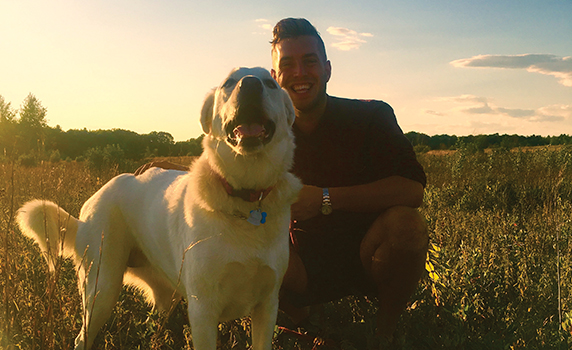 Scarneo and his dog, Koda, in a wild blueberry field in Maine.
PHOTO PROVIDED BY SCOTT SCARNEO
43.4742 N, 70.4461 W is where I found myself as a graduate student studying neurobiology. I can't say the cold state of Maine was my first choice of graduate school location. However, the never-ending pursuit of knowledge swayed me enough to relocate.
Most graduate students are less interested in the location of the school than in the promise and advancement of our skills and intelligence. I mean, for most of the week, we hardly have any time to enjoy our new location.
I know this may not be popular advice with some principal investigators, but I'll say it: Graduate students, make the time to get out of the lab. I mean it. Don't be that kid who is cooped up in the lab 24/7 worrying if his or her PCR will be perfect. Don't get me wrong: I am partial to a nice PCR, but the point is to get out and enjoy your local area even if, like me, it isn't your first choice of dwelling.
When I arrived in the state of Maine, I was happy to find out I had my fair share of work to occupy me in the lab. I worked all day and went home when the sun was setting, in a mental state too useless to get out and explore.
However, I found that getting out of my comfort zone and making time to immerse myself in the local culture became essential to my success in the program. I know this may sound silly, and I'm worried even to write it here, but in getting to know the local area better, I made a checklist of things I wanted to complete while living in Maine:
1) Eat a lobster roll. I guess this one is self-explanatory. They sell lobsters at most gas stations in the state.
2) Go whitewater rafting and camping. Why not get adventurous?
3) See a moose. I'm not talking about one in a zoo. More like a full-on moose crossing the road or in a bog somewhere.
A little more than seven months later, I am proud to say I have done the first two out of the three items on my list. The moose have eluded me so far. I will admit that after, and only after, I pushed myself to explore the state, I truly became comfortable and began to enjoy my stay in my new home.
My advice to any graduate student out there who is in a new location is to make the time to push yourself and explore your new surroundings. You never know what you may find!
Join the ASBMB Today mailing list
Sign up to get updates on articles, interviews and events.
Latest in Opinions
Opinions highlights or most popular articles