Transition States
Hit the road
As I write this, I am enrolled as a fifth-year Ph.D. student in the biochemistry program at Drexel University College of Medicine in Philadelphia. Between the spring of 2003, when I received an undergraduate degree in applied mathematics and biology from the New Jersey Institute of Technology, and 2012, when I started this Ph.D. program, there were two mortgaged homes and three apartments across six different states, one marriage, two children, one year spent as a laboratory technician in a genetics sequencing facility, five months unemployed, nine months as a mathematics tutor and substitute teacher, four months as an analytical chemistry technician, and three years as a stay-at-home mom. And during all this, I began three Ph.D. programs — one in biophysics, one in chemistry and one in biochemistry.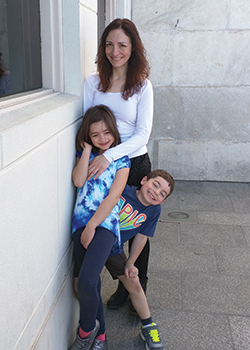 Arturo with her children earlier this year.
PHOTO PROVIDED BY EMILY ARTURO
Soon after I'd finished my undergraduate degree, I moved to Massachusetts to begin a Ph.D. program in biophysics at Brandeis University. The department accepted me on the basis of my mathematical training and my desire to apply mathematics to the modeling of neuronal networks. Within the first year, due to personnel changes that were out of my control, I had no lab in which to pursue the training for which I had applied. Nevertheless, I decided to stay and learn what to do at the bench.
Unfortunately, before my first research rotation, I had never once used a micropipette. I didn't know any molecular biology-related rules: how to store purified protein, make stock solutions, order primers or pour a gel. Bench work, in and of itself, can be stressful, but for me it soon became demoralizing when one of my major difficulties turned out to be, of all things, mental math! Things like unit conversions suddenly churned my math-y brain into a pathetic scramble. I felt completely ill-prepared, and I panicked. After I was asked to retake my preliminary exam, I left the program weeping.
I was newly married then. My spouse graduated with a Ph.D. shortly after I left Brandeis. Neither of us could find a "real" job. To help support us financially, I worked as a temp-to-hire technician in a genome sequencing facility. I found this job after months of searching, living on sporadic tutoring gigs, remaining wedding cash and reduced-cost meals from the pub where my spouse had a relatively lucrative interim career as a waiter.
I was full of questions, but as a technician, asking questions was not in my job description. My job was to be focused and efficient and to follow protocols. So I began applying to graduate schools. Shortly thereafter, my spouse secured a postdoctoral position, and we decided to move to Missouri. Expecting that his position would last on the order of three years, I joined a Ph.D. program in chemistry there to be near to him. A year later, he was recruited by a large chemical company for a "real job" that required him to relocate to Michigan. Deciding whether to stay or to leave was one of the most grueling decisions of my life to date. I chose to move to Michigan to be with my husband. Within three months, I was employed part-time as a tutor and substitute teacher but felt aimless and isolated while he moved temporarily 1,300 miles away on a research rotation.
By the spring, I was pregnant with our first child, and we relocated to Texas. Four months after my daughter was born, I cheerily returned to the bench as a technician analyzing gasoline samples. Working full time meant a need for reliable childcare, which, in that particular town, was hard to come by. I did find tolerable daycare, but pumping for breast milk in the ladies' room on a tattered sofa at lunchtime and at 5 o'clock each morning at home depressed me and quickly dried me up. Within six months, I left my job to stay home with my daughter. Two months later, I was pregnant with my son. He was born just before my 30th birthday in the spring of 2010.
For the next two years, I stayed home full time with my two children. During this time, my husband's employer purchased a company near Philadelphia. I begged for relocation, because unlike our location in Texas, Philadelphia was rich in excellent graduate programs. After three years in Texas, we relocated to Pennsylvania. I spent a few months preparing to retake the GRE, and by the fall of 2012 I was matriculated in my current Ph.D. program.
When I think about the decisions I've made en route to where I am now, I often think of Robert Frost's poem "The Road Not Taken." The poem's most famous lines are these: "Two roads diverged in a wood, and I — I took the one less traveled by/And that has made all the difference." These lines have become the battle cry of the masses who want to believe that blazing one's own trail, over taking the conventional route, is what makes one truly happy and successful.
The message of the poem, in my opinion, however, is more subtle and powerful. Whereas the speaker of the poem claims at the end of the poem that he "took the one less traveled by," he actually saw both roads as indistinguishable from one another; the other one was "just as fair" and "as for that the passing there/Had worn them really about the same." He knew that he would retell the events "with a sigh/Somewhere ages and ages hence," and in doing so he demonstrates the brilliant foresight he had to realize that he would one day rewrite his story, making it more intriguing or perhaps just more tolerable. Therefore, it's not that the best road to take is the one less traveled by. The best road to have taken is the one that you took.
I don't wholeheartedly recommend the road I've taken. I do, however, appreciate the irreplaceable role it has had in forming me into who I am today. Unlike my 23-year-old self, I am focused, bold and resilient. I have been relatively successful as a graduate student this time round, almost entirely because of the expansive support group I have assembled over the years. This group is made up of family and friends as well as numerous sympathetic and brilliant collaborators and mentors I collected along the way. In particular, I am fortunate to have an extraordinarily supportive Ph.D. adviser, Eileen K. Jaffe.
Despite how well things are going now, I can only hope that future employers (and my children!) will find my decisions tolerable, if not desirable, but I can't know for sure. As I approach graduation, I have more big decisions I will make. For example, I consider whether I might move abroad with my children to pursue postdoctoral training. My main professional goal is to develop continually my skills and knowledge as a scientist, but I also want to explore the world (and show it to my children).
What I do recommend wholeheartedly is to consider all viable options. Whatever the road is, no matter the precedence or lack of one, it is each one of your decisions, and what you personally learn from them collectively, that will make all the difference.
Join the ASBMB Today mailing list
Sign up to get updates on articles, interviews and events.
Latest in Opinions
Opinions highlights or most popular articles