Transition States
Wrestling with life
When I was 5 years old, I stepped on a wrestling mat and began to dedicate my entire youth to the sport. As a product of a violent, broken family, I held wrestling as my golden ticket to the American Dream. I wanted family dinners and bedtime hugs. Instead, division and foul rhetoric filled the air. My parents separated when I was 7, and I spent most of my childhood with my dad. Sadly, our relationship dynamic mirrored the battles on the wrestling mat. If I won a match, life at home was peaceful; if I lost, my life was unpleasant for weeks at a time. I was scared in my own home more often than I care to remember. At a young age, I reasoned that wrestling could rescue me from that life: I could be the first in my family to go to college, get a good job and start a family of my own. The right way. Someday.
Kemmerer wrestled while in college.
PHOTO BY LARRY SLATER
In my hometown of Linfield, Pennsylvania, a small suburb one hour northwest of Philadelphia, I put countless hours, blood, sweat and tears into mastering this art. I sacrificed my body and mind for a dream. In doing so, I became the winningest wrestler of all time in high-school wrestling history in the state of Pennsylvania and earned two state championships along the way. I was recruited as the No. 1 overall wrestler in the country. This sacrifice landed me at the University of Pennsylvania.
Embracing the grind
As a Division 1 wrestler at UPenn, my life was often chaotic. Juggling academics and athletics, I constantly was competing both in the classroom to survive the grading curve and on the mat to outlast my opponent.
UPenn was the blacksmith of my character development as I continued my wrestling career while doing a double major in chemistry and philosophy as an undergraduate student. Although many college students call themselves student-athletes, the life of a wrestler required a special kind of sacrifice and discipline to be successful.
Just take a typical Wednesday morning during my junior year. Our first practice of the day had just finished at 7 a.m. My vision blurred as I kneeled on the mat, replaying what just happened in my mind. After a brief warm-up and 45 minutes of drilling, my wrestling partner and I had engaged in a 30-minute nonstop grind match. Thirty minutes to out-think, outmaneuver and outperform my partner. A clash of wills played out in those 1,800 seconds as we tried to break each other down, both mentally and physically, with a constant barrage of shots, jarring head snaps and counterattacks.
When my vision returned, I looked down to see a puddle of sweat had formed beneath me. Despite having reached a state of complete physical and mental exhaustion, I had barely begun my day. I still had several more pounds to lose before my upcoming dual meet with national powerhouse Cornell University's wrestling team, and I needed to prepare for my physical chemistry exam the next day. I closed my eyes, took a deep breath and slowly exhaled. I knew the real challenge had yet to come. This challenge was an internal one in which I would wrestle with the uncomfortable and daunting nature of my situation. My path ahead was steep. But I refused to quit and take the easy way out. I continued to push forward.
I learned not to resent or fear the tasks before me but rather to embrace the discomfort. Each day in college, I redefined my notion of impossible on the wrestling mat and in the classroom until the concept of impossible didn't exist in my mind.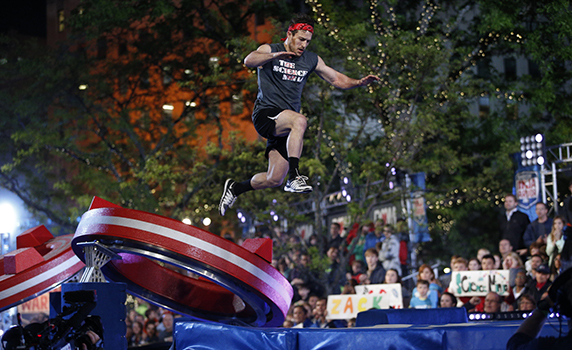 Kemmerer's stage name is "The Science Ninja" on the NBC reality show "American Ninja Warrior."
PHOTO BY JOE ROBBINS/NBC
The rush of discovery
In 2011, I earned All-American honors at the national wrestling tournament held in Philadelphia. I ended my wrestling career with 117 wins, which was good enough for fourth overall standing in UPenn wrestling history.
When my wrestling career ended, I was thrown into a period of self-discovery. How does my next chapter read? After declining an opportunity to work in industry, I started in the master's chemistry program at Villanova University.
There, I joined the laboratory of Aimee Eggler, a chemistry professor. I was given the opportunity to delve into research on the cytoprotective response of phytochemicals via the Nrf2 transcription factor. I remember the rush I got from reading new literature, bouncing from one reference to another, immersing myself in the field. PubMed was a conduit to mechanisms and models, catalytic residues and new therapeutics. The Nrf2 field was spilling over into metabolic regulation and carcinogenesis, yet definitive identification of the Nrf2 protein was still far from trivial.
I yearned for answers to the number of gaps apparent even to an untrained eye. I wanted to find those answers. Once I picked up a pipette, I knew science was my new passion.
Climbing into science
My two years at Villanova as a master's student were countless 12-hour days and weekends in the lab, many months of searching for funding, and drafting manuscripts. I also juggled teaching responsibilities and mentoring undergraduate researchers.
But I didn't want the grind to end! So I decided to pursue a Ph.D. With a competitive resume in hand, I accepted an offer to join the biochemistry Ph.D. program at the University of Wisconsin–Madison.
The transition was not easy. I was leaving Pennsylvania for the first time in my life to begin a journey quite different from what I was accustomed to. Academia and wrestling are two professions rarely associated with one another: I was climbing up the ivory tower after dedicating my life to a blue-collar sport. I felt out of place. Everyone seemed more qualified than me. My peers had known for years that a Ph.D. was their next step. I had not. My peers knew techniques and terms that I never had encountered as well as names and papers that I had not seen. I distinctly remember the embarrassment I felt having never purified a recombinant protein. I had a basic understanding of bacterial overexpression, but I couldn't explain the difference between IPTG-inducible and auto-induction protein expression. Ion exchange chromatography made sense in a textbook, but in a laboratory setting I couldn't distinguish between the HiTrap SP, Q, DEAE or CM columns. And unfortunately, Stuart Schreiber and Jennifer Doudna were just ordinary names to me. I thought I had made a terrible mistake.
I later realized that I was not alone in my insecurity. My classmates were all just as scared to embark on this journey, but we adapted. We placed our faith in the investigative process and embraced the daily challenges and endless questions in the world of science.
Powered by mitochondria
I joined Dave Pagliarini's group to do my thesis work. I am now a third-year graduate student. The Pagliarini group focuses on elucidating the biological role of mitochondrial uncharacterized proteins. For my thesis project, I am using protein engineering and chemical biology to study Coq8p, a protein required for coenzyme Q biosynthesis. Coenzyme Q is a requisite part of the electron transport chain that enables ATP production via oxidative phosphorylation. CoQ deficiency is associated with a wide range of diseases, including cerebellar ataxia, nephrotic syndrome and various myopathies. It also is associated with chronic disease states, such as diabetes, Parkinson's disease and general aging. CoQ supplements are used by roughly 3.5 million Americans nationwide either as a therapeutic or for general health purposes. Unfortunately, the efficacy of CoQ supplementation is still clinically unclear.
My current work is aimed at improving our understanding of CoQ biosynthesis to develop more effective therapeutics for raising endogenous CoQ levels. I love my work.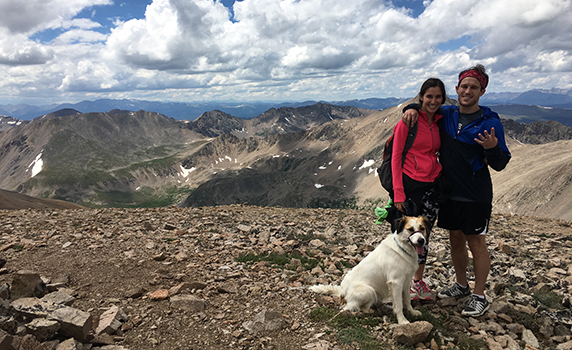 "Success never is achieved alone," says Kemmerer who is shown here with his girlfriend.
PHOTO COURTESTY OF ZACHARY KEMMERER
Becoming 'The Science Ninja'
Success never is achieved alone. Friends, coaches and research mentors all have contributed to my success. I am especially indebted to Tom Hontz (my high school wrestling coach), Jake Hunter (my best friend), Matt Valenti (my college assistant wrestling coach), and Aimee Eggler (my research adviser in the master's program). With their words and actions, they changed my life. They each provided invaluable guidance and unconditional support, two essential intangibles I rarely received at home growing up. Without their influence, this essay likely would read differently. Because of them, I believe that I should give back to society, so these days I engage in science outreach and youth wellness programs.
This past year, I volunteered with Adult Role Models in Science and Beat the Streets. Sharing my passion for science and wrestling with the Madison youth is beyond rewarding. When my students ask questions and acknowledge the proper controls, I know they are prepared for success. When my athletes stay after practice to run sprints with me, I know they are chasing a newfound dream. I see outreach as a ripple effect: Impacting one child can change the lives of so many more.
It was inspiration from both of these organizations and a passion for competition that landed me on NBC's hit reality TV show "American Ninja Warrior." For those of you who don't know, "American Ninja Warrior" selects interesting people to compete on the world's most exciting and difficult obstacle course. The show has become immensely popular, as it pits men and women against seemingly impossible obstacles. You cannot help but root for each competitor who steps up to the platform!
My first appearances on the show were on April 27 and 28 in Indianapolis, just six days after passing my preliminary exam that qualified me as a Ph.D. candidate. With five of six obstacles completed, I stared up at the infamous warped wall, the last obstacle. Nearly triple my height, this wall stood before me as a metaphor for life — a seemingly impossible task that I had to face head on.
As thousands of fans chanted, "Beat that wall! Beat that wall!" I steadied myself. I darted toward the incline, and, three big steps later, my fingers latched onto the top of the towering 14.5-foot wall. After an effortless mount, I hit my first buzzer and turned to the crowd as adrenaline crashed through my veins. In my rookie season, I completed the Indianapolis Qualifier course, placing 15th out of 120 competitors.
For the show, I adopted a stage name "The Science Ninja." It seemed appropriate, as the past four years of my life had been dedicated to advancing basic science. As a mitochondria enthusiast, I study the organelle and the pathways that enable me to scale a 14.5-foot wall. My diet is connected to energy production and metabolic homeostasis while I compete. An intricate nexus of metabolism, nutrition and fitness is revealed within my intellectual interests, athletic endeavors and extracurricular passions.
With my new ninja status, I have been granted a platform and a unique opportunity to promote science, health and fitness. Kids love ninjas, so maybe they'll like science ninjas just as much. And maybe, just maybe, I can impact their lives in a positive way just as my mentors and friends have done for me.
Join the ASBMB Today mailing list
Sign up to get updates on articles, interviews and events.
Latest in Opinions
Opinions highlights or most popular articles