Diversity
Cultivating a focus on diversity
as a community
Recent national conversations regarding race relationships and interactions across diverse demographic groups do not stop at the doors of our laboratories, institutions or disciplinary societies, because science, education and research do not occur in vacuums. The national discussions provide opportunities for us to assess our efforts and commitment in terms of promoting diversity and inclusion as an American Society for Biochemistry and Molecular Biology community.
Indeed, in the context of these intense and needed discussions, there is a growing recognition in biochemistry and many other areas of STEM that efforts to increase access and success of diverse individuals continue to be an issue that requires targeted attention and effort, as there are perceptions in the ASBMB community itself that "although scientists say they want full equality, they don't do what's necessary to achieve it" (1). The specific roles and responsibilities that societies and professional associations have to all of their members are critical, and we continue to grapple with what discrete actions flow from those responsibilities.
Disciplinary societies serve as "an important organizational structure through which scientists build communities of practices, reward achievements, and enable members to share information" (2). Societies, including the ASBMB, have responsibilities to support and advocate for all society members in these endeavors. Frequently societies have a minority affairs or diversity committee. Indeed, the ASBMB has an active and effective Minority Affairs Committee whose efforts are laudable.
The ASBMB MAC oversees a number of efforts, including the Marion B. Sewer Distinguished Scholarship for Undergraduates, which recently changed its name to honor the prolific scholar and former MAC member Marion Sewer. The award provides financial support for recipients who are committed to enhancing diversity in science. The Ruth Kirschstein Diversity in Science Award was established five years ago. The MAC also sponsors professional development activities that are supportive of members from underrepresented groups and members at large. These efforts include the Careers Beyond the Bench workshop, which highlights nonresearch-based careers and the Interactive Mentoring Activities for Grantsmanship Enhancement, or IMAGE, grant writing workshop for early career scholars transitioning to independence (see page 36). The careers of diverse ASBMB members also are highlighted in the Research Spotlight forum.
One collaborative effort between the MAC and the ASBMB Student Chapters Steering Committee is the Minority Serving Institutions student chapters partnership program. This program encourages the formation of new ASBMB student chapters at MSIs by partnering MSI faculty interested in starting a chapter with faculty who are running established student chapters.
These programs are just a sampling of efforts spearheaded by entities such as the ASBMB MAC. Such efforts are still critical, as targeted attention to the inclusion of individuals from groups under-represented in particular STEM fields can lead to short- and long-term change and opportunities.
As we consider the roles and actions that societies, such as the ASBMB, currently are taking and those that stand yet to be realized, there are many questions to contemplate. Have our societies actively recruited and engaged a membership that reflects national demographics? If not, why? The easy answer may be that the pool of potential members from which the society draws does not reflect national diversity. If that is indeed the case, what efforts can the ASBMB make jointly as a society to contribute to changing that? An additional question to reflect on is "Are the efforts of the society actively supporting all of its current members independent of the demographic group of origin?"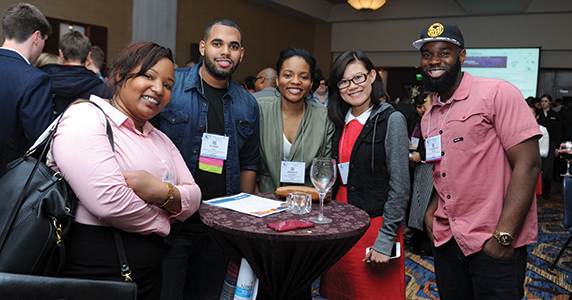 Why the targeted focus on the role of societies such as the ASBMB? In the "Summary of the broadening participation working group report on the NSF response to the Committee on Equal Opportunities in Science and Engineering's 2011–2012 recommendation," scientific societies specifically were highlighted as important for their potential to "play a major role in deploying best practices to the community and pursuing broadening participation."
Professional societies also have impactful roles to play in assisting in quantifying progress toward improving recruitment, retention and success of underrepresented groups, such as women of color (3). Society-driven initiatives can both motivate and serve members seeking specific and effective avenues to engage in broadening participation and outreach activities. Such collaborative attention from society members has great potential for increasing the impact of societies in seeking and disseminating best practices as well as promoting its members to serve a diverse pool of scientists effectively.
Among many strategies that have proved effective for increasing access and success for individuals from diverse backgrounds, mentoring has emerged as a critical factor in promoting recruitment, retention and persistence. Many societies, including the ASBMB, have visible efforts in mentoring, including the ASBMB's aforementioned professional-development workshops. While professional development interventions improve individual access to communities such as the ASBMB and success in individual careers, research also has indicated that long-term transformation of communities into ones that serve a broad array of individuals from diverse backgrounds also includes targeted attention to assessing community or organizational climate and culture (4–7).
Here, an opportunity emerges to initiate internal discussions about the breadth and depth of our knowledge and understanding of the ASBMB's organizational culture and its potential for ensuring long-lasting change that will broaden participation of current and future members. Are the individuals that we attract to the ASBMB through outreach and intake efforts and the work of the ASBMB MAC to increase visibility of diverse members finding a welcoming environment in the ASBMB and at our annual meetings once they arrive? Are they seeing diverse members recognized and celebrated broadly — that is, outside of the recognized "diversity-sponsored" places and avenues? Such an effort will require the input and buy-in of many across the ASBMB and strategic collaboration to be effective.
There is evidence emerging from the efforts of a range of societies regarding efforts to increase representation of women and individuals from groups underrepresented in STEM in society activities and annual meetings. Recent research indicates that ensuring that the programming committee is aware of gender statistics results in a significant increase in the number of female speakers at symposia and conferences (8–10). Similar results are likely to emerge in regards to targeted interventions for diversifying symposia organizers across many demographic groups.
It is time that we as members of the ASBMB and, indeed, the larger society in which we belong, truly ask what our specific roles may be in transforming our spaces into ones that fully embrace, engage and celebrate everyone openly and in the most public and accessible spaces and ways.

This essay was written in response to a call in the February 2016 issue of ASBMB Today for thoughts and opinions about diversity in the scientific enterprise.
---
References
Dockett, L. & Hopp, A. ASBMB Today 15, 2 (2016).
Frehill, L. M. Disciplinary societies' role in women's status in chemical science, computer science, and mathematics and statistics. In "Blueprint for the Future: Framining the Issues of Women in Science in a Global Context" (Didion, C., Frehill, L. M., and Pearson, W. eds.), National Academies Press, 101–104 (2012).
Frehill, L. M., & Ivie, R. New Directions for Higher Education 2013, 7–21 (2013).
Whittaker, J. A., & Montgomery, B. L. JUNE 11, A44–A51 (2012).
Whittaker, J. A., & Montgomery, B. L. Innov High Educ 39, 263–275 (2014).
Whittaker, J. A. et al. JUNE13, A136–A145 (2015).
Zambrana, R. E. et al. Am Educ Res J 52, 40–72 (2015).
Sardelis, S. & Drew, J. A. PLoS ONE 11, e0160015 (2016).
Casadevall, A. & Handelsman, mBio 5, e00846–e00813 (2014).
Casadevall, A. mBio6, e01146–e01115 (2015).
Enjoy reading ASBMB Today?
Become a member to receive the print edition monthly and the digital edition weekly.
Learn more
Get the latest from ASBMB Today
Enter your email address, and we'll send you a weekly email with recent articles, interviews and more.
Latest in Opinions
Opinions highlights or most popular articles