Annual Meeting
San Antonio, my new home
In February 2020, I traveled to San Antonio to interview to be the chair of the Chemistry Department at the University of Texas at San Antonio. The following week, I served on a National Science Foundation review panel that hurriedly went remote. And then the world shut down for the pandemic.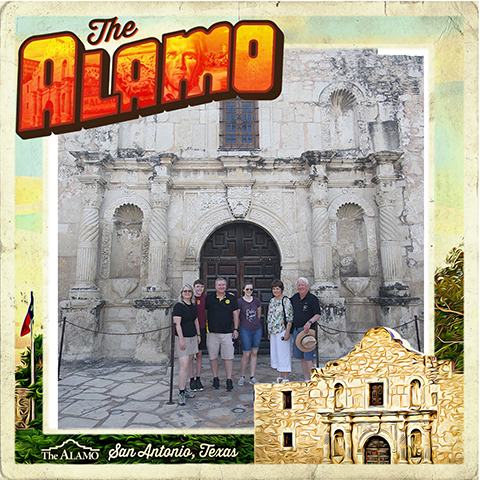 Audrey Lamb
The obligatory Alamo picture with the out-of-towners (Audrey Lamb's parents).
As I was trying to figure out how to teach my active-learning Biochemistry 2 class remotely, I was negotiating a new position in a city I had only visited for business purposes (to give seminars, attend conferences and the like).
When the world started to reopen in late May, I packed up my husband and two teenage kids, and we drove two days from our home in Kansas to San Antonio to pick out a house. In July, we moved. And in August, I started my new role as chair.
All that is to say that my family didn't get to investigate our new city the way most people do.
We spent that first year, all four of us, in our new house. I ventured to work the most, but my kids did that entire year of high school remotely.
In fact, when my parents came to visit in August 2021, they said, "Show us the city!" and I said, "I can show you my lab/office and the H-E-B" (the grocery store). Incidentally, my new lab is very nice, and my parents oohed and aahed appreciatively; UTSA has great laboratory facilities.
Three years later, I am finally using the free time that comes with being a department chair (<clears throat>) to discover all that San Antonio has to offer. Here are some things that I have learned: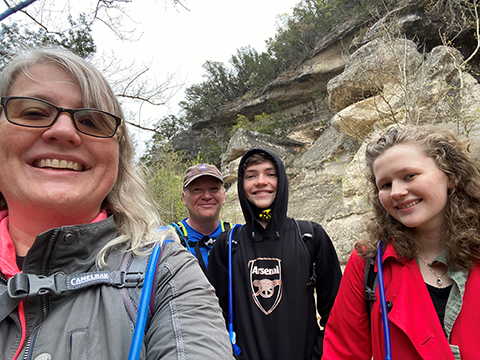 Audrey Lamb
Audrey Lamb with her family at Monkey Rock in Lost Maples State Natural Area in Vanderpool, Texas.
San Antonio in summer is hot. This summer, we broke the record for the number of days over 100 degrees (60 and counting). San Antonio in March is beautiful — you are in for a treat!
San Antonio has a unique culinary culture. It's a mix of Texas and Mexican that is not well approximated by "TexMex." While here, I suggest the breakfast tacos, kolaches and some authentic Texas barbecue.
Go to the Alamo. I had visited San Antonio several times before for conferences within walking distance of the Alamo but had never been to it until I moved here. I have since been several times (it is where you take out-of-towners). You should know that the Alamo isn't a big investment. It is a short walk from the convention center and free, but you need a ticket (order ahead online), and you can see the whole thing in under an hour (or in 15 minutes if you are being pulled along by teenagers). So, just go — get your bit of history and feel proud for doing something cultural.
More missions. The city of San Antonio has a National Historic Park that is also a World Heritage Site: the San Antonio Missions. If you are interested in the history of the area and want a less touristy atmosphere, these are the places to go! There is a trail that connects the Alamo with the four missions: Concepcion, San Jose, San Juan and Espada, each about 2.5 miles apart.
Lace up. If you are thinking of exploring outside of downtown, Texas has fantastic state parks. When my family and I needed to get out of our house during the pandemic, we would make a reservation and spend a day hiking. We especially recommend Lost Maples and Enchanted Rock.
Showtime. My family loves the theatre. I recommend both the Classic and the Public Theatres. One of our favorite experiences has been seeing the Classic Theatre production of "As You Like It"(Shakespeare) in the outdoor amphitheater at the San Antonio Botanical Gardens. The gardens are a magnificent destination in their own right, too, and you can get there from the conference location on VIVA, San Antonio's VIA culture bus route, which also stops at the zoo, the Japanese Tea Garden, The San Antonio Museum of Art and the Witte Museum. All are worth a visit.
San Antonio has a lot to offer! I hope to see you at the ASBMB Annual Meeting here in my new home city.
Enjoy reading ASBMB Today?
Become a member to receive the print edition monthly and the digital edition weekly.
Learn more
Get the latest from ASBMB Today
Enter your email address, and we'll send you a weekly email with recent articles, interviews and more.
Latest in Opinions
Opinions highlights or most popular articles