Service Beyond Science
A professor among prisoners
It was 1981. As a student at Delhi University, I had spent the fall licking postage stamps and envelopes and mailing applications, pregnant with expectations for admission to graduate schools in the U.S. Across oceans, A.B. (whose initials have been changed to protect her privacy) had entered prison in Michigan, sentenced to serve the balance of her life without the possibility of parole. We were both 20 years old. Our paths were to cross many decades later.
Since that time, my life has unfolded in a kaleidoscope of opportunities and experiences. I meandered through institutions of higher learning, flitting from botany to biochemistry to biophysics, and then settled into a life of scholarship at a land-grant institution in the prairies. I upped the ante on the academic stress track by having children pretenure in a departmental home where for a long time I was the lone woman. My growing academic family added to my personal one with two children and a spouse who was a fellow biochemist. Yet something was missing.
Advocating for criminal justice reform
When I was growing up, my mother deftly modeled community service in our family. She found causes to champion and institutions to serve, even as she relocated constantly as the wife of an army officer who rose to be a lieutenant general. She assembled bandages for veterans, helped Mother Teresa's Missionaries of Charity, supported a cottage industry for rural women who wove dreams into rugs and volunteered at a nonprofit that delivered ophthalmic care to the indigent. In contrast, my interest in social causes found only limited expression. In those early years, we occasionally volunteered as a family at a soup kitchen that was a stone's throw from my lab.
Fast forward to 2013. I had relocated to the University of Michigan, where, reading a campus rag one day, I found myself drawn to a story about a colleague who had introduced the Inside-Out Prison Exchange Program, in which students from the outside study with inmates serving time inside correctional facilities. On a whim, I reached out to her. That, in turn, led me to the National Lifers of America chapter at the Women's Huron Valley Correctional Facility, the only women's prison in the state of Michigan, where prisons outnumber public universities 2 to 1. The NLA is an advocacy group comprising prisoners serving long indeterminate or life sentences and volunteers who support their work.
Before stepping into the WHVCF for the first time, I had no prior experience with prisons and generally subscribed to the stereotypical view that they held dangerous individuals who needed to be separated from society. In retrospect, I had been prepared subconsciously by my daughter's activism as an undergraduate with Students Organizing Against Prisons to abolish the prison industrial complex and with a nonprofit to help the formerly incarcerated with reentry. Although I remember wishing that my daughter would direct her activism to a safer issue, I admired her for her interest in a marginalized community and her commitment to criminal justice reform long before it had started to percolate up into political and media consciousness.
As a novice, I have struggled to grapple with our criminal justice system. With less than 5% of the world's population, the U.S. is home to about 20% of the world's incarcerated, according to 2018 statistics from the online World Prison Brief hosted by the Institute for Criminal Policy Research. Over 2.1 million of our citizens languish behind bars. Our imprisonment rate (655 per 100,000) surpasses that of repressive regimes like the Russian Federation (402) and China (118, though numbers for China are incomplete), and is staggering compared to that of India (33), the world's largest democracy.
Prison demographics reveal that we disproportionately punish people of color and the poor. As Michelle Alexander notes in "The New Jim Crow," it was projected in the 1970s that investments in U.S. prisons would decline, as research indicated that punitive approaches were less effective for reducing crime than providing economic and educational opportunities and access to health care. Few people anticipated that the politicization of crime to monger fear and fuel mass incarceration would prove to be a hugely successful campaign strategy used by everyone from all-powerful county prosecutors to presidential candidates.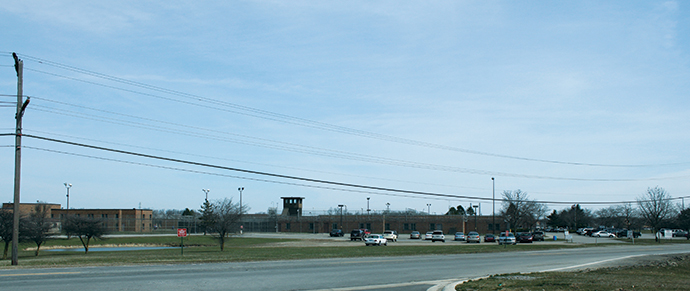 The Women's Huron Valley Correctional Facility near Ypsilanti is the only women's prison in the state of Michigan.Dwight Burdette/Wikimedia Commons
Crossing the sally port
Barbed wire curls around the perimeter fences, and a sense of desolation hangs over the WHVCF. Its overcrowded interior, however, bustles with life. After checking in with (usually burly) armed guards and surrendering my driver's license, I traverse the sally port where security guards, in addition to the routine pat down, inspect the nape of my neck and beneath my tongue and feet for contraband. It is an uncomfortable experience that invariably imbues me with a sense of foreboding, although I always enter with nothing but the authorized notebook (without metal ring binders) and a pen with a clear barrel. I figure that the guards are trained to be expressionless. Though I have been a regular visitor to the facility for half a dozen years and more, it is the rare person who admits familiarity.
The program building is a short distance from the main entrance across a central yard, which I cross as vigilant eyes stare down from watchtowers that have been radioed about my presence. I have been instructed to walk but never run. Double doors open into a corridor lined by rooms and lead to a large auditorium designed for reverberation and to drown out communication. One of the rooms is an often-busy library. At the end of the corridor sits another guard. I must check in with him too before I can finally turn to my work as a volunteer.
On the first Monday of each month, we meet in one of the drab rooms with the NLA leaders who run the various committees advocating for sentencing reform, medical commutations for the frail, changes in aiding and abetting laws, and other initiatives, and we plan programs for the larger NLA meetings, whimsically referred to as the Saturday soirees. They invite speakers such as domestic violence scholars, legislators, or advocates of prison reform working for nonprofits. At other times, they organize workshops for writing or parole readiness. As volunteers, we support and enable these activities.
I am deeply touched by the resilience of women who are locked up for life. In them, I see altruism, humanity and hope despite the dehumanizing circumstances that conspire constantly to instill despair. I also see their largesse; many earn about 84 cents a day yet contribute generously to breast cancer research or to shelters by organizing walks in the prison yard.
I have had powerful experiences with the women at the WHVCF using the restorative justice practice of peace circles for learning and healing through a collective process. The circle-keeping approach is one of several that we use to help women articulate personal responsibility and empathy to repair harm and to prepare for parole hearings, which can be a brutal experience.
Another approach is writing. The NLA newsletter is the only one authorized for circulation outside the walls of the WHVCF. As its volunteer editor, I help women use the newsletter as an instrument of self-expression. Some articles are newsy and describe visitors (such as Abdul El-Sayed, who ran for governor) or bills that the NLA supports. Others are introspective, with titles like "What would I like my victim to know."
Parallel paths
A.B.'s path and mine crossed a few years ago when she decided to rejoin the NLA chapter, which she had, in fact, founded at the WHVCF. Entering prison with a fourth-grade education, A.B. picked up the broken thread from a childhood stamped by poverty and instability. She earned her GED in prison and later trained as a paralegal. A.B. is quiet and has a matriarchal air. I noticed that peers looked to her for her legal expertise and historical knowledge about NLA procedural issues.
As the years passed, I worried that A.B. looked puffier and more ashen every time I saw her. On a diet that is estimated to cost less than $2 per person per day for three meals, healthy eating is not an option. Obesity is rampant at the WHVCF.
At a soiree that we organized last fall, A.B. learned that Rick Snyder, the outgoing governor of Michigan, was interested in felons like her who had been sentenced under the state's common law felony murder rule, which broadened the crime such that accomplices and co-conspirators could be found guilty of murder. Six weeks after A.B.'s 1981 sentencing, the state's Supreme Court, in People v. Aaron had deemed the rule "fundamentally unfair." The ruling was applied to trials in progress but was not grandfathered. A.B.'s life sentence was thus unaffected.
I was in the prison on Dec. 21, and A.B. seemed despondent as we talked. The governor's term would run out at the end of the year, and there had been no word on her appeal. Later that evening, we heard that Snyder had signed her commutation order.
On Feb. 12, 2019, A.B. was released on a 48-month parole. A week before her release, A.B. penned her final article for the newsletter, "My praise report." As a volunteer, I am forbidden to maintain contact with her. I have heard through the grapevine that she is thriving and has enrolled in a graduate program in criminology. I smile as I realize that we remain connected on parallel paths of learning.
Enjoy reading ASBMB Today?
Become a member to receive the print edition monthly and the digital edition weekly.
Learn more
Get the latest from ASBMB Today
Enter your email address, and we'll send you a weekly email with recent articles, interviews and more.
Latest in Opinions
Opinions highlights or most popular articles