Stroopwafels
This week's staff picks
Every week, the ASBMB staff shares what we've been reading, listening to, watching and doing. As we all weather the COVID-19 pandemic and our new normal of social distancing, we look for ways to cope, connect and entertain ourselves.
---
Binging with Babish (Andrew Rea)
This YouTube channel combines two of my recent pandemic hobbies: binging Netflix shows and cooking! Rea teaches you how to recreate dishes from your favorite TV shows and movies. He creates a lot of the recipes as he explores how to make basic foods like quesadillas and more complex dishes like the blood pie from Game of Thrones.
— Stephanie Paxson, diversity and undergraduate education coordinator
---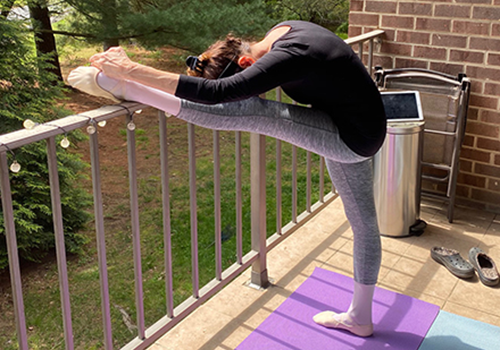 Lisa Schnabel
Lisa stays home
I danced in a ballet company for eight years. Though I'm a long way from that now, I still love to dance, and this stay-at-home lifestyle is taking its toll. No classes are being held anywhere now, and going from my living room to my dining room (office) just isn't providing the workout I need. Plus, there's the ice cream I seem to be consuming every night. I created this ballet space on my balcony so I could have a barre. Plenty of classes are now offered online (dancers don't like to miss class), but without the room to move they're just not the same. I hope when this is over, I can return to my dancing ways!
— Lisa Schnabel, senior designer
---
WALL-E (Pixar)
This is one of those movies that I meant to see when it came out, and finally things came together 12 years later during a pandemic. I'm not totally sure that I can wholeheartedly recommend this as a diversion, since the plot begins with humans having destroyed Earth, but I've never found a cockroach more endearing and I've been humming "Hello Dolly" songs for the past two days, both of which seem like good things. This interview (explaining how "Hello Dolly" got involved) was also fun to read — it takes me back to my own high school theater days!
— Catherine Goodman, scientific editor, Journal of Biological Chemistry
---
Jason Isbell's Redemption Songs (Zach Baron, GQ)
This week, I'm recommending this insightful profile of singer-songwriter Jason Isbell, one of my favorite musicians working today. Especially now, Isbell's song "24 Frames" hits me as an elegy for certainty — and an effort to piece together what's left after it's gone.
Baron traces Isbell's trajectory from getting kicked out of a band 10 years ago to today, when Isbell earns his own record label and has won four Grammys, in a sensitive mixture of exposition and Q&A. It's good writing about a good writer—one of my favorite genres.
— Laurel Oldach, science communicator
---
Yoga with friends: Salty Dog Yoga & Surf and Anna Lynch Art + Healing in Motion
I really miss my friends. Getting together to go social dancing, hiking and take yoga classes is something I am ashamed to admit I took for granted. I hope this is teaching me not to do that anymore. Two of my dearest friends and I have been taking online live yoga classes together, and it's really helping with that missing. I like to say I'm "going" to class. Anna Lynch offers a wonderful variety of classes and streams some right on Instagram. Salty Dog is in North Carolina; I've never been to the studio, but it comes highly recommended by a friend. I'm really looking forward to checking out one of their classes this week!
— Ally Frick, multimedia and social media content manager
---
Plane Crash Series (u/Admiral_Cloudberg, Reddit.com)
What causes a plane to crash? As it turns out, it's rarely ever just one thing. In this weekly series on Reddit, u/Admiral_Cloudberg provides in-depth analyses of reasons for accidents and near-misses, including engineering oversights, managerial missteps and communication failures, as well as how the airline industry has made changes to ensure that such incidents are not repeated. I'm most fascinated by the human factors that contribute to these accidents and the recommendations proposed and actions taken to counter these factors. This series has instilled me with a huge respect for pilots, air traffic controllers and the people who work at agencies like the National Transportation Safety Board. Interestingly, because it's given me some insight into the amount of thought and training that goes into flying a plane, this series has also made me feel safer when I fly. An archive of all 138 articles in the series can be found here.
— Joanna Kotloski, marketing associate
---
Take me to the world: A Sondheim 90th birthday celebration (Broadway.com)
I was reared on the musicals of Rogers & Hammerstein and Lerner & Lowe. My sisters and I sang along to Broadway albums of the late 1950s and early '60s (Julie Andrews figured prominently in our musical education — we sang with lovely English accents). We didn't become aware of Stephen Sondheim until the early 1970s when his contemporary musical "Company" took Broadway by storm. I've been a fan ever since, so I was delighted to learn about this tribute concert by stars who are household names and singers who should be, singing songs I've loved for decades and a few I'd never heard before. The fact that they are in their homes instead of onstage makes the whole thing even better. I missed the live broadcast, but the video is very satisfying. It's about 2½ solid hours of music, so I was happy to break it up over several viewings to savor every unexpected word and surprising note.
— Comfort Dorn, ASBMB Today managing editor
Join the ASBMB Today mailing list
Sign up to get updates on articles, interviews and events.
Latest in Opinions
Opinions highlights or most popular articles