Essay
Out of my comfort zone:
How I use science to influence policy
I once had a meeting with a senator's staff member while he walked down a hall to another meeting.
The staffer came out of his office, looked at me, asked my name and then said, "follow me" as he turned into the hall. Frazzled, I gathered all my things; I was carrying too much and not wearing the right shoes for hurrying to catch up with someone. But I caught up. Wordlessly, the staffer opened his hand, clearly expecting something from me. I put my sweaty palm into his open hand and then realized he were not expecting a handshake. A business card! Right. As I dug around in my oversized bag for my card, he said, "Sorry, but another important meeting came up. We are going to have to chat on my way."
I was there to tell the staffer why the senator should support funding for scientific research. I had to do it in three minutes.
From what I've seen as a senior Ph.D. student, many scientists avoid policy issues. But government leaders make policy decisions that directly affect scientific research. Every year, Congress creates a federal budget that includes science funding. As scientists, we need to step up and talk to policymakers who may not see the importance of our research.
My motivation to advocate for science came during the 2016 elections. At that time, I was studying hard for my qualifying exams, developing a thesis project, conducting experiments that seemed to fail constantly and all the while trying to understand what was happening in the political world. Watching the news and the presidential debates, I realized that government officials often do not make evidence-based decisions and many do not support science. I decided then that I wanted my scientific voice to be heard in politics.
Over the past 50 or so years, there have been times the government increased science funding because a policymaker thought a certain area of research was important. President John F. Kennedy wanted Americans to be the first to the moon — NASA received increased funding. Vice President Joe Biden's son died of cancer — the National Institutes of Health increased funding for cancer research. But scientists don't have to convince the president or vice president of the United States that scientific research is important. Advocacy can start at a city council or a state capitol.
And it doesn't have to be a solo endeavor. Scientists can form coalitions to advocate collectively. I know I work better in a group, so with my new passion for science advocacy I reached out to my fellow Ph.D. students and professors (also motivated to take action from the 2016 elections) to form an advocacy group. Together we brainstormed, learned about federal and state budgets, and developed an advocacy game plan. First, we created a tight and trustworthy network within our university. We locked down funding for our advocacy group and garnered support from the university administration. Then we talked to our city council members about how we, as scientists, could best serve them. We developed relationships with our state senators and representatives so we could share our scientific opinions on current legislation. We also started keeping our eyes open for legislation at the federal level and discussed it with our senators' local staff members. For example, our group recently has been advocating for a federal bill, the Scientific Integrity Act. To encourage a "yes" vote on this bill, we met multiple times with the staffs of Rep. Joe Neguse, D-Colo., and Sens. Cory Gardner, R-Colo., and Michael Bennet, D-Colo. Our advocacy worked. The bill since has passed the House and is now in the Senate to be discussed.
At first, science advocacy seemed daunting, but it ended up being straightforward and fun, especially with a great group and a growing network.
Here, I'll walk through my advocacy protocol and describe actions I've taken to push myself out of my lab and make my voice heard in the policy world.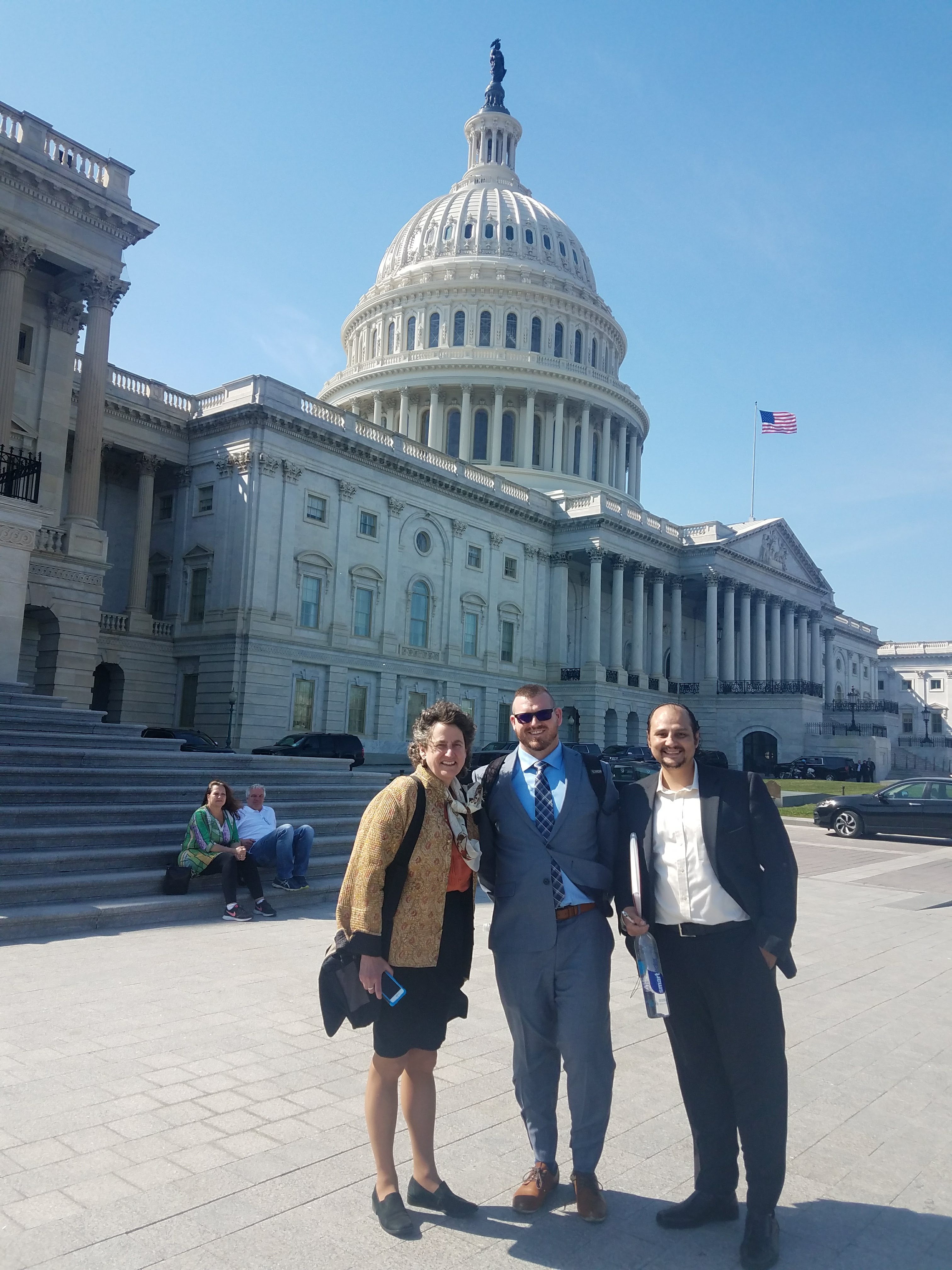 ASBMB
Most scientific societies, including the American Society for Biochemistry and Molecular Biology, have policy experts on staff and advocacy initiatives such as the ASBMB's annual Hill Day. Here, Susan Forsburg, Levi Evans and Tino Sanchez pose in front of the U.S. Capitol during a day of lobbying legislators on behalf of science.
Be part of a group
This means leaving the lab for a few hours to connect with people. I started by having conversations with people I worked with who were politically aware or already engaged. Those conversations evolved into forming a university organization for graduate students and postdocs around science policy and communication. A group with similar goals may exist already on your campus. In that case, do not start an identical group; a bigger collective voice is more powerful than scattered voices.
Develop a message
When you go into a meeting with an elected official, what's the ask? This can be challenging; it's hard to keep up with the news and decipher complicated legislation. I started with letter-writing campaigns encouraging my senators to support science funding and to seek out scientific experts when making policy decisions. Both of these asks align with most scientific disciplines. To develop more specific asks, I partnered with national science policy organizations. Most scientific societies, including the American Society for Biochemistry and Molecular Biology, have advocacy initiatives and policy experts on staff. These groups provide amazing resources and are important allies. They will train you, explain the policy issues and give you needed empowerment.
Be clear and concise
In developing an ask, I've learned to avoid complex terminology. The message must stick with the policymaker, and science jargon is not the way to do that. Also, be aware of how much time you have. In the three-minute meeting described above, I covered these six steps.
The thank you. "Thank you for your time. This shows support from the office for science."
The ask. "I am here today to ask that you encourage the senator to continue supporting science by voting to maintain (or increase) the budget for scientific agencies such as the National Institutes of Health and the National Science Foundation."
The funding. "I am a Ph.D. student from Colorado State University and have been funded through the NIH and NSF for the past four years."
The basic idea of the research. "Through that funding, I study how viruses replicate within host cells."
The 10-year goal. "This work can be used to test which drugs stop a virus from spreading without hurting the cells' normal activity."
The wrap-up. "Thank you again for your time and for your and the senator's continued support for science funding and for science in general."
The overall message must be concise: fund science. To make the specific ask memorable, I say it at both the beginning and end of the conversation.
My final recommendation for developing a message, which will come easily to scientists, is to do background research. Knowing about a policymaker's past decisions helps me formulate my message with confidence and makes the conversation go more smoothly.
The follow-up
Once my nerves settle after a meeting, I always send a quick email thanking the person for their time and offering further support on the topic if needed. Sometimes, after meeting with a senate staff member, I'll send them additional resources that they can pass along to their senator. They also follow up with me to let me know how the senator has voted (usually when the senator votes for what I was advocating) or simply that my concerns were passed along. Maintaining contact builds a relationship with the policymaker or staff member.
As scientists, we may feel removed from policy issues. But I believe science can and should inform policy. That's why it is critical, especially during this election year, to step out of the lab and be the voice for science.
Enjoy reading ASBMB Today?
Become a member to receive the print edition monthly and the digital edition weekly.
Learn more
Get the latest from ASBMB Today
Enter your email address, and we'll send you a weekly email with recent articles, interviews and more.
Latest in Opinions
Opinions highlights or most popular articles