Annual Meeting
Why we encourage undergraduates to attend the ASBMB annual meeting
The American Society for Biochemistry and Molecular Biology annual meeting, held with Experimental Biology, is an excellent venue for professional development and networking. We always look forward to meeting others who share our interests, and we leave invigorated, with our heads filled with new ideas to implement when we return to our home institutions.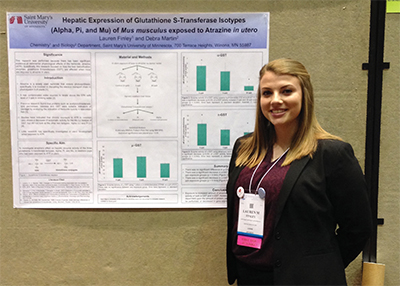 Lauren Finley, then a senior at Saint Mary's University of Minnesota, presented her project on the effects of atrazine on the mouse liver protein, glutathione-S-transferase, at the ASBMB annual meeting.Photo courtesy of Lauren Finley But career educators and researchers like us are not the only ones who benefit from these meetings. Over the past decade, the ASBMB has worked to create an environment that encourages undergraduate students to attend and participate in these meetings, and these efforts have paid off. At the 2018 meeting in San Diego, some 24 percent of the more than 2,000 attendees were undergraduates.
So what are the benefits of bringing undergraduate students to these meetings? Here are some that we — and some students we know — have seen and experienced.
Posters
Presenting research at a poster session is a great way to learn how to discuss data in a clear and meaningful way, practice the art of communicating science, and receive constructive feedback. The ASBMB provides several venues for undergraduates to present their projects.
Last year, more than 250 students presented work representing all categories of biochemistry and molecular biology, performed at both R1 and primarily undergraduate institutions, at the undergraduate poster competition sponsored by the ASBMB Education and Professional Development Committee. Interactions between faculty judges and students are always positive at this high-energy event, and prizes are awarded to the top poster presentations in four categories. Our students often say how much they enjoy getting to meet people who are like them. And sometimes they don't appreciate the research they've done until they see their level of accomplishment compared to others.
Hannah Bailey, who presented as an Otterbein University undergraduate last year, said feedback from the poster competition "allowed me to learn how to give a good poster talk."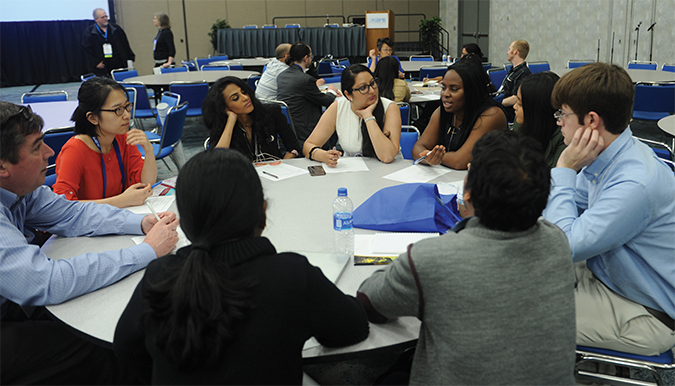 The 2018 annual meeting included multiple opportunities for career development. Here's a glimpse at one of the sessions, "How to build your CV at every career stage." ASBMBKatarzyna Hussey, now in graduate school at Johns Hopkins University, remembers the poster session when she was a Bellarmine University undergraduate as helping her practice her scientific communication. "And it was a great networking opportunity," she said. "I got to meet other people in related fields, and even one individual who had worked in the same lab as David Zappulla." As it happened, her poster was on work she'd done during a summer research program in Zappulla's lab at Johns Hopkins.
The poster session often sparks lively exchanges. Lauren Finley, a student from Saint Mary's University of Minnesota, presented her project on the effects of atrazine on the mouse liver protein glutathione-S-transferase. Although a senior, she was so motivated by questions asked about her project that she came back to campus after she graduated and spent another two weeks performing immunoblot assays to address some of the questions she was asked during her presentation.
During the EB welcoming reception, students can present posters showing their involvement in scientific outreach activities, illustrating how undergraduates are making a difference in their communities with activities designed to generate excitement about science or foster greater understanding of science and its applications.
Careers
An undergraduate degree in science opens many doors, but developing a career pathway takes planning. The many professional development opportunities at the ASBMB meeting provide tools to identify career goals and gain the skills needed for success.
During last year's Careers Speed Networking event, scientists from multiple fields met with students and shared advice about their career paths. The fast-paced event kept students hopping from one table to another as they absorbed as much information as possible. Many undergraduates said they loved this activity and learned about previously unknown career opportunities.
"The info sessions were awesome," Hussey said. "I remember getting to chat with professionals using their scientific educations in different ways, and it helped to solidify my feelings about pursuing a Ph.D. and working in science."
Among the skills-building activities were a session and workshop called How to Build Your CV at Every Career Stage and a second session called How to Communicate Scientific Ideas to Novice Audiences, both sponsored by the ASBMB Education and Professional Development Committee. In addition, graduate school representatives from a variety of programs attend the ASBMB poster session each year to discuss what their programs have to offer.
More career development opportunities are sponsored by the Experimental Biology Career Central (look for this year's schedule in an upcoming issue of ASBMB Today). Last year, there were more than 50 sessions, including How to Choose Your Ideal Career, Nailing the Job Talk, and Interview Prep and Networking: A Required Life Skill. One-on-one career counseling helps students develop their CVs and personal statements. All of these opportunities can help undergraduates identify their interests and learn about the skills they will need.
Networking
Sharing ideas and forming relationships is one of the best ways to broaden your network, and the ASBMB annual meeting is a great place to do so. As our students networked with their peers during the poster sessions and the ASBMB reception, they were pleasantly surprised to find that they belong to a much larger community of so-called nerds. They were able to discuss their research, share their own personal goals and college experiences, and make new friends.
"I felt like it was my first opportunity to learn about the scope of science outside of Bellarmine University," Hussey said, "and speaking with other students about the awesome work they are doing in their labs got me even more excited about a future in science."
At the panel discussion How to Organize a Successful Student Chapter, undergraduates from colleges and universities that have won the Outstanding Chapter Award talked about how they developed active chapters and then opened the floor for an energetic informal question-and-answer session. Hannah Bailey served on the panel for three years, from 2016 through 2018. She said the experience "allowed me to gain insights into what other student chapters are doing and gave me ideas as to what we could do to grow ours, as well as share what was and wasn't working for our chapter."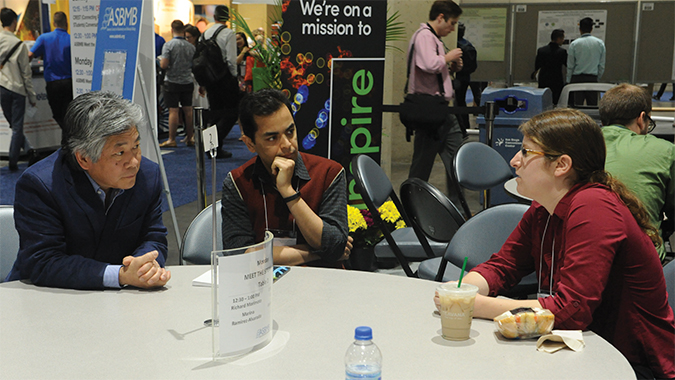 At the 2018 annual meeting, attendees had the opportunity to sit down with speakers from sessions they enjoyed.In other informal settings, such as the Meet the Speakers sessions held during the midday poster session in the exhibit hall, students had the opportunity to ask questions and hold conversations with veteran researchers. One student who was shaken and dejected after she felt attacked at her poster developed a different perspective after she met Natalie Ahn (a professor of chemistry and biochemistry at the University of Colorado at Boulder and ASBMB past president). Ahn told the student and her friends that she too had been questioned aggressively at presentations — more often than she cared to admit. She told the budding scientists that they need to believe in themselves and in their science and know the difference between intelligent criticism and bluster.
Ezra Levy, an undergraduate at Northeastern University, said a highlight of the conference was sitting down with top scientists at the Meet the Speakers sessions. "After attending their talks in the morning, I had the chance to ask them all kinds of questions, scientific and career as well as personal," he said. "I spent almost an hour with two leading scientists in my discipline, learning about the evolution of my field and drawing out advice about graduate school and beyond. It is a rare opportunity to receive the attention of such experienced and insightful people, and fun to draw them out in a fast-paced and rich conversation."
Recognition
Every year at the Award for Exemplary Contributions to Education Award Lecture, about 60 undergraduates are recognized for their selection into the ASBMB Honor Society, Chi Omega Lambda. These students are juniors and seniors pursuing degrees in the molecular life sciences at colleges and universities with ASBMB Student Chapters. Their selection is based on their academic achievement, research accomplishments and involvement in scientific outreach activities. This year's deadline for applications has passed, but interested undergraduates can visit www.asbmb.org/honorsociety for more information.
Knowledge
Students hear from world-renowned scientists about their innovative work during lectures by more than a dozen ASBMB award winners. For the latest in biochemistry and molecular biology, daily sessions (and spotlight sessions) on research cover broad areas such as metabolism, chromatin remodeling and epigenetics, and links between metabolism and diseases. Undergraduates can learn about the most recent discoveries, soak in knowledge and, if they are curious, ask questions.
Erin Hughes, a student at Otterbein University, said attending the conference and hearing all the great speakers "really inspired me to try new ideas with my research that I would not have tried previously."
Hannah Bailey said, "While a lot of the talks went completely over my head, it was fascinating to learn what was going on in other research groups and determine what sort of research I might be interested in for my graduate career and beyond."
And more
Bobby Murphy, a graduate student at the University of Kentucky, attended the ASBMB meeting in 2012, when he was a student at Bellarmine. "As an undergraduate with very little exposure to the broader scientific world, it opened my eyes to how large the scientific community is," he said. "I learned that science is incredibly fun and social, and that the job of a scientist reaches far beyond the bench. These realizations, combined with attending several career workshops, ultimately played a huge role in my decision to return to graduate school in 2015. Without experiences like this, I don't believe that I would have realized the doors that a Ph.D. can open for a scientist, or how much fun science truly is."
Erin Hughes said the conference brought her closer to the people she traveled with from her research lab. "Also, all of the sessions and talks available at the conference provided me with a wide variety of helpful information on topics ranging from lipids to how to improve the science outreach programs at the university," she said.
Hannah Bailey agreed the meeting was "an opportunity for our lab to grow closer, as most of us presented our research, which fueled a collaborative environment when we returned home." This included greater encouragement, help with troubleshooting, brainstorming experiments and questions to ask pertaining to research, and general camaraderie, she said. The conference also "opened my eyes to the greater scientific community and its collaborative nature, and made me excited to be a part of it."
Austin Black is now in the doctorate program for physical therapy at Bellarmine. He attended the ASBMB meeting as a Bellarmine undergraduate. He said, "One of the greatest eye-opening experiences for me was being able to see the breadth and depth of impact that we can have on multiple facets in society. Biochemists should not be sequestered purely in a laboratory setting (though this is an area that we as a field excel in), but we can be seen as leaders in policy, industry, and innovation, which as a student never dawned on me before being exposed to the very biochemists that are leading this charge."
Join the ASBMB Today mailing list
Sign up to get updates on articles, interviews and events.
Latest in Opinions
Opinions highlights or most popular articles