Essay
Sharing know-how with Project SHORT
I didn't have enough money to go through the Ph.D. application more than once, so I set out to make my one-and-only application as competitive as I could. I spent many hours watching YouTube videos about the graduate admission process, reading blogs, listening to podcasts and asking questions on social media until I felt versed enough in the process to begin preparing my application. I learned about attending Ph.D. admission seminars, emailing professors and reaching out to current graduate students. It was a hands-on process and very time-consuming, so I did not want all my newfound knowledge to fall by the wayside once I began my Ph.D. journey.
Looking for ways to share my know-how with future graduate school applicants, I discovered Project SHORT, an organization founded in 2019 by Hannah Loo, a Ph.D. student at the University of Pennsylvania. The name stands for Student Health Opportunities and Research Training, and the program matches prospective graduate students with a mentor (often in their field) who provides free, high-quality consulting to help navigate the application process. Mentees also get assistance with program selection, feedback on personal statements and mock interviews. As of December, the graduate school arm of Project SHORT had 374 mentors serving 378 mentees.
As a Project SHORT mentor, I have been able to partner with future graduate students at various stages in the application process to help them confirm that graduate school is the right choice for them and work with them to become strong candidates for admission.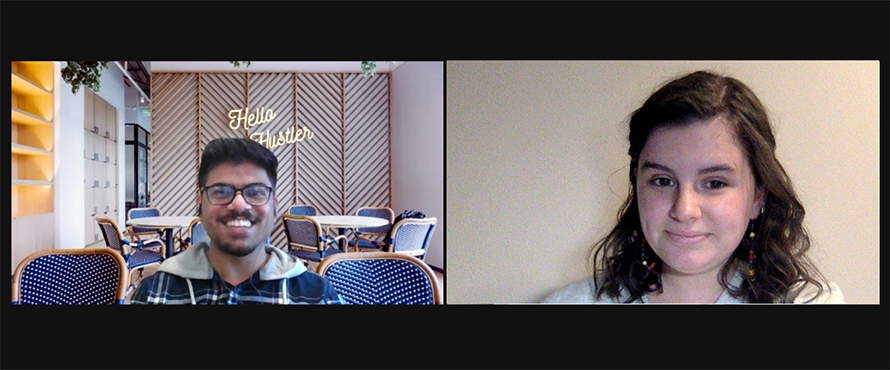 Courtesy of Lauren Fields
Lauren Fields meets with Jigar Sethiya, one of her mentees, via Zoom to work on preparing his grad school application.
My first mentee is in his second year as an undergraduate and already eager to prepare himself for a chemistry graduate program. Because he won't graduate for a couple of years, we worked together to craft an email to a potential research advisor, asking about opportunities to gain undergraduate research experience, which will allow him to be a more competitive applicant for graduate programs. I told him about the National Science Foundation's Research Experience for Undergraduates, an alternative path to doing research at a university he was interested in for his Ph.D. We also worked together to find conferences where he could present his work, such as the Society for Advancement of Chicanos/Hispanics and Native Americans in Science, better known as SACNAS.
Another mentee of mine balances being a single mother, working and attending school. I was a first-generation college student who worked full-time through much of my undergraduate education, so I could relate to her situation. We worked together to craft her personal statements in a way that highlights how professional experiences can be beneficial in a graduate school program. When the COVID-19 pandemic disrupted her undergraduate research, we sought out computational and virtual research opportunities to compensate for the loss of in-person research she was counting on for her graduate school application. I now am working with her to revise her personal statements as well as locate and apply for fee waivers.
Project SHORT's services provide my mentees with a contact who can answer questions readily, minimizing the often intimidating task of consulting with professors on the application process. I believe these relationships are helping students who otherwise might have been provided with little information about admissions to be better prepared to gain admission to grad school.
Undergraduate students interested in being mentored by Project SHORT and graduate students, postdocs and others interested in becoming mentors can find information and applications at project-short.com.
(Marya S. Sabir and Hannah K. Loo assisted with critical revision of this article.)
Join the ASBMB Today mailing list
Sign up to get updates on articles, interviews and events.
Latest in Opinions
Opinions highlights or most popular articles