Wellness
Understanding being chronically ill in STEM
Being chronically ill while studying or working in science, technology, engineering or mathematics can be a lonely experience.
So, not surprisingly, one of the first things Lauren Younger and I chat about in our first conversation is how glad we are to meet someone else in the same boat.
"As unfortunate as it is," Lauren says early on, "it is nice to not be alone."
We met over Twitter, as so many STEM students and early-career researchers do. This is how Lauren and I find ourselves, at 8 a.m. in Arizona and 10 a.m. in Massachusetts, chatting about our experiences as chronically ill college students.
Lauren and I have vastly different experiences, in terms of both illness and schools. I won't get into details about our diagnoses, but she is an undergraduate at Arizona State University, which has an enrollment of almost 72,000 on a 664-acre campus, and I am an undergraduate at Lesley University, a liberal arts school with about 6,000 students where classes are small and my department is even smaller.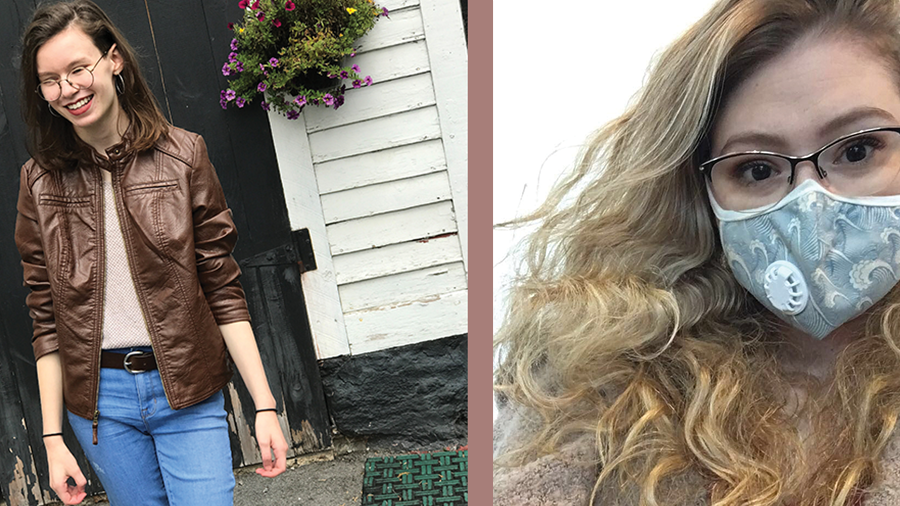 COURTESY OF LAUREN YOUNGER
Katie Walsh, left, and Lauren Younger, right, met on Twitter and bonded over their shared experience of chronic illness — and their love of dogs.
As we share pieces of our stories, many seem familiar. This is why I'm chatting with Lauren. I want to show that, regardless of the person or their illness, we can find through lines in our stories.
"I'm totally coming from the same place," I say, for what must be the 10th time in 10 minutes as we chat about our similarly debilitating illnesses. We were both more able-bodied early in our college journeys, and we remember the health reserves we had the privilege of using during those first semesters.
This is not to say those semesters were easy. One of the first things able-bodied people should understand about their chronically ill peers, students and colleagues: Nothing is ever easy.
Lauren and I both remember the beginning of our time in college fondly for the energy we had and the coursework we were able to maintain, but that doesn't mean we weren't struggling. Our illnesses are constant and persistent, filling our days even when we're able to push through.
By her second semester, Lauren says, she was spending "more time in the emergency room than class." As a freshman, I remember thinking, "The ER can't fix my illness; no one can."
But the paths of our illnesses are not our only common ground. We chat about other parallels: She and I both are teaching and research assistants, both chemistry geeks, both huge fans of dogs (we realize this while gushing over a picture of Lauren's Corgi–cattle dog mix, Gracie).
And this is the second piece of what I wish people knew about being chronically ill in STEM: We are still people.
We are still students and scientists, and we have merit outside of our illnesses.
Lauren and I discuss this topic as it relates to funding and grad school applications. She mentions that folks have suggested to her that a National Science Foundation grant would be an easy get "with what I've gone through."
We both get angry at the implication. "Shouldn't my merit and research get me funding, though?" Lauren asks.
Neither of us appreciate the suggestion that pity, rather than our accomplishments, should help us get ahead.
"I want to convince people that their pity is unfounded," I say, and Lauren agrees. "The pity train," as Lauren dubs it, is an incredibly discouraging lens through which to be viewed.
Though we are both chronically ill, we're also incredibly passionate about the work we do. Lauren completed a NSF Research Experience for Undergraduates at the University of California, Davis, doing research in computational and theoretical chemistry. At Lesley, I do research in chemistry education. We are eager to talk about our work and the coursework that goes along with it.
We spend a few minutes chatting about our favorite chemistry subjects (organic for me, physical for Lauren), but that quickly turns into a conversation about inaccessible lab spaces and course design.
"No one ever seems to have had experience with chronically ill people," I say, and Lauren quickly agrees.
We've both had wonderful experiences with individual courses and professors. Lauren mentions professors who offer extensions and waive required attendance, and I, for the thousandth time in two hours, say, "Same." But neither of us has been in a science environment that puts forethought into accessibility.
This is the final piece of the puzzle (at least for this essay): Consider us.
Remember that we exist before we remind you. Science, Lauren points out, is inaccessible by design because of a lack of thought. Neither of us has been put down by professors or staff for being disabled — though I note that we are both young white or white-passing women, and this may not be the case for people with marginalized identities in addition to disability — but we are always some of the first disabled people that our departments and their systems have worked with.
"They just literally have never come into contact with someone like me before," Lauren says. "They don't know what I need when it comes to help."
We have to advocate for ourselves and for all disabled folks in STEM, the two of us agree. It's a lot to put on our plates, on top of being students and teachers and researchers (and, and, and …).
In an ideal world, our able-bodied peers, colleagues, bosses and professors would lay some of the groundwork for our existence before we even show up. Lauren and I are not the first disabled scientists to bemoan our lack of access, and we certainly won't be the last. It shouldn't have to be a fight to exist in these spaces — we love what we do, and we just want to keep doing it.
If you have the chance, please advocate for the disabled scientists around you. One other thing Lauren and I have in common: We'd be grateful.
Join the ASBMB Today mailing list
Sign up to get updates on articles, interviews and events.
Latest in Opinions
Opinions highlights or most popular articles