Profile
There and back again
5 questions with Grant Blouse of Catalyst Biosciences
Protease expert Grant Blouse has spent two separate stints working at Catalyst Biosciences. When the protease-engineering firm first launched, Blouse worked there as a senior scientist. Today, he's the senior vice president of research and development.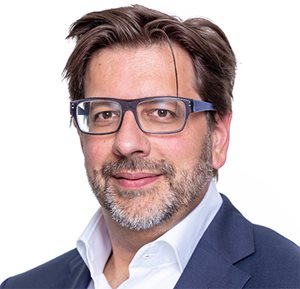 Name: Grant Blouse
Current position: Senior vice president of translational research, Catalyst Biosciences
Career path: Ph.D., Wayne State University School of Medicine, 2003
Postdoctoral research: adjunct assistant professor, Aarhus University in Denmark
First industry job: Catalyst Biosciences
Favorite molecule: "Obviously a protease — they are the quintessential signaling molecules and necessary for all walks of life."
"They went through the standard biotech wind-down of research and ramping up of development," Blouse said. He took a job at the large pharmaceutical company Novo Nordisk. Six years later, Nassim Usman, the CEO of Catalyst, offered him a role as vice president of research.
"It was an opportunity to come back as part of the executive team and rebuild the science aspect of Catalyst," Blouse said.
While he was gone, one of Catalyst's drug candidates had hit a snag in development: Patients in a clinical trial developed antibodies that threatened to reduce its effect. The company paused clinical trials while determining what this meant for the molecule's future. After returning, Blouse led follow-up analyses showing that the compound in question was no more immunogenic than competing treatments, and the molecule is now ready to enter late-stage clinical trials. Blouse and his team also have worked on targeting other proteases, such as the immune-signaling complement system.
ASBMB Today spoke to Blouse, who is now Catalyst's senior vice president of translational research, after he presented at last year's Membrane Serine Proteases meeting. The conversation has been edited for length and clarity.
As senior vice president of translational research at Catalyst, what does your day-to-day look like?
I wear many hats because we're a small company now. I mix my day between interacting with my team and the projects they're running and interacting with all the other functional areas.
I wear the hat of a project lead on one of our clinical programs. I keep up to date with what everybody's doing in nonclinical development and toxicology. My team and I interact with the consultants and contract research organizations that run these studies for us. We don't have any research labs in house, so a fair amount of time is working with contract research organizations and building relationships with academic groups.
What skills do you need that you didn't learn in graduate school?
These days, I'm starting to give presentations to investors. When you're giving a great scientific talk, that's one thing, but it's different to present that same exciting work to the investor community. I'm learning how to have business development interactions and how to move a company's different programs forward strategically.
You've worked at Catalyst and also a big multinational pharma company. How do those compare?
I went from working with 65 people at Catalyst to 40,000 worldwide at Novo Nordisk. It was definitely an eye-opener.
Many of the roles I took on in the larger company were as a project leader, making sure that all the scientists were cohesive about the project. In the big company — we call it a mixed matrix organization — there was a protein sciences team, a biology team, an in vivo pharmacology team. I had to make sure everybody was on the same page. Communications are very important in that role.
It's been fun to come back to a small company. I can have a broad view over all the programs and players. And coming in as part of the executive team was a great opportunity — the kind you don't turn down.
Smaller companies offer more growth potential, especially if you've just started out; they give you opportunity to do different things, which gives you more options when you want to make a move. Big companies are, typically, more stable, but you're not guaranteed to have no volatility in big pharma. I tell students they have a runway of a few years about anywhere they go, and beyond that, (job security) can never be guaranteed.
Any other advice for students who'd like to do what you're doing someday?
One bit of advice about networking: Sometimes when you're at a table talking with a bunch of PIs, you're excited and you want to tell your own story about everything you're doing. But sometimes it's good just to listen, to hear what everybody else is doing. You learn a lot that way.
How important has networking been for your career?
Everything has come through relationships I've built in the field. I went to do a postdoc in Denmark because of an academic collaboration during my Ph.D. I ended up at Catalyst the first time because, from my academic work, I knew the chief science officer.
When I go to conferences, I catch up with everybody I've known throughout my journey to see how they're doing and how their research is going. Things seem to grow organically out of those relationships. You just say, "Let's touch base and connect at the conference." Sometimes people bring out opportunities and say, "Hey, we're looking for somebody."
I've been a strong proponent of networking all through my career. I think it's important. And it's good to make sure you leave each job on good terms with everyone and keep those relationships strong.
Enjoy reading ASBMB Today?
Become a member to receive the print edition monthly and the digital edition weekly.
Learn more
Get the latest from ASBMB Today
Enter your email address, and we'll send you a weekly email with recent articles, interviews and more.
Latest in Industry
Industry highlights or most popular articles