Jobs
Working on the pandemic response in industry
In my most recent column, I spoke with Pfizer scientist Amit Srivastava about his career journey into industry. This week's column covers what it has been like for him to work on the COVID-19 pandemic response at Pfizer.
"We weren't starting from scratch and then accelerating. There were several teams that had worked on mRNA-based technologies and viral vaccines before that we could build on, Amit Srivastava said"

Putting translational work to the test
Last time, Srivastava talked about his past "industry-adjacent" jobs and his decision to pursue a career in the biopharmaceutical industry. He now serves as senior director of vaccines medical & scientific affairs and the medical lead for COVID-19 and mRNA vaccines in the regions of Latin America, Africa, the Middle East, Asia, and China for Pfizer.
Yes, the same Pfizer that produced the first WHO-sanctioned and FDA-approved vaccine against COVID-19 in collaboration with BioNTech, a German biotechnology company.
At the start of the pandemic in early 2020, Srivastava found himself positioned to make a difference. He had been with Pfizer for over three years, having started in 2017 as the medical lead for meningococcal vaccines focusing on North America. Meningitis is a severe and deadly disease that can sometimes cause outbreaks among young adults in college campuses or shared housing settings. Thus, Srivastava had gained experience in vaccine deployment for control of outbreaks, although on a much smaller scale.
Srivastava's job — and everyone else's — changed after SARS-CoV-2 emerged and quickly spread across the globe. He took the initiative to apply his vaccines expertise to COVID-19, and it has paid off. In February 2020, he started as the Pfizer medical lead on COVID-19 vaccine in emerging markets in Latin America, Africa, the Middle East, Asia and China while still working on meningococcal projects. This past summer, 16 months into the COVID-19 pandemic, he transitioned to focusing full time on COVID-19 and mRNA vaccines.
He said the internal ramping up process within Pfizer — as it started to develop an effective vaccine against the virus that causes COVID-19 — was aided by the existing teams in place.
"There was already substantial expertise (within Pfizer) so generally a lot of people just stepped up and started working on COVID-19 research and vaccine efforts," Srivastava said. "Specific recruitment for the pandemic response came later."
While many academic and nonindustry labs also rapidly pivoted to research SARS-CoV-2 and COVID-19, industry labs seemed to do so in a faster (or at least more focused) manner. Industry research is already touted as highly translational — basic science discoveries are typically reserved for academic spaces, whereas industry research tends to focus on patient-driven research intended to make a direct impact on improving health. That came into full effect with COVID-19, which emerged as the largest global public health threat of the current times.
"Industry research in general is not open-ended; there's a specific direction," he said. "There is exploration as part of the R&D process, but it's more focused, and the pace and priorities will change, like they did when COVID-19 emerged."
R&D during a pandemic
As expected, Srivastava said the environment within Pfizer changed during the pandemic. He said the intensity and workload were several-fold higher compared with prepandemic projects.
"It's been the hardest I've ever worked in my life, with working on my Ph.D. thesis and while working at the Boston Consulting Group being the other two times," he said. "We are entering the 20th month of this intense work environment."
Srivastava said there have been advantages to being a part of a global organization like Pfizer: He said it has both the experience and footprint to deploy its findings, which helped position it for success. He cited a few key ways in which the company and its behind-the-scenes decision-making process helped make the vaccine-development process efficient.
First, he said, Pfizer already was working on mRNA vaccines and had studied them in context of the flu, another airway-associated viral infection.
"We weren't starting from scratch and then accelerating," he said. "There were several teams that had worked on mRNA-based technologies and viral vaccines before that we could build on."
Second, he credited the clinical development team with making key decisions during preclinical and clinical trials -- such as dosing, for instance. It takes a series of experiments using different doses for testing in animal models and humans to determine which dosing scheme is optimal for human use. The initial dosing studies can greatly affect how long it takes a vaccine to get through clinical trials and then to market, since studies will have to be repeated with new dosing schemes if the initial few tested aren't just right.
"We already had experts with extensive experience over multiple vaccines who were able to make crucial decisions about how to test to find the safe and efficacious dose across age groups," he said. "All these decisions were informed by scientific evidence and experience."
The team also made decisions about dosing intervals to balance providing immediate and longer-term protection
Third, Srivastava said, there was a lot of active planning within Pfizer about manufacturing at the beginning of COVID-19 vaccine development. He said the typical approach in industry involves completing the research to develop a viable vaccine and then projecting the manufacturing needs. But in the case of the COVID-19 vaccine, planning for manufacturing needs happened concurrently with the research and development. That way, when the vaccine had proved to be safe and effective and had passed regulatory review, the systems were in place to ramp up manufacturing and delivery.
"Our people and their individual and collective experience, plus the scale of Pfizer as an organization, was brought to bear during the vaccine-development process," Srivastava said.
Pfizer & BioNTech's vaccine was the first of the COVID-19 vaccines to be approved under the FDA's Emergency Use Authorization, which reviews medical countermeasures to address public health emergencies. EUA approvals expire at the end of the public health emergency, but Pfizer–BioNTech have since also applied for and received full approval for their vaccine for use in adults above 16 years of age and have received EUA for 12- to 15-year-olds and most recently 5- to 11-year-olds.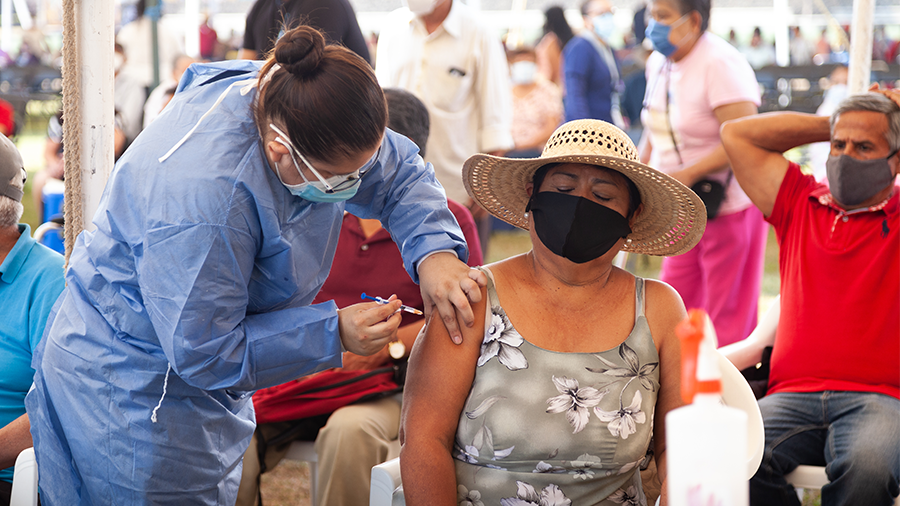 A health worker administers the Pfizer–BioNTech vaccine in Tepoztlán, Mexico.
Adjusting vaccine strategy during a pandemic
Srivastava has been a part of the development of vaccines before, but the pandemic brought on new challenges. Personnel who didn't have to be on site switched to remote work. Srivastava said IT systems were approved companywide to support collaboration between teams and experts throughout the U.S. and around the globe. This technology helped ensure teams could collaborate to keep projects moving forward.
Yet Srivastava said technology had more than one impact — namely, experiencing a pandemic in the era of social media.
"Premature information or bad information ripples across the globe in a matter of hours," he said. "Especially in the beginning, people were operating with limited information, so anyone could become 'an expert,' and that had real consequences on cementing people's initial understanding of the vaccine and contributing to vaccine resistance."
This has always been an ongoing challenge of developing and introducing a new vaccine, Srivastava said, but the intensity of social media-fueled opinions was greatly increased in relation to COVID-19.
"Part of the misconception is that people are thinking of vaccines as medicine with a 100% cure rate, and that's not how it works," he said. "There's a population component and many other factors that mean a vaccine is effective from a public health perspective if some people still experience disease symptoms."
Increased connectivity has had benefits as well. Many researchers have posted their findings related to COVID-19 research in the form of research article preprints online to help contribute to the broader understanding of a relatively unknown disease.
"It's a really gratifying element that so much data and information is being put out there in the form of preprints that have largely turned out to be reliable," Srivastava said. "The scientific community has a whole have been able to extract substantial scientific information from many of these studies."
Looking past COVID-19
While Srivastava hadn't specifically worked on COVID-19 or coronavirus research before, he wasn't unprepared for his new role. His work on meningococcal vaccines provided the background and expertise in not only the technology and science behind vaccine development, but also in assessing outbreaks and presenting vaccine information to vaccine technical committees and national health authorities.
Srivastava anticipates his role will continue to evolve. He expects Pfizer to continue to investigate mRNA vaccine technology to address other diseases but doesn't yet have a clear picture of where that will go specifically. He plans to use his experience and credentials to help pivot into whatever new role may come.
He also had advice for those facing new challenges in their workplace, regardless of their field: His new role started because he raised his hand.
"You don't have to know everything, but, if you feel you have some baseline knowledge and can work hard to contribute and learn and grow, then take that new project on," Srivastava said. "There's really no downside. It's worth taking that risk and stepping up and riding the opportunity to further your career."
Enjoy reading ASBMB Today?
Become a member to receive the print edition monthly and the digital edition weekly.
Learn more
Get the latest from ASBMB Today
Enter your email address, and we'll send you a weekly email with recent articles, interviews and more.
Latest in Careers
Careers highlights or most popular articles