Annual Meeting
Inspiring the next generation of scientists
Do you remember the first time you attended a big science conference? Most of us were undergraduates or graduate students, maybe presenting a poster with our advisor or telling a national audience about our research for the first time. Few of us had a chance to attend a meeting when we were still in high school.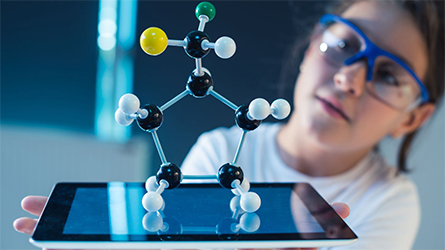 This year, the American Society for Biochemistry and Molecular Biology Science Outreach and Communication Committee will invite Seattle-area high school students into the conference space at Discover BMB 2023 — the first time the ASBMB will offer local high schoolers an opportunity to experience the society's annual scientific conference.
This event, called Community Day at Discover BMB, will take place March 28 from 1:30 to 4 p.m. The committee expects to welcome 30 to 75 high school students and their teachers, including a number from underresourced communities, to join us in the exhibit hall for an afternoon of science engagement and exploration.
Early engagement in science is an important aspect of diversifying and retaining interest in the BMB fields. The more we do now to inspire the next generation of scientists, the stronger our fields will be. Community Day at Discover BMB will introduce these students to at least three key conference experiences.
Science talks are a major part of any scientific meeting. On Community Day, we'll invite the high school students to attend and judge the annual "Science in a Flash" competition (see box). The students and their teachers will hear short live talks by scientists who are challenged to distill their research down to its essence and make it accessible to the nonexpert listener.
Walking through an exhibit hall at a big meeting can be exciting (or nerve wracking, depending on how introverted you are). We'll give the high schoolers a chance to explore the hall, locating specific vendors who will showcase interactive demonstrations of basic research activities such as looking through a microscope, investigating a model and learning how a centrifuge works.
Finally, what conference would be complete without a healthy dose of networking? Many young people never have met a professional scientist, so we'll offer our special guests that opportunity with a dedicated area where they can engage with ASBMB members and ask questions about their research, careers and day-to-day lives.
Inspiring the next generation of scientists is a core part of the ASBMB's mission to "advance the science of biochemistry and molecular biology and to promote the understanding of the molecular nature of life processes." Through this Community Day event, we will show these high school students that support for careers in biology and molecular biology exists outside the classroom. If you are wandering the exhibit hall at Discover BMB on March 28, keep an eye out for these young scientists!
Odaelys Walwyn–Pollard, Matt Koci and Jelena Lucin contributed to this article.
Science in a flash: A three-minute talk competition
Imagine you had three minutes and a single slide to tell people about your amazing research.
Science in a Flash, an annual competition organized by the ASBMB Science Outreach and Communication Committee, does just that. Selected presenters are challenged to distill their research to its essence creatively and make it more accessible to the nonexpert audience in short live talks.
The first in-person competition was held at the 2019 ASBMB annual meeting in Orlando. The success of that pilot event was repeated in 2020 and 2021 in a virtual setting adjacent to the society's annual meetings.
Each year, the committee selects up to 10 grad student and postdoc annual meeting travel awardees to present their work. Presenters are judged by a panel of committee members for the judges' choice award and by competition attendees for the audience choice award. This means that an audience of scientists usually watches, judges and provides feedback.
This year, the competition returns to an in-person setting at Discover BMB 2023, with a new twist: Presenters will be challenged to boil their research down to its essence in front of an audience that includes students and teachers from Seattle-area high schools.
The Science Outreach and Communication Committee develops science communication training and facilitates outreach activities for the society. The committee provides resources and professional development opportunities for ASBMB members to get involved with informal education in their communities. If you're interested in getting involved, email outreach@asbmb.org.
Enjoy reading ASBMB Today?
Become a member to receive the print edition monthly and the digital edition weekly.
Learn more
Get the latest from ASBMB Today
Enter your email address, and we'll send you a weekly email with recent articles, interviews and more.
Latest in Careers
Careers highlights or most popular articles