Professional Development
The importance of mentoring
A growing body of literature points to the importance of effective mentoring in the success of underrepresented minority, or URM, students in science, technology, engineering and mathematics. The mentor−mentee relationship was cited as one of the three pillars of success in a doctoral program in a 2015 report from the Council of Graduate Schools. In that report, 62 percent of African-American and Hispanic doctoral candidates cited their research mentors as major factors in their success.
For this series, I spoke to five African-American men studying or working in the life sciences. Of the five, all cited mentors as a major factor in their decision to pursue a degree in STEM. The most junior of the interviewees, Nisan Hubbard and Christopher Barnes, emphasized the impact of early mentors on their decision to persist and ultimately to pursue doctoral degrees in the molecular biosciences.
"The best thing about science and life itself is the fact you can have multiple mentors that could facilitate that interest you may have," Hubbard said. "It honestly started in middle school with my biology teacher, Mr. Johnson. From him opening my eyes to my coordinators at Virginia Commonwealth University helping me to foster my interests and turning that energy into productivity and clarifying my pathway to success. Without them, I don't think I would be able to have a clear understanding of what science is and what it takes to get there."
Barnes said: "My very first mentor, Dr. Gary Pielak at the University of North Carolina, nurtured this idea and helped start me on a path toward a career as a scientist. If it were not for his mentorship and belief in my abilities, I would not be where I am today."
Our most senior interviewees, Carleton Barbour and Craig Cameron, talked about the positive impact of more informal and sometimes very early mentoring on their career decisions.
"My maternal grandfather, who worked for Esso Research and Engineering, sparked my interest in science," Barbour said. "His passion for science and engineering was obvious, and his efforts to expose his children and grandchildren to science were never-ending. I was also influenced by my junior high school and high school science teachers who made exploring scientific principles fun. My sister's career path (in biochemistry and molecular biology) also influenced me to pursue science as a career."
Cameron shared: "I have been blessed with having mentors, from my fellow graduate students and research supervisors to my committee members and department heads. Without positive people and positive environments, my minority status could have easily disincentivized my pursuit of science and being a scientist."
Barbour gave a specific example of the benefits of attentive mentoring. "Early in my career, I hesitated to take leadership roles on the projects assigned to me," he said. "Fortunately, I worked for a supervisor who recognized my talent and worked to ensure I developed and used the skills I needed to lead … My company demonstrated their trust in my judgment by assigning the technical recruiter role to me."
Science versus medicine
Another theme throughout the interviews was the participants' decisions to pursue science versus medicine and, for some, whether to choose academia as a career path. Again, access to mentors and role models emerged as a significant determinant.
Describing one of his earliest mentors, Hubbard said, "He was the guy who taught me that there is more to science than medicine, and he helped open my eyes to the many facets of what biology is."
Barnes described the evolution in his thinking while studying chemistry as an undergrad at the University of North Carolina and pharmacology as a graduate student at the University of Pittsburgh. "My choice to major in STEM-related disciplines was driven by my desire to become a doctor as well as to feed the curiosity bug that gripped me throughout my childhood," he said. "However, it wasn't until I entered college that I realized the word 'doctor' doesn't necessarily just mean an M.D., but also a Ph.D. As a research scientist, I realized that I could explore the world for a living, figuring out cures and answers to some of the greatest problems we face as a global society."
Cameron had a similar epiphany in the mid-1980s when he was an undergraduate student with an interest in medicine. "My volunteering activities in the hospital provided me with a bird's-eye view of the devastation associated with viral infection and the corresponding emotional distress caused by dealing with such events on a daily basis," he said. "This was the beginning of the AIDS epidemic and even predated the naming of the virus. This experience made it clear to me that practical medicine was not for me but provided ample motivation for pursuit of a research career that might facilitate the discovery and/or development of antiviral therapies."
Barbour's lack of early experience with African-American role models in academic science shaped his career goals. "I never imagined myself as a college professor, since I did not have role models who could help me appreciate the role," he said. "I was more interested in using science to solve the practical problems I perceived were addressed by the life sciences industry. Unfortunately, I have had few career mentors outside my graduate adviser, my grandfather, my sister and my science teachers."
Giving back
Numerous studies provide evidence of the value that underrepresented STEM students place on altruism and helping others, so it is not surprising that the interviewees expressed interest in giving back to their communities, often in the form of mentoring. Although there were significant generational differences in their responses to questions (to be explored in future articles), interest in grooming the next generation of diverse bioscientists was a consistent theme from the youngest of the respondents (Hubbard) to the most senior (Barbour).
Hubbard wants to be a pipeline of resources and information for the future, he said. "I feel like my place in science and my experience do influence that because I find that, even when searching for opportunities, I need an aspect where I can mentor and when I can teach to pass on knowledge. I feel like this will be a duty of mine for as long as I am a part of STEM, and especially in academia where there is always a call for more diversity and people of color but not the necessary follow-up to get to a point where we are seeing the needle move significantly."
Barbour said he believes it is important to serve as a role model and an example of a successful African-American male scientist. His technical recruiting role provided an opportunity to be active in the National Organization for the Professional Advancement of Black Chemists and Chemical Engineers and to demonstrate leadership and organizational skills that his technical position did not exploit, he said. "Once I became a successful recruiter, I considered pursuing recruiting as a career but decided to remain in a technical role."
Taken together, all these comments underscore the importance of mentoring in the career decisions of African-American men.
Next month, the same participants provide their perspectives on the degree to which race and ethnicity have affected their career progression and the importance of career–life balance in managing this impact. Although some commonalities were expressed, interesting generational differences emerge in the five men's views on these important issues.
African-American men in the molecular biosciences: a series
The three articles in this series will explore the experiences of African-American men in the molecular biosciences through interviews with five men at various stages in their careers, including two students, two faculty members and a researcher in the biotechnology industry.
The careers of these five men span nearly four decades when taken together and include experiences in academia, industry and consulting. Although each has had unique experiences, the commonalities in their stories provide insight into the challenges and opportunities facing African-American men in the molecular biosciences. This series is an exploration of their lived experiences, hopes for the future and advice to the next generation of African-American men who aspire to careers in the molecular biosciences.
Nisan Hubbard, a doctoral candidate at Northwestern University, is completing a Ph.D. in reproductive biology. He is one of 14,354 African-American male grad students in science, technology, engineering and math (representing about 2 percent of all STEM graduate students), 10 percent of whom are in the biological sciences, according to 2016 data from the Survey of Graduate Students and Postdoctorates in Science and Engineering. Only about 3,000 (about 1.5 percent) of the more than 195,000 STEM doctorate holders recorded in 2015 were African-American men, according to the Survey of Earned Doctorates.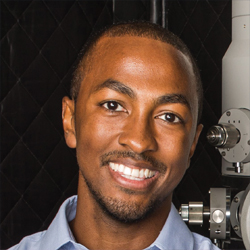 Christopher Barnes is a Howard Hughes Medical Institute Hannah Gray postdoctoral fellow in Pamela Bjorkman's laboratory at the California Institute of Technology. He is one of only 477 African-American male postdoctoral fellows across the STEM disciplines, according to the 2016 National Science Foundation data. Nearly 50 percent of African-American male doctorate holders in STEM are employed in the academic sector, the Survey of Doctoral Recipients reported in 2015; however, African-American males account for only 2.1 percent of the STEM workforce in academia (and not all are tenured or tenure-track faculty).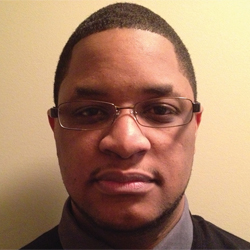 Joseph Chaney is an assistant professor of biochemistry at Xavier University of Louisiana, where he studies molecular nanomotors. He earned his Ph.D. at Purdue University. He is a member of the American Society for Biochemistry and Molecular Biology Minority Affairs Committee.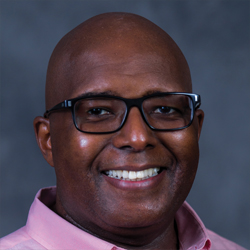 Craig Cameron holds the Eberly family endowed chair in biochemistry and molecular biology at the Pennsylvania State University, and his laboratory focuses on genome replication in positive-strand RNA viruses.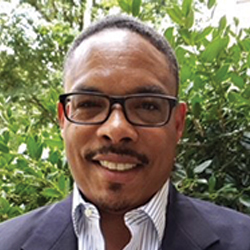 Carleton Barbour is lead scientist in process and analytical development at Emergent BioSolutions, a global life sciences company focused on developing and manufacturing medical countermeasures for biological and chemical threats as well as emerging infectious diseases. He is also the author's brother. According to the 2015 Survey of Earned Doctorates, 28 percent of African-American male doctorate degree holders in STEM were employed in the private, for-profit sector, representing 1.5 percent of that workforce, according to 2015 National Academy of Sciences data.
Related studies
Maton, K.I., et al. (2012). Meyerhoff Scholars Program: a strengths-based, institution-wide approach to increasing diversity in science, technology, engineering, and mathematics. The Mount Sinai Journal Of Medicine, New York.
Tsui, L. (2007). Effective Strategies to Increase Diversity in STEM Fields: A Review of the Research Literature. The Journal of Negro Education.
Estrada, M., et al. (2016). Improving Underrepresented Minority Student Persistence in STEM. CBE Life Sciences Education.
Allen, J.M., et al. (2015). To grab and to hold: Cultivating communal goals to overcome cultural and structural barriers in first generation college students' science interest. Translational issues in psychological science.
Hulleman, C.S., et al. (2010). Enhancing interest and performance with a utility value intervention. Journal of Educational Psychology.
Thoman, D.B., et al. (2015). The Role of Altruistic Values in Motivating Underrepresented Minority Students for Biomedicine. Bioscience.
McGee, E., and Bentley, L. (2017). The Equity Ethic: Black and Latinx College Students Reengineering Their STEM Careers toward Justice. American Journal of Education.
Enjoy reading ASBMB Today?
Become a member to receive the print edition monthly and the digital edition weekly.
Learn more
Get the latest from ASBMB Today
Enter your email address, and we'll send you a weekly email with recent articles, interviews and more.
Latest in Careers
Careers highlights or most popular articles