Jobs
Exploring careers in microscopy
The first time I looked at cells under a fluorescent microscope, all I could say was, "Wow."
I had just graduated from college and started working as a research technician in a cell biology lab. My background was in biochemistry and biophysics. I'd never worked with living cells before.
As I watched endocytic vesicles zip around inside the cell in real time, I could hardly believe I was seeing life in motion.
I'm now a Ph.D. candidate at the University of North Carolina at Chapel Hill. My scientific interests have continued to shift and expand; however, a unifying theme — whether my model system is biochemical reconstitutions or developing neurons — has been microscopy.
Early this year, the neuroscience microscopy core, or NMC, on campus was getting a new Zeiss confocal microscope, and the core director, Michelle Itano, worked with Zeiss to craft a short internship centered on the microscope's installation. I use the NMC frequently, and Itano invited me to participate. The goal was to learn about two career paths: working at a core facility and working at a microscopy company such as Zeiss.
Behind the scenes at the core
Itano operates the NMC with two staff members, Tessa-Jonne Ropp and Christina Moore. In 2022, the core hosted 202 users from 72 labs on six microscopes. Usage this year is expected to increase with the acquisition of two new microscopes.
We began our internship by learning how microscopes are acquired. The NMC staff works to stay in touch with the needs of core users and determine what instruments will advance research at UNC. Typically, the core arranges microscope demonstrations by a variety of vendors to evaluate which equipment is the best fit. These demos also help the core stay up to date on new technology.
The NMC staff chose the Zeiss 980 laser scanning confocal microscope, or LSM980, to provide an updated option to an older Zeiss confocal. This latest model has Airyscan 2 super-resolution imaging, allowing researchers to image with greater detail at faster speeds.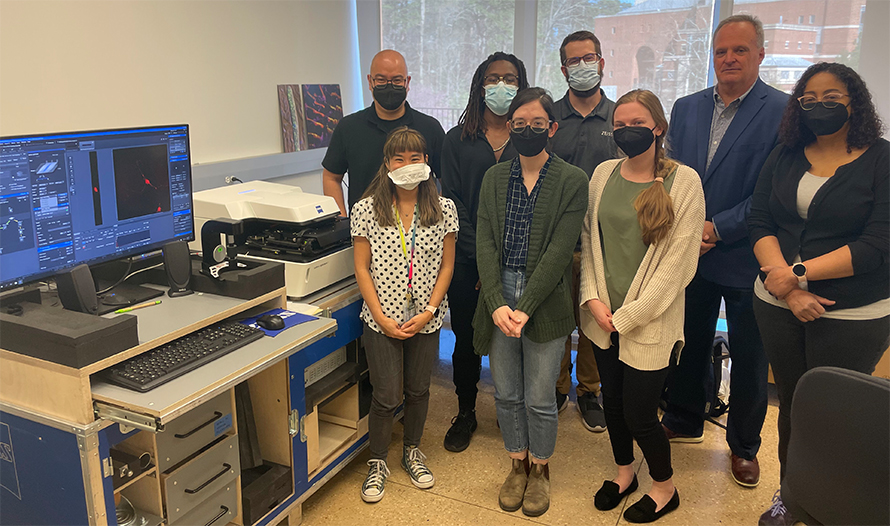 Michelle Itano
The UNC Chapel Hill Neuroscience Microscopy Core and Zeiss teams.
We also learned about the core facility's finances. The NMC is supported by the National Institutes of Health, the Chan Zuckerberg Initiative and UNC. Hourly fees paid by labs that use core microscopes help pay for maintenance contracts.
To help purchase the LSM980, Itano won a $600,000 S10 Biomedical Research Support Shared Instrumentation Grant from the National Institutes of Health. She took us through each component of her grant — emphasizing the need for this specific microscope and the research projects it will help advance.
There is no such thing as a typical day in a busy core facility, but Itano, Ropp and Moore told us they perform weekly maintenance on instruments, train new users on microscopes and image analysis software, manage billing and provide advise on best practices and troubleshooting.
Itano also co-directs a semester-long microscopy course for UNC graduate students, which includes hands-on labs with a variety of instruments, including those in the NMC.
The NMC also engages with the larger microscopy community. As part of a multi-institutional team, Itano was the corresponding author of a 2021 paper on how to publish imaging methods to improve reproducibility in science. She is editor-in-chief of the journal BioTechniques and teaches at the Marine Biological Laboratory in Woods Hole, Massachusetts. Itano and Ropp — along with other UNC faculty and core directors — were instructors at the recent Partnering to Advance Imaging Research for Underrepresented Minority Scientists Program, or PAIR-UP, Advanced Live Cell Imaging Workshop for Black Imaging Scientists.
Pushing science forward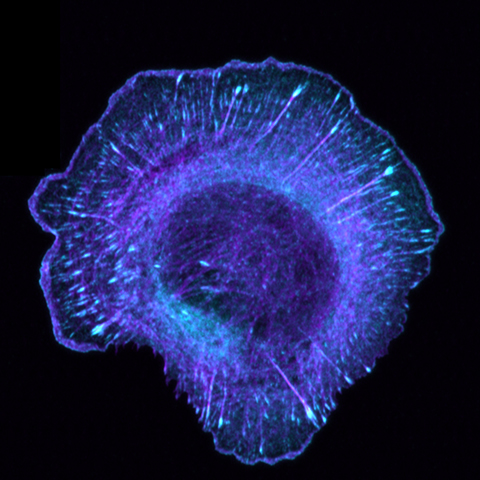 Laura McCormick
The actin cytoskeleton of a mouse fibroblast cell, imaged on the Zeiss LSM980.
While we were learning about the NMC, we also worked with the Zeiss staff to understand their role in the microscopy community.
Michael P. Nymick, the Mid-Atlantic/South regional sales manager, and Kimberly Toops, the director of sales, life sciences at Zeiss, provided a brief history of the company and an overview of its structure. They also told us about their career journeys; Nymick came to Zeiss with a business background, and Toops previously ran a microscopy core facility.
We also met our Zeiss team in North Carolina: Garrick Koermer (account manager), James Shaw (product application sales specialist) and Charles Christensen (field service engineer).
Koermer and Shaw are both in sales and customer support. While Koermer primarily focuses on widefield microscopes, Shaw's work centers on confocal microscopes. Their job responsibilities include product demos, user training and troubleshooting customer issues.
On the day the LSM980 was delivered, I shadowed Koermer and Shaw. After helping to unpack the instrument components, the pair checked in on other UNC Zeiss clients. They installed a widefield microscope in a neuroscience lab and then headed over to a microscopy core in the biology department to discuss delivery of another confocal microscope and demonstration of a lattice light-sheet microscope.
Koermer and Shaw both joined the company within the last few years. Both had extensive microscopy experience during graduate school and had worked in scientific sales at other companies. Although sales experience is not a requirement, they said Zeiss expects them to be able to work well with others and provide excellent customer service.
Christensen works closely with customers, but his role is more mechanically focused. As a field service engineer, he was in charge of installing the confocal microscope. He also does maintenance. Need a laser line replaced? He's the person to call.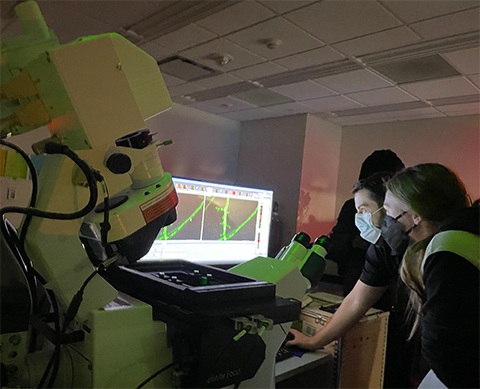 Michelle Itano
Optimizing the imaging of cultured neurons during the LSM980 training.
One of my favorite moments of the installation was when Christensen opened up the microscope's scan head to show us its inner workings. The scan head contains the components needed to form an image — including the pinhole, filters and mirrors. I'm familiar with illustrations of these pathways, but it was amazing to see all the tiny parts and gears that can transform light into pictures.
Focusing on the big picture
Throughout my mini-internship, I noticed working at a core facility and a microscopy company had several common aspects.
First, it was clear that you should enjoy working with people. Employees at both the NMC and Zeiss stressed that they enjoy problem-solving and feel fulfilled helping other researchers do the best imaging science possible.
Second, both career paths offer a fast-paced and ever-changing schedule. When you're constantly working with new people and addressing new questions, each day looks different.
Careers in microscopy bring exposure to a broad range of science. Each lab and each researcher is investigating a unique scientific question in a unique way. By helping others optimize their imaging, you naturally learn more about their projects.
Finally, both careers require a team mentality. The NMC often partners with other microscopy core facilities at UNC (and neighboring universities) to share resources and provide troubleshooting advice. Likewise, I saw the dynamic within our local Zeiss team as they worked together to install the LSM980. And of course, the NMC and Zeiss cooperate to ensure the microscopes at the core are used to their highest potential.
Interested in learning more about careers at Zeiss? The company offers a formal, paid summer internship for graduate students. Learn more.
Enjoy reading ASBMB Today?
Become a member to receive the print edition monthly and the digital edition weekly.
Learn more
Get the latest from ASBMB Today
Enter your email address, and we'll send you a weekly email with recent articles, interviews and more.
Latest in Careers
Careers highlights or most popular articles