Professional Development
What to ask during your faculty interview
You've been preparing for your faculty interview for days. Your seminar presentation is a polished masterpiece, complete with slides that showcase ingenious future plans. You've studied the research interests of each faculty member and identified potential collaborations. You've spent hours trying to anticipate their questions for you and prepared thoughtful responses. But did you prepare questions for them?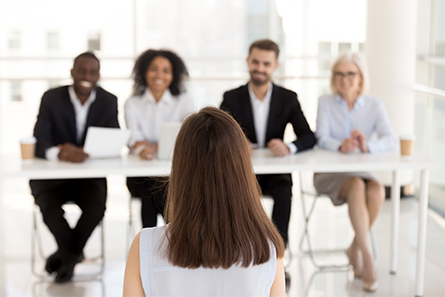 A faculty interview is a two-way street. You are evaluating your future place of employment as much as they are evaluating you. It behooves you to be prepared with questions for the faculty members and students that you will be speaking with during the interview process. As a member of numerous search and screen committees over the past 20 years, I offer a few key items you should consider. Going into your interview armed with good questions not only will help you gather intel to help you make the best decision for your career but also will help you stand above the competition.
Ask about core facilities.
Many colleges and universities house core facilities on campus where faculty can advance their research. These can include facilities that will perform proteomics, sequencing, animal or imaging studies. You not only should check if the core facilities you need are in place but also be sure to ask about their reliability, customer service and cost. Make sure they have a friendly and helpful staff that will help you and your trainees make sense of the data.
Ask about internal funding opportunities.
If you want to land a large external grant, it helps to show reviewers that you have secured funding from your institution. This demonstrates that you have skill as a grant writer and that your school is invested in your research program. Many schools offer small internal grants for faculty, and you should have a sense as to which ones might be available to you. If the school offers grants that are restricted to new assistant professors, even better. Some schools offer internal grants that offset the charges to use core facilities as well. Also, ask if the department or school has an internal grant-reviewing committee that pre-reviews applications to external funding agencies. Pre-review committees can be invaluable in helping you craft a competitive grant proposal.
Ask about the tenure process and faculty mentor programs.
It is useful to know the tenure success rate at your school; in other words, what percentage of faculty who go up for tenure actually get it? How long is the tenure clock, and does the school perform checkpoint evaluations such as three-year reviews? Assess whether the department is open to offering you immunity from teaching and service the first year or two, which will allow you to focus entirely on developing your independent research program. And check if the department has a faculty mentor program. It is extremely helpful to new faculty to form an advisory committee that meets twice a year to evaluate your progress and provide input on how to meet career goals; if your department does not have a formal advisory committee, you can assemble one yourself. Some schools offer workshops to guide new faculty through the tenure process.
Ask about student and postdoc life.
You need to fill your lab with dedicated and talented individuals, so it is vital to learn as much as you can about the school's ability to recruit trainees. You should know how many students the school accepts each year and how many enter the department to which you are applying. What is the graduation success rate? Do trainees have access to funding opportunities within the department, such as travel awards? Does the department have training grants that support graduate students or postdocs? Does the school have a postdoctoral affairs office, and do they have the resources you may need to hire international fellows? Does the department have dedicated office space for trainees? Will your students be required to teach and, if so, how much?
Ask about team-building activities for faculty and trainees.
The interview probably will give you a good sense of the degree of collegiality among the faculty, but you should ask if programs exist to help build collaborations among faculty members. Does the department sponsor a seminar series to host visiting scholars? Do they hold a seminar series for students and postdocs? Do they have happy hours or brainstorming sessions, perhaps an annual retreat? These activities not only advance research by identifying new areas to be investigated but also build morale and increase job satisfaction. Finally, you can learn a lot by asking the chair about their philosophy of higher education and their vision for the department.
Ask about teaching, service and diversity.
Research is not the only component of higher education, so you need to know what type of teaching you'll be expected to do, how much time this would take, and what level of student you'll be instructing. In addition, you might want to clarify what types of service activities are expected of faculty members and whether scientific outreach is assigned value at your institution. Ask what the school is doing to enhance diversity and equality among students and faculty.
Ask about campus life, including life in the city or town.
It might seem trivial, but life outside the laboratory often affects life inside the laboratory. Schools in vibrant and affordable cities have much to offer for your work–life balance as well as your ability to recruit students and postdoctoral fellows. If you have children, ask about family-friendly activities and the quality of the nearby schools. Find out if the research buildings and classrooms that you need access to are in close proximity. At some larger schools, you can waste considerable time walking or taking a shuttle between buildings scattered across town.
Ask about the key strengths and weaknesses of the school or program.
In my experience, most faculty are quite candid and objective concerning their institution's climate. You can gain important insights into the best features your potential academic home has to offer and what areas need improvement. During the interview, be sure to highlight how the positive features, such as the department's confocal microscope or the institute's access to patient samples, will enhance your research. Perhaps you can offer ways to remedy areas that require attention; for example, if there are deficiencies in graduate student training, state that you're willing to lead a student journal club or seminar series. No place is perfect, but having a list of the pros and cons will help you select which school is best suited to your objectives and style.
The candidates who stood out in my faculty interviews were those who expressed genuine interest in our department, school and city as shown by the thoughtful questions they asked. Put yourself in the interviewer's shoes: Wouldn't you prefer to work with someone who thinks ahead and comes prepared? Never let your response to "Do you have any questions?" be an awkward silence. As a prospective scientist, you are expected to be full of them.
Enjoy reading ASBMB Today?
Become a member to receive the print edition monthly and the digital edition weekly.
Learn more
Get the latest from ASBMB Today
Enter your email address, and we'll send you a weekly email with recent articles, interviews and more.
Latest in Careers
Careers highlights or most popular articles