Annual Meeting
What to wear at the annual meeting
A guide for packing light and looking great at scientific conferences
As a fashion blogger and scientist, I find the best time to meld my two passions is at a scientific conference. What better place to network with others in your field, learn new things, hear about cutting-edge technologies and also present your work to get great constructive feedback? The best ideas I've had were at conferences. Different perspectives, opinions and outlooks really can help advance your project. Why not make it even better by feeling your best and most confident because of your power outfit? When you feel good, that confidence projects to others. But a huge problem for a lot of people is the question, "What do I actually wear?"
I blogged about style for a previous Experimental Biology/American Society for Biochemistry and Molecular Biology meeting, and it was really fun to see what kind of outfits I could come up with for each day of the conference. As a woman who loves to shop, I had a closet full of clothes that I never wore, mainly because I was lazy but also because I wasn't being creative about putting pieces together. When I finally realized I could mix and match, I was able to put together multiple outfits without packing too many things — especially important when you have to travel by plane.
I've been to several conferences in my time as a graduate student, and each one has its own feel — some are business attire only, some are business casual, some are very casual — so it's hard at first to gauge what to wear. Sometimes the conference itinerary states the dress code, but most do not, so as a first-time attendee (or even a seasoned veteran), you might not know what to wear. My advice: It never hurts to dress more formally on the first day and see what others are wearing; then you can adjust your clothes accordingly. No need to wear a suit and tie every day if others are more business casual. At the same time, you don't want to be the person who shows up in casual clothes while everyone else is dressed up.
It's always a good idea to dress up on the first day of a conference. Left, ASBMB science policy analyst Andrè Porter wears a blazer and tie with dress pants. Right, fashion blogger Andrea Hadjikyriacou opts for a simple dress and jacket; just remember to pack some flats if you wear high heels like Andrea's (see below).
Photos of Andrea courtesy of Tina Lawson, Nicole Beckerman, Qais Al-Hadid and Andrea Hadjikyriacou Photos of ASBMB staffers and shoes by Emily Huff/ASBMB.
Tips for conference style
Get a feel for what the conference dress code is. It is always better to be overdressed on the first day than it is to show up in faded jeans and a T-shirt.
Mix and match your pieces; re-wear the same pants with multiple shirts and tops for instantly different outfits. No one will notice you wore those same black pants yesterday.
Simple black or dark gray dress pants are my go-to; you can switch out different colored and patterned shirts, sweaters and blouses.
Capsule pieces, like a white or black shirt, simple T-shirt or tank top, can be layered under other pieces to create a simple outfit when covered by a blazer.
A vest can add spice and variation to your outfit. You could wear the same (clean) shirt and pants the next day, add the vest, and you have a new look. Same with a sweater if the conference hall is chilly.
Use accessories like scarves, fun socks and jewelry to your advantage. This can spice up an outfit without filling your suitcase.
You don't have to go out and buy expensive dress shoes; sure, they can complete a look, but more and more labels are coming out with dressier sneakers and flats. A simple black or dark gray shoe can match well with your outfit. Avoid running shoes or gym sneakers if possible.
Do wear comfortable shoes (but they can still be stylish). Heels can be great, but bring a pair of flats in your bag to change in case those heels start to hurt after hours of standing.

You can't go wrong with a pair of black shoes. Opt for a classic style and comfortable heel. Add a pop of color with your socks.

Casual flats are fine, but avoid running shoes and gym sneakers. These gray suede lace-ups and strappy brown flats strike just the right note.
One of my shoe tricks: Wear boots under wide-legged pants — comfy and stylish.
Avoid wearing sneakers and ripped or faded jeans. You want to make a good impression and look professional, especially when you are presenting your poster, giving a talk or meeting other scientists.
That being said, you can still wear nice jeans. I would opt for a darker wash of denim with a nice pair of shoes or boots and an ironed button-up dress shirt or a flattering blouse. It's a good go-to conference look.
A blazer can always be added for a touch of professionalism; you can class up those dark jeans and a top with a blazer, and voila — an instant outfit that's both professional and casual.
Make sure you iron whatever you wear. Wrinkles can look messy and unprofessional.
If you're packing light, make sure you have laundry access — and be prepared to do some spot cleaning. Pack a stain-remover pen.
Avoid T-shirts or other clothing that display slogans, logos, brand names and so on. The simpler the better.
If you wear make up, remember simple always wins. There's no need to be super flashy; neutral makeup with a pop of color on your lips can go a long way.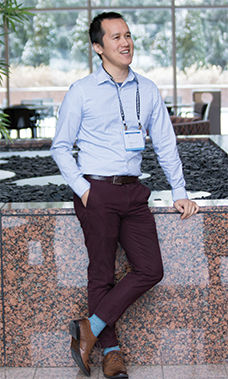 Dark pants and a nice dress shirt or blouse make a great go-to look when you're at a conference, as demonstrated by fashion blogger Andrea Hadjikyriacou, below, and ASBMB public affairs manager Daniel Pham, above.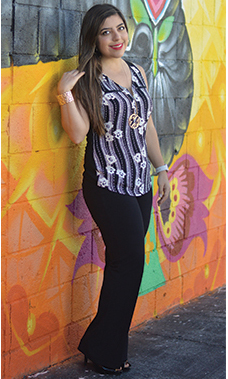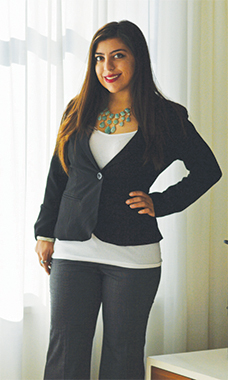 ASBMB science writer John Arnst, below, and fashion blogger Andrea Hadjikyriacou, above, show how you can dress up jeans or pants and a simple shirt with a classic blazer. A good look for your poster presentation.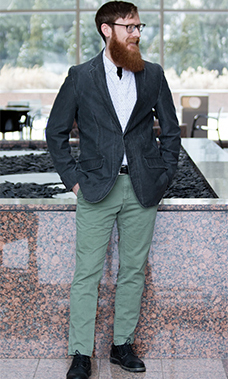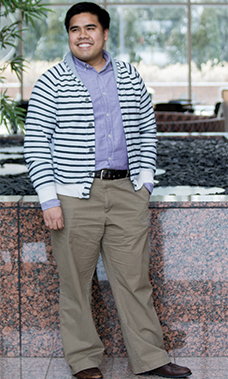 For a more casual way to stay warm in a chilly conference hall, wear a stylish cardigan like MCP editor for manuscript integrity Saddiq Zahari, above, or pop on a zippered jacket like fashion blogger Andrea Hadjikyriacou, below.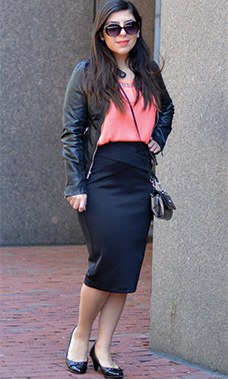 Enjoy reading ASBMB Today?
Become a member to receive the print edition monthly and the digital edition weekly.
Learn more
Get the latest from ASBMB Today
Enter your email address, and we'll send you a weekly email with recent articles, interviews and more.
Latest in Careers
Careers highlights or most popular articles