Diversity
Securing space for Black women scientists in a crooked room
Kimberly Jackson noticed as a graduate student that when she attended scientific meetings, she was one of the only Black women in the room. She remembers feeling discouraged, but she also saw it as a challenge — one she's worked intentionally to address and change.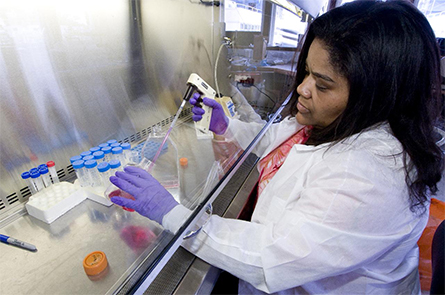 Spelman College
As chair of the department of chemistry and biochemistry and director of the food
studies program at Spelman College, Kimberly Jackson studies cancer therapeutics
and drug discovery. A Fulbright Scholar, she also works with her colleagues to develop
approaches that train and retain Black women in STEM fields.
"I decided early on in my career that I didn't have to be the only Black woman in the room," she says. "I could bring other Black women with me into this space."
Jackson is now chair of the department of chemistry and biochemistry and director of the food studies program at Spelman College, a historically Black college for women in Atlanta, Georgia. In addition to her research on cancer therapeutics and drug discovery, she and her colleagues have worked hard to develop approaches that train and retain Black women in science, technology, engineering and math fields.
Jackson has written about how lasting discrimination and stereotypes have left the STEM space as a proverbial "crooked room" for women of color. They often are forced either to contort themselves in order to fit in an atmosphere in which their abilities are diminished or to decide to stand straight in a space that is disorienting, uncomfortable or both. In these unlevel environments, lack of opportunity and recognition diminishes women's achievements.
The data reflect this reality. African American women earned only 6.2% of all Ph.D. degrees granted to women in 2019. When looking at life sciences specifically, the total number of women earning Ph.D.s increased 12% from 2010 to 2019. Yet the number of female African Americans earning Ph.D.s in life sciences increased only 1% in the same time span. In fact, in several life science fields including marine biology, astrophysics, applied physics and neuropsychology, not a single doctorate went to an African American man or woman in 2019.
Jackson and others have published on practices they've identified that support the success of Black women in STEM, guiding the way for other colleges and institutions to follow. But Jackson doesn't think many institutions are using these resources — despite her work and Spelman students' success, she says she isn't seeing widespread impact.
"We should have more institutions knocking down Spelman's door to ask questions and listen about how to successfully make these changes, yet it hasn't happened," she said.
Instead, she sees institutions looking to Spelman not to emulate its success but to feed off its student pool. Spelman prides itself on creating accomplished students who come from an encouraging environment. But the spaces they move to next are often not the same.
"Instead of re-engineering their environment to welcome our students, many of these institutions try to change (our students) as if they're the deficit," Jackson says, citing first-hand accounts she's heard from past trainees and focus group data she's collected. "We can produce wonderful students but if they go into a space where they're not conformable, it can be extremely derailing."
Life after Spelman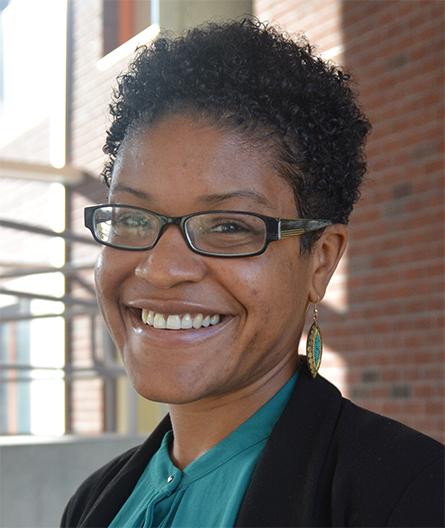 Courtesy of Alison Brown.
Alison Brown received a 40 Under 40 Health Award from the National Minority
Quality Forum in 2018 at the same time she was experiencing microaggressions
in her Ph.D. program at Tufts University.
Alison Brown, program director at the National Heart, Lung and Blood Institute's Division of Cardiovascular Sciences and a Spelman alumna, says her experience as an African American woman in STEM largely has been influenced by her environment. When she was pursuing a master's degree at Columbia University, she said, she felt comfortable, partially due to the diversity of New York City. But as a Ph.D. at Tufts University in Boston, she had a different experience.
"I definitely experienced those moments of microaggressions when eye contact is avoided in meetings or where your competency or quality of work is questioned, especially during group projects," Brown says. "Body language and responsiveness to ideas all play a role in feeling dismissed or diminished."
She was the only African American Ph.D. student in the food policy and applied nutrition program, a field dominated by white women. She remembers one group project in particular where her idea to develop a nutrition intervention for diabetics in a predominantly African American community in Boston was dismissed completely by classmates. Instead of conforming to their project ideas, she set out and completed the project on her own.
"Although I excelled in the project, it was hurtful, being dismissed and having to do the project completely by myself," she said. "I had many experiences like that."
Brown earned her Ph.D. in 2017, but many Black students in STEM still have similar experiences. Destiny Van, another Spelman alumna, now a second-year Ph.D. student in Cornell University's biochemistry, molecular and cellular biology program, said it's still difficult to find Black women represented in the STEM research community outside of historically Black institutions. Van says this lack of widespread representation can make it seem overwhelming to continue in a STEM career.
"It was an amazing experience to be surrounded by so many other Black woman-scientists (at Spelman) and live in a community where I did not have to question my worth because of my identity," Van says. She credits Jackson with teaching her the importance of standing in her identity and confidently pursuing her future.
"The research community is slowly striving towards inclusion and diversity," Van said. "But they are also struggling to maintain these students and assure they are in a safe space to not only strive for success but to speak up without fear."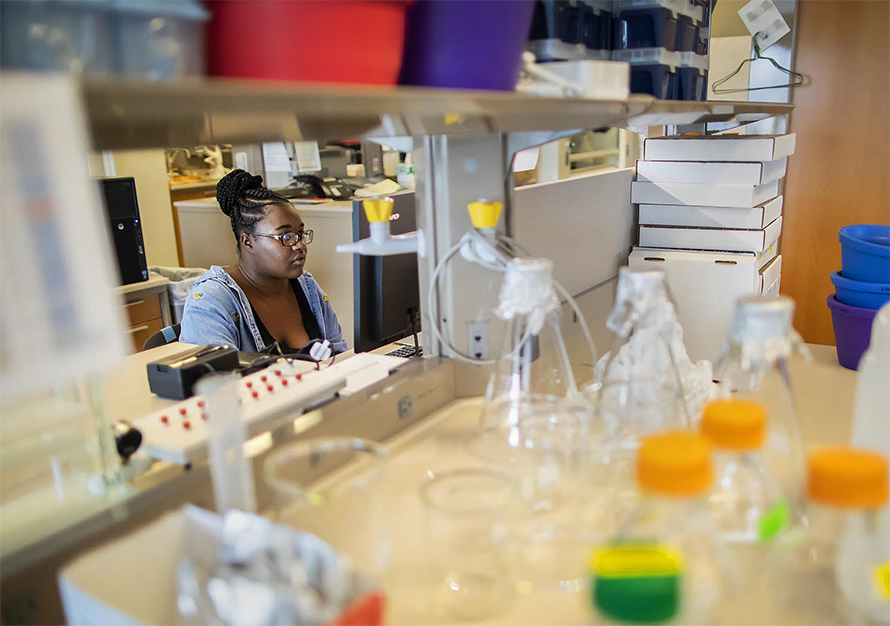 Courtesy of Destiny Van
Destiny Van, a second-year Ph.D. student in Cornell University's biochemistry, molecular and cellular biology program, said it's still difficult to find Black women represented in the STEM research community outside of historically Black institutions.
Strategies for change
In response to these lasting challenges, Jackson continues to identify strategies that can be used to create spaces where Black women in STEM can thrive. She's writing a paper on how cohorting, in which programs or institutions accept at least two Black candidates together, can be used to help support women of color during their education or careers.
Mentor and mentee training is another institution-level change that could help provide a secure space for Black women. Mentors and mentees can get the tools they need to form mindful and productive relationships in many places, Jackson said, including the National Research Mentoring Network. The NRMN provides anti-racism and unconscious bias training modules, among others, that could help mentors ensure an inclusive environment for women of color.
Jackson hopes institutions that are committed to reengineering their STEM spaces to be inclusive and supportive of Black woman can look to Spelman as a guide and partner. She thinks continued lines of communication between these institutions and Spelman can be critical to driving and sustaining change.
As an example, Jackson points to the Leadership Alliance, a consortium of colleges, universities and private institutions aimed at supporting underrepresented students during their education and research careers. As a member of the alliance, Spelman works to increase the readiness and competitiveness of its scholars as they enter careers in the biomedical workforce.
These focused efforts will be critical, but Jackson believes more global changes are needed to secure space fully for Black women in STEM.
"I think there needs to be re-hauling of the entire scientific enterprise," she said. "We need to change how people perceive what a scientist should look like and then make changes to support this diversity."
While a scientific overhaul is out of her hands, Jackson is optimistic that the next generation of Black women will continue to advocate for their space in STEM.
"They speak up for themselves," Jackson says. "My generation was a bit quieter and more reserved, but this generation is more expressive about their feelings and what they're going through — they won't hesitate to blast you on social media."
Students can't take on the burden of changing the STEM space on their own. Despite their advocacy and the efforts of Jackson and others, Spelman grads know work is still needed to right the crooked room permanently.
"We've moved the needle, but not far enough," Brown said. "We still have a long way to go."
Enjoy reading ASBMB Today?
Become a member to receive the print edition monthly and the digital edition weekly.
Learn more
Get the latest from ASBMB Today
Enter your email address, and we'll send you a weekly email with recent articles, interviews and more.
Latest in Careers
Careers highlights or most popular articles