Professional Development
Attending conferences as a policy researcher
Over the last 11 years, I've attended multiple scientific conferences where I presented my work. I started going to these conferences as a graduate student. This continued even after I left academia but in a different capacity. And I know I'm not alone. Of the 3,600 people who attend the American Society for Biochemistry and Molecular Biology annual meeting, a percentage do not currently study or work in academia. If you are one of them — or if you're considering going to scientific meetings as a non-bench scientist — here are a few lessons from my experience.
Away from the bench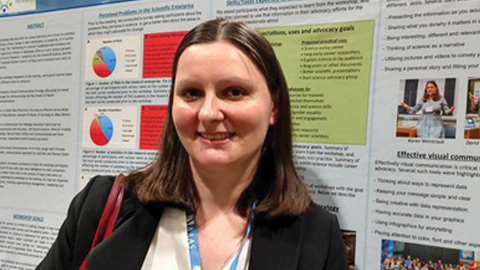 Adriana Bankston presents a poster for Future of Research, a nonprofit organization supporting early-career scientists, at the 2017 American Association for the Advancement of Science meeting.
The transition out of academia can be daunting for many reasons, including the lack of structure and support when you no longer work in a lab. You may have to start over in a new field, create a new professional network and learn how to sell your work to a new type of audience. Attending scientific conferences can provide opportunities to practice these skills in your new role.
As a former bench scientist, you will probably attend the same types of conferences as when you worked at the bench. However, given your new role, you might engage in different types of activities. I personally have transitioned from my bench work as a skeletal muscle biologist to being a science policy researcher (volunteer) at the nonprofit organization Future of Research. This experience has allowed me to discover my own professional identity outside of academia and to present our organization's work at conferences across the country and get a sense of how we best can advocate for graduate students and postdocs.
Specific activities
Our work at Future of Research is classified in the science policy or education category at scientific meetings. This has allowed me to showcase our projects, advertise the organization and build a network with people working in these areas. I have presented posters on our advocacy and career workshops at scientific conferences. While summarizing a different type of data (essentially like social science) wasan interesting challenge in itself, I also found these presentations to be very exciting and motivating, because I was able to engage more people in our work.
I also have co-moderated workshops on career development for junior scientists, enhancing connections for advancing postdoctoral training, and resources to address challenges for international graduate students and postdocs. These workshops have solidified my interest in learning about and working toward addressing the needs of graduate students and postdocs across the country. This experience also helped me become more comfortable and actually begin to enjoy talking in front of a crowd about my work. Although I was fairly shy while at the bench, doing these workshops came very easily to me because I was discussing a topic that I felt very passionate about.
I also participated in discussions related to science, technology, engineering and math, or STEM, graduate education during an open forum at a national meeting, and I summarized sessions from various meetings on training and policy topics, including economic implications of scientific training, tracking postdoc trends and outcomes, rethinking graduate education in the 21st century and others.
While attending these conferences as a science policy researcher, I've also tried things I was afraid to do. I volunteered to speak about the importance of science advocacy (and engaging graduate students and postdocs in advocacy) in a short video at a meeting to support the advocacy efforts of the host society. Because I wanted to help others interested in transitioning to science policy by sharing my experience, I also co-moderated a science policy roundtable at that meeting. I was excited when multiple people asked for my advice. I am also always glad to help others — I've had mentors who pointed me in the right direction, and I want to pay it forward now by helping the next generation.
General advice
Drawing from my own experience, I offer some general pointers to help you make the transition into a new field and present that work at scientific conferences:
Immerse in your new field. You may be an expert in your former scientific topic at the bench, but you are a novice in your new field, so learn as much as you can about it from as many people as possible during these conferences. The best way to do this is to attend lots of sessions that pertain to it (workshops, talks, and so on). This is particularly relevant in science policy, where the focus can shift quickly from one topic to another. Seek mentors and peers who can help; in my experience, people generally are willing to mentor someone else, especially if they have gone through a similar transition.
Be open to learning. If you are attending a large scientific conference as a science policy professional, for example, there may be fewer sessions in your field at that conference. Embrace this as a way to learn something different but still valuable (a new skill, topic or resource) that you can use for your own professional development. This includes meeting professionals in your field or developing interdisciplinary relationships by bringing your new expertise to bench scientists.
Talk to people. Meet as many people as possible in your area of interest at conferences. Present your work to experts in your field but also to those who have no idea what you do; both can be valuable experiences. Attend talks given by experts in your field at conferences, introduce yourself to them after the event, and set up one-on-one meetings to continue the conversation. You will learn from them, and they also will get to know you as a professional in the field. In addition, you can help others navigate a career transition by co-moderating a discussion table related to your particular area during a large conference.
Maintain connections. If you make a connection at a conference, follow up with that person; keep these connections going and seek to meet them again the following year. This way you can create a network of people who can help you advance in your career, tell you about the hot topics, recommend literature and other resources, as well as connect you with other experts in the field.
Be bold. If you are intimidated by a large conference, roundtables or poster sessions can be a great way to get to know people in your field and talk with them one-on-one. But ultimately, if you want to succeed as a professional, you need to be bold and do things you are afraid to do. You must take every opportunity to tell people about your work. This is the only way to grow and begin to make yourself and your organization known in your new field.
Engage at a broader level. Beyond conferences, get involved in national committees to find out about the hot topics in your area and make further connections. As an example, I joined committees that were relevant to my interests in training and policy, which has connected me with colleagues I can learn from and call on for my needs in the future.
Conclusion
Attending conferences as a science policy researcher (or in any new role) can be very rewarding. You may find that your new field is not so different from your past academic life, especially if you are still collecting data, writing papers and presenting posters (as in my case). Although I left the bench, I never really left science (or even research). I have continued to grow professionally by presenting our work at Future of Research during scientific conferences to a new audience and in a variety of settings.
Enjoy reading ASBMB Today?
Become a member to receive the print edition monthly and the digital edition weekly.
Learn more
Get the latest from ASBMB Today
Enter your email address, and we'll send you a weekly email with recent articles, interviews and more.
Latest in Careers
Careers highlights or most popular articles