Blotter
Advocate spotlight: T.L. Jordan, advocate for LGBTQ inclusion in academia
My name is T.L. Jordan, and I am a scientist and an advocate. My journey started one year ago, as a first-year immunology Ph.D student at the Mayo Clinic. It was also the same time I came out publicly as nonbinary, identifying as neither male nor female, but elsewhere on the gender spectrum.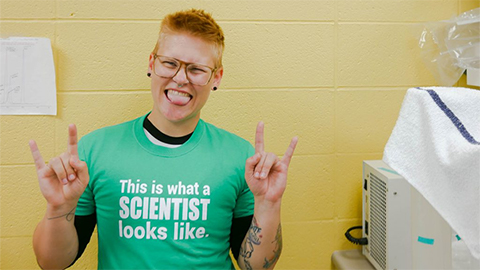 T.L. Jordan
I realized as soon as I came out that my institution did not have many policies to make my transition comfortable. Because I go by they/them, the policy language for certain benefits like parental leave were so gendered that I technically didn't qualify for them unless I misgendered myself. From that moment, I started putting my efforts toward creating a comfortable place in academia for LGBTQ folx (folx is an inclusive way to address all genders in LGBTQ).
It certainly hasn't been easy. I have received pushback from administrators, students and professors on my projects that push for LGBTQ inclusivity. When I asked faculty to be mindful about assuming pronouns, I was told by some that remembering pronouns was too difficult. When expressing my interest to host in-person trainings to discuss LGBTQ issues, I was told that online modules were good enough.
After working through the negative perspectives, I founded the Gender and Sexuality Literacy Training program and have given trainings on pronoun usage at faculty meetings. These presentations encourage faculty to be considerate of individuals with different pronouns than those assigned to them at birth. Faculty are encouraged to remove gender identifiers from their communications and syllabuses and ask all students for their pronouns, thereby normalizing the process. These actions have a profound impact on individuals who usually feel ostracized by continuously having to state their pronouns. Faculty members are also starting to identify their own pronoun preferences in their email correspondences. The success of the program so far has led to the possibility of other Mayo Clinic departments implementing this training.
I feel a great sense of pride about the work I have done, but I also sometimes feel isolated. I realized early in graduate school that I wanted to explore science communication, accessibility, and advocacy. I was the odd one out, as most of my peers want to stay in academia or industry. There were even faculty members who thought my career goals were "a waste of a Ph.D."
Luckily, my mentor, Marina Ramirez-Alvarado, a member of the ASBMB's Public Affairs Advisory Committee, is incredibly supportive of my desire to advocate for the LGBTQ community. She has helped me find LGBTQ STEM conferences where I can present my research and meet peers with similar advocacy goals.
By connecting with professors and peers who support my work, fighting for LGBTQ-friendly policies and programs become easier. I am excited to continue to pursue advocacy, especially knowing the amount that I have accomplished in only one year. I am proud to be an advocate for my LGBTQ family in science.
Join the ASBMB Today mailing list
Sign up to get updates on articles, interviews and events.
Latest in Policy
Policy highlights or most popular articles