Feature
Can urban universities be better neighbors?
Davarian Baldwin began studying universities' impact on their neighborhoods two decades ago, when he stumbled across a case study in real time at the University of Chicago, where he was visiting as a junior professor to do archival research. After a day in the university's research library, he went outside and found a protest underway.
"The university was in the process of taking a historic blues club in the historically Black community of Bronzeville … and moving it to the campus neighborhood of Hyde Park," Baldwin said. Local activists were in the process of objecting.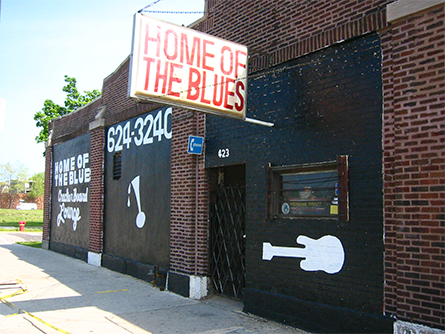 Discosour/Flickr
Chicago's Checkerboard Lounge in 2003, before it was moved to Hyde Park
The Checkerboard Lounge did end up moving to Hyde Park and stayed open there for a dozen years before closing in 2015. For Baldwin, now a professor at Trinity College, the story kindled a long-standing academic interest. "I found out that this was just the tip of the iceberg of the ways that the University of Chicago had control of the South Side," he said. "They were the biggest employer; they were the largest healthcare provider; they were the largest landholder on the South Side; and they were the biggest policer."
With the decline of manufacturing, universities have become a significant economic forces in many cities. According to one estimate, 11% of jobs in American cities today are at universities and hospitals, sometimes called "eds and meds."
"Universities are among the most powerful institutions in advanced society," said Ira Harkavy, an associate vice president and founding director of the Netter Center for Community Partnerships at the University of Pennsylvania. As such, Harkavy and many colleagues see an ethical imperative for universities to do more to contribute to their local communities. The idea has caught on in academic administration; dubbed the anchor movement, this approach to managing the business of running a university also takes the community into account.
The defensive moat strategy
In some ways the conflict between town and gown is as old as universities. The expression comes from traditional attire in Europe, where students were required to attend lectures in capes and mortarboards that set them apart from neighbors not affiliated with the university.
The divide remains apparent, minus the quaint costumes, in many U.S. universities today. At urban campuses and medical centers in cities like Philadelphia, Chicago and Baltimore, badge-wearing students and staff board free, liveried campus shuttles while nonaffiliated citizens wait for the city bus. Campus security guards are posted at building entrances or on street corners. University staff and students are disproportionately white and Asian, while the people who live in nearby neighborhoods are disproportionately Latino and Black.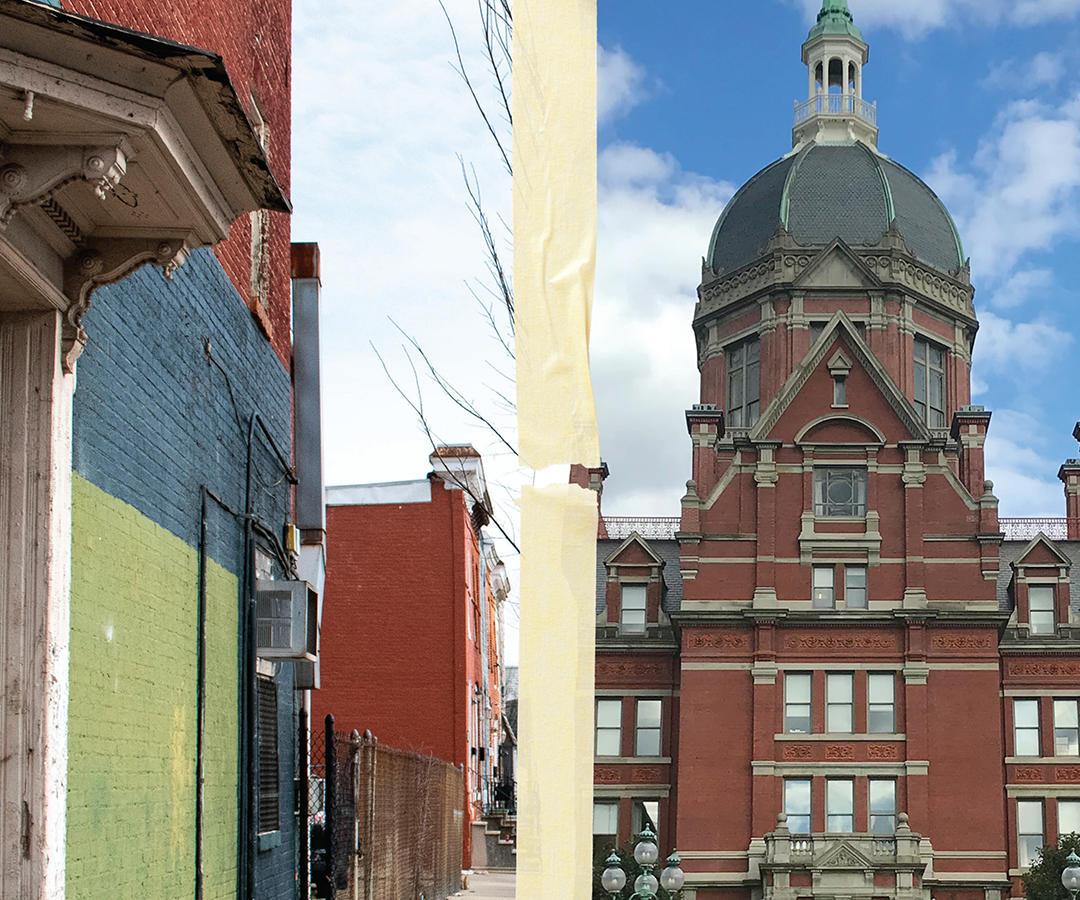 Gelareh Vinueza (L), stock (R)
A residential neighborhood two blocks from Johns Hopkins Hospital (left) and the historic façade of that hospital (right) in Baltimore.
In the early 2000s, not long before Davarian Baldwin stumbled across the Checkerboard Lounge protest, Charles Rutheiser began working with the Annie E. Casey Foundation, a large philanthropy that works to improve life for American children and youth. The foundation was looking to data-informed approaches to expand opportunity for young people growing up in poor urban neighborhoods. When Rutheiser and his colleagues visited grant sites, they noticed a striking pattern.
A kaleidoscopic movement
This article focuses on three large, private universities in majority-Black cities. These schools have a lot in common, including an outsized effect on their postindustrial cities' economies, since each is among its city's largest private employers. But they represent just one slice of the anchor movement. (Read more)
"In many of those distressed, disinvested communities, there was either a university or a hospital, or sometimes both, located either smack dab in the middle or immediately adjacent to the community — but for all intents and purposes, that institution might have been on Mars," Rutheiser, who is now a senior associate at Casey, said.
As American cities struggled with shrinking populations, job loss, poverty, crime and disinvestment through the mid-20th century, both Baldwin and Rutheiser said, universities were ill-equipped to pick up and leave. Instead, they adopted a bunker mentality that lingered for decades. "As I witnessed first-hand in Baltimore during the 1980s and 1990s, this defensive posture … generated deep mistrust, hostility and conflict between institutions and communities," Rutheiser said.
Tragedy reoriented one elite university away from trying to shut out the city and its many problems. At the University of Pennsylvania in the mid-1990s, Rutheiser said, increasing crime near campus that culminated in the murder of a graduate student "led the university to rethink whether it should be in West Philly at all."
Penn leaders "realized that current business as usual was just not sustainable, that the defensive moat strategy was not working," Rutheiser said. "The institution made a commitment: No, we're going to stay, and we're going to make a renewed effort," both to integrate with the community in West Philadelphia and to improve the neighborhood.
"Why do universities exist? They exist to improve the world," Harkavy said, adding that the ethical obligation to alleviate community suffering is stronger given universities' nonprofit status. "Whatever we have done has, in my judgment, been significantly insufficient given the state of our world and the state of our community." The center for community engagement that he leads was founded in 1992 as part of Penn's effort, which also involved significant investments in neighborhood safety, affordable housing and a few local schools.
"The University of Pennsylvania, in doing it, actually showed it could be done," Rutheiser said.
Anchoring neighborhoods
The idea of a university as an anchor for its community — as department stores used to anchor shopping malls — started at the fringes of academia in the early 2000s, supported initially by philanthropic investment from the Annie E. Casey Foundation. Over time, the term has become widespread in university administrative circles, mentioned in reports from the Obama administration's Department of Housing and Urban Development and cited as a key strategy in a National Academies of Sciences, Engineering and Medicine report on improving health disparities. A dominant model for how an institution can benefit its community has emerged, focusing on how a university's corporate functions might be localized.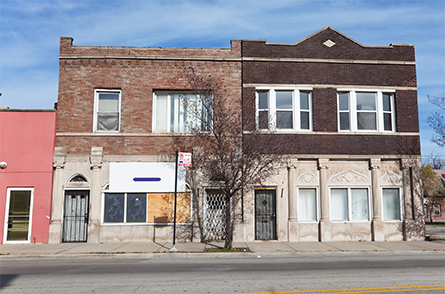 Steve Geer/iStock
Boarded-up commercial buildings in Chicago's Englewood neighborhood, one
of the neighbor¬hoods near University of Chicago's campus that it has
prioritized for investment.
"It really centered in on the areas of hiring and purchasing," said Bobbie Laur, executive director of the Coalition of Urban and Metropolitan Universities, or CUMU, about how the anchor institution concept took shape. "Universities are doing all this work in communities — but who are they hiring for their jobs? And where are they purchasing their goods from? Once we took a look at that, we realized there was a lot of improvement that could be done."
Alyssa Berman-Cutler, executive director of community development in the University of Chicago's Office of Civic Engagement, runs the university's anchor initiative. "We think about our anchor mission work … as how we leverage our role as a large employer and large purchaser on the South Side (of Chicago) to be a good partner in community economic development," she said.
Historically, in communities around the university, she said, "There was definitely a sense that the university was a little bit Other: that we might have been their neighbor, but we weren't really part of the community."
Six years ago, the university launched an effort called UChicago Local, which aims to hire more people from and purchase more from companies located in nine neighborhoods around the university's campus. With hire-local, buy-local and live-local components, the program maps directly onto the priorities that the CUMU initiative espouses. At least one other university, Johns Hopkins, has a program similar in scope and design, and many more have local hiring or procurement initiatives.
With over 15,000 employees, the University of Chicago is the seventh-largest employer in the city. About 30% of its faculty and staff live in the nine priority neighborhoods; Berman-Cutler said the program aims to raise that to 40%. Her office encourages hiring managers to identify and interview local job applicants, work with nearby job-training and placement organizations, and talk to community groups to identify barriers to employment.
For example, a background check is part of the hiring process for all employees. The university does not automatically disqualify candidates with criminal records, instead considering each case individually, but Berman-Cutler said she learned from community leaders that former offenders may view the check as a sign that it isn't worth their time to apply. There, she said, is an opportunity for better communication.
The university also seeks to buy from local businesses and writes into contracts that a certain percentage of subcontractors must be locally owned. Food and transportation purchasing are especially suited to local procurement. Still, "It can't be charity," Berman-Cutler said. Except in a few cases where a business's mission clearly aligns with the university's social mission — she cited a biodegradable cutlery company with a strong training program in manufacturing — local vendors must offer competitive pricing.
According to Laur, helping small companies scale up and compete is part of many universities' anchor missions. "In order for a small vendor to support such a large institution, they need to have the business practices in place to be able to do so," she said. That could include bookkeeping, accounting and billing, or it could involve business planning. "Many of our members have been working for years to support programs that help build that capacity and help smaller ventures within our cities to be competitive."
The third arm of UChicago Local, the live-local program, envisions university staff and faculty as citizens of the communities surrounding the campus. The university offers forgivable loans to help university employees purchase homes in those neighborhoods.
"I'm a community development professional first," said Berman-Cutler, who spent 10 years at the nonprofit Uptown United before coming to the University of Chicago. "I feel like this is an incredibly impactful way to do that work."
Alex Goldenberg, the director of a community organizing group called Southside Together Organizing for Power based in Chicago's Woodlawn neighborhood, has watched the university's relationship with its neighbors change since he came to the city in 2002, when he said that the university had a "history of being extremely closed off and really not engaging at all with its neighbors. … I've seen it move from that to (saying), 'No, we want to engage with our surroundings in a more meaningful way.'"
He credits strong leadership in the office of civic engagement for the changes and noted that hiring organizers like Berman-Cutler who are expert at building relationships, has been an important part of the program's success. Goldenberg said the university's procurement work is especially impactful. "In the science library, the coffee shop is owned by a local South Side operator, which when I first came to the University was unheard of — just not the kind of thing that happened."
Still, Goldenberg said, he feels that the university should do more. "While it's good, it still pales in comparison to what would be needed to truly address the decades of systemic disinvestment, displacement and destabilizing impacts that the university has had on the community."
Fraught histories freight the present
"People's past history and experience of each other, and each other's institutions, also informs how they show up and what they expect and what they suspect of each other," Rutheiser said.
Building trust is a delicate business. Ryan Petteway is an assistant professor of public health at Portland State University studying the role of location in health. Before he moved to Oregon, he spent a few years working for the Baltimore health department.
It troubled Petteway that the department's headquarters were across the street from a public housing development but completely disengaged from it. "I grew up in public housing myself," he said. "I've always known no one gives a shit about us."
To counter the impression of uncaring institutions, Petteway went door to door to meet the public whose health he was working to improve. During one of these walks, he and a local public housing resident got to talking about Johns Hopkins, whose medical campus was just a block or two away. The resident's comments were "a shared sentiment for pretty much everyone I talked to," Petteway said.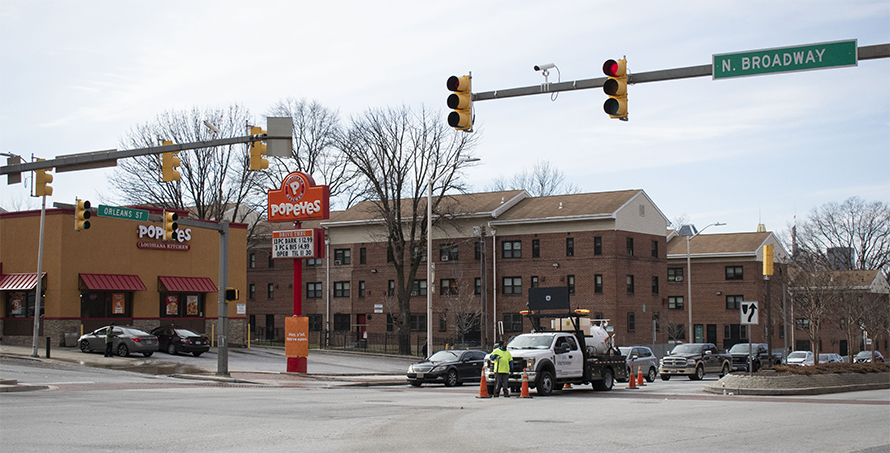 Gelareh Vinueza/ASBMB Today
Baltimore's Douglas Homes public housing project, where Ryan Petteway went door-to-door to canvass residents. The development is across the street from the Johns Hopkins Medical Center.
"If they had a working relationship, where Hopkins was somehow supporting their organization with a grant, it was kind of like, 'OK, we'll get along because you're providing resources.' Outside of that I didn't talk to anybody in these communities that thought highly of Hopkins at all ... there's a community awareness of the harms that Hopkins had done historically and a sense of the harms they're doing right now."
Along that walk, he said, looking down a street from the housing project toward campus, he saw a hiring ad for new security guards, clearly designed to be seen by passersby. It might have been a university effort to offer employment opportunities to local residents: advertising entry-level jobs close to home for disadvantaged potential applicants. To Petteway, it read very differently. "If you want to come on this campus, the only way you can come on this campus is if you're one of our sentinels," he said. "That was my read of that context."
Rutheiser, who could not find words to describe the prior university–community relationship, said that things have changed at Hopkins in the past ten years. University leaders have worked to redress some specific historical harms, for example, launching twice-annual symposia commemorating Henrietta Lacks, a Black cancer patient whose cells, taken at Hopkins in 1951, became the immortal HeLa cell line, and offering full scholarships for high-performing graduates of Baltimore city schools.
In Petteway's experience of conversations about inequality, he said, "It's always about going forward and how we can build equity and justice … and not thinking about how we can repair harms in the past." Later he added, "If whatever is happening is not done from a restorative justice perspective, then I don't think it's realistic for us to expect any real change in the level of rapport and trust."
Not all aboard
Not all academic administrators like the anchor movement.
"There are some institutions that have been completely immune to this," Rutheiser said, citing Columbia University in New York as an example. Some universities, he said, consider local community service ancillary to their key constituents and their mission of teaching and research. "They serve their students, their staff, science as a whole, and so forth, and not the people living across the street."
Harkavy, too, said he has seen "fear of a kind of mission drift" when trying to persuade colleagues to invest substantial resources locally. "Universities feel that they're doing (beneficial) things, and they don't often see how doing this more centrally fulfils their mission."
Slavery and reparations
In addition to efforts to build wealth in surrounding neighborhoods, some universities are reckoning with their own history of the severest racial inequity: holding slaves. (Read more)
Even if a university leader supports an anchor mission in principle, it can be challenging to execute. Academia is famous for its inertia and fondness for tradition. A case study published in the journal Higher Education Policy found that research faculty incentives are not well aligned with community benefits. Universities are decentralized, and different orientations toward the community across departments and units can make for a complex overall picture. Finally, while counting changes in employee or vendor locations may be straightforward, measuring the impact of a community-oriented mission on a local economy or population subject to hundreds of other factors can be very difficult.
For some leaders in academia, seeing institutions launch anchor commitments, and seeing such commitments as prestige projects, has been compelling, Rutheiser said. The Carnegie Foundation for the Advancement of Teaching, which developed the widely used classification system for colleges based on size, research activity and highest degree conferred, has launched a special classification to recognize institutions with strong community commitments.
Compulsory vs. voluntary contributions
The University of Pennsylvania was an early adopter and an important front-runner in the anchor institution movement. Yet, in the past year, the university has been deeply embattled over what it owes its community.
"Universities are identified as an inherent public good … because they provide services to their cities or their communities that would normally have to be procured by the government," Davarian Baldwin, the American studies scholar who recently has published a book on university–city relations, said. Thanks to this classification in the tax code, universities generally do not pay property taxes on what they own, despite some being major urban landholders. Baldwin and some others argue that this, in effect, robs cities of revenue, especially when universities lease property to for-profit businesses.
Partly in response to such critiques, many universities make voluntary contributions to their city governments known as payments in lieu of taxes, or PILOTs. PILOTs are assessed as a portion of the taxes that would be owed on the property universities hold, and institutions can write off services that provide social good. In the 1990s, when Philadelphia was on the brink of bankruptcy, Penn, like many nonprofits, contributed in the form of PILOTs. But later the university dropped the practice.
In recent years, university students and school-based community groups in Philadelphia, led by the nonprofit Jobs with Justice, had campaigned to get the university to return to the practice. A Penn spokesperson told the student newspaper last summer that the university's contributions to school programs and financial contributions to two schools outweighed what it might do with PILOTs. (The paper reported that the school district had received about $861,000 from the university in cash assistance the prior year.)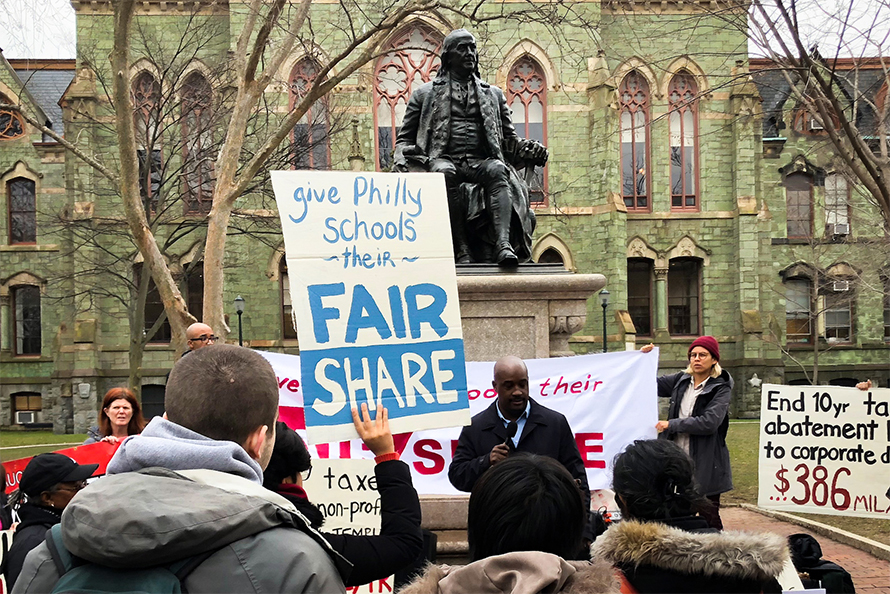 Max Cohen / The Daily Pennsylvanian
Participants in a 2018 protest in support of PILOTs outside of the University of Pennsylvania's Ben Franklin College Hall.
In 2020, with a new push by activists, a group of staff and faculty launched a petition called Penn for PILOTs. The organization calculated that if the university were to pay 40% of the property tax rate on the land it owns, the annual total would be $40 million, or about 0.35% of the university's annual revenues. (If passed through directly to the school system, the sum would represent a 2.5% increase in funding from the local government, which covers about half of the system's annual operating expenses.)
The petition happened to launch just weeks before George Floyd's murder sparked a national wave of social justice activism. It was signed by over 1,100 faculty and staff.
"The two really came together," said Mary Summers, one of the faculty members who organized the Penn for PILOTs campaign. "I remember one faculty person said, 'A man kneeling on someone's neck for eight minutes is a clear example of racism. But so is a child that's not learning to read in an underfunded, overcrowded school with lead and asbestos.'"
In November, Penn pledged to donate $100 million over 10 years to remove asbestos and lead from Philadelphia public schools. It wasn't what Penn for PILOTs was asking for, but it was a significant investment. Summers said, "We see it as a first step," adding she felt certain the pressure activists put on the university had a real impact.
Pep Marie, a lifelong Philadelphia resident and activist who co-led the Pay Your Fair Share movement with a parents' organization called Philly SUN, was not impressed by the gift. "I think UPENN likes to position itself as a savior to Philly," she wrote in an email, "by providing a lot of resources no one asked for instead of paying their taxes or responding to asks from school communities."
Summers traced a connection between the anchor movement and how universities contribute to their cities' bottom lines. "The idea of calling them anchor institutions is saying, 'The cities lost … their factories; now they can depend on universities and medical centers.' But if that's what this new economy is going to look like, these big institutions … have to support the public institutions that everybody needs."
She anticipates that growing political pressure — such as a bill in the Pennsylvania state legislature that would exempt nonpublic buildings such as dormitories and gyms from the public good classification — might incentivize universities to pay PILOTs eventually.
Harkavy said he sees PILOTs as very far from a settled question in Penn's ongoing effort to support its community. "It's one of a number of activities that are on the table, in terms of 'what should institutions do?'"
A tumultuous year
Laur expects the Black Lives Matter movement to prompt greater investment in anchor work. "Layering in anti-racism and trying to think about trying to address systemic inequities has always been a part of what we've talked about."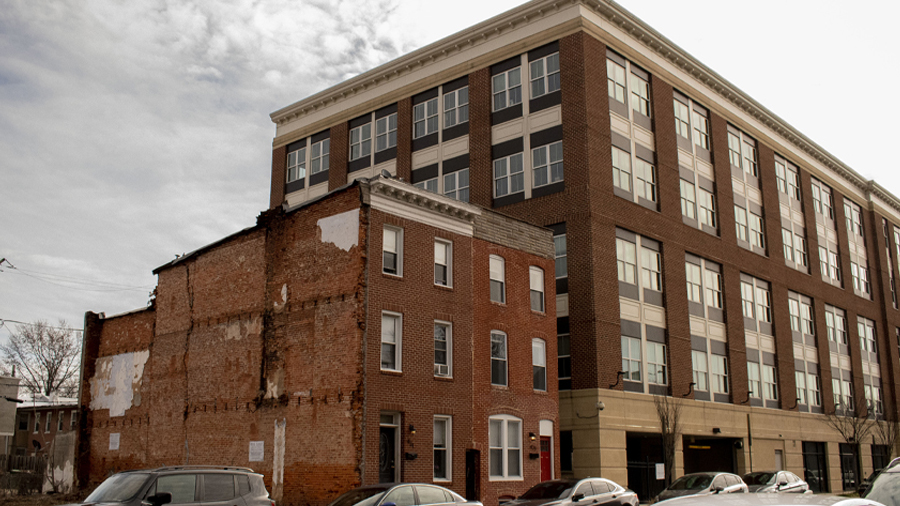 Gelareh Vinueza
A university building abuts older homes near the medical campus of Johns Hopkins University at the corner of Jefferson and Washington streets in West Baltimore.
Meanwhile, universities face difficult financial decisions. A November headline in the Chronicle of Higher Education read, "Colleges have shed a tenth of their employees since the pandemic began." Student enrollment has dropped, and revenues have followed. Some institutions have frozen hiring during the pandemic, and procurement is paused with many students living off-campus and many staff working from home.
If universities are in crisis, their cities may be even worse off. According to a recent estimate, 12 million Americans are behind on rent by an average of almost $6,000, and close to half of almost nine million renters surveyed expected to be evicted within months. Businesses have closed, homicides have increased, and for many children, education has been disrupted for close to a year. All this in addition to the psychological impacts of a year of isolation raises deeply concerning questions about the future.
Community engagement offices at major universities have helped out as they can. Laur said that many universities in the anchor network have acted as trusted conveners during the pandemic, connecting individuals or schools in need of services to the government agencies or foundations that can help them. At the University of Chicago, Alyssa Berman-Cutler's office has worked to support businesses with which they have relationships, offering them free marketing and administrative support in applying for loans and grants.
Then there's direct support: Penn donated $250,000 to support businesses near its campus; Hopkins gave over $2 million; and the University of Chicago contracted with local caterers and with its own food service staff to coordinate a food-distribution program in the early months of the pandemic.
"It was a really nice win-win-win that we were able to stand up very quickly, in part because we had relationships with some of these businesses earlier on," Alyssa Berman-Cutler said.
Still, some projects have halted. In light of budget uncertainty, Chicago's live-local forgivable loans for employee housing have been suspended, at least for 2021.
Laur said that she doubts the pandemic will end the anchor movement. "The university's success is tied to the success of our cities," she said. As such, she expects that even if the scale of hiring or purchasing at universities changes, the processes the anchor movement has inspired for hiring and purchasing more equitably will stay in place.
The anchor movement addresses a number of complex problems that have yet to be resolved — and that Harkavy believes society must face. "If you look at the world today, at what the profound problems are … issues like extreme inequality, social justice and racial justice, issues related to environmental degradation; these are issues that occur in the most sharp and clear form in America's cities."

This article has been corrected. A previous version misstated the University of Chicago office in which Alyssa Berman-Cutler works. It is the Office of Civic Engagement.
Slavery and reparations
In addition to efforts to build wealth in surrounding neighborhoods, some universities are reckoning with their own history of the severest racial inequity: holding slaves.
American studies professor Davarian Baldwin credits Ruth Simmons, former president of Brown University, for bringing attention to this academic history. "In 2003, when she said ... 'we're going to grapple with our roots in slavery,' that was huge, that was heroic, and people thought that she was crazy," he said. Today, dozens of universities in the U.S., Canada and the U.K. belong to a coalition called Universities Studying Slavery.
Scholars recently found census documents from 1850 proving that Johns Hopkins, the founder of the eponymous university, counted at least four people as his property. The find disproved a popular belief that Hopkins, and his parents before him, were avid abolitionists. The discovery was part of a historical examination project called the Hopkins Retrospective, launched in 2013, that aimed to reexamine the university's history. The news was released with an earnest open letter from the presidents of the university, medical school and hospital, promising to reckon with the finding and why the university accepted the story of Hopkins as abolitionist without question for so long. They also promised to join the Universities Studying Slavery.
Georgetown University — which sold 270 people in 1838 to raise funds — formally apologized in 2017. By way of making reparations, the school has offered since 2016 legacy consideration for admission to anyone descended from one of the people the university sold.
A kaleidoscopic movement
This article focuses on three large, private universities in majority-Black cities. These schools have a lot in common, including an outsized effect on their postindustrial cities' economies, since each is among its city's largest private employers. But they represent just one slice of the anchor movement.
"It's not just the Hopkinses, UPenns and UChicagos of the world," Charles Rutheiser of the Annie E. Casey Foundation said; smaller colleges with less substantial endowments, and in some cases large public universities, have also expressed anchor commitments.
As the concept has gained popularity, the number of institutions pursuing an anchor mission has grown. They've organized into several groups, including the Anchor Institutions Task Force, which includes libraries, hospitals and museums in addition to universities and colleges, and an anchor learning network run by the Coalition of Urban and Metropolitan Universities of about 30 universities. Those universities and colleges are diverse in location and size, including state and private universities and ranging in size from just 2,200 students at Wagner College in New York to almost 28,000 at California State University in Los Angeles.
"What really binds everybody together," said Coalition of Urban and Metropolitan Universities executive Bobbie Laur, "is a clear commitment to place."

Join the ASBMB Today mailing list
Sign up to get updates on articles, interviews and events.
Latest in Policy
Policy highlights or most popular articles