News
Nobel Prize honors click and bioorthogonal chemistry
Chemical biologist Bertozzi shares prize with chemists Sharpless and Meldal
Barry Sharpless, Morten Meldal and Carolyn Bertozzi won the Nobel Prize in chemistry this morning "for the development of click chemistry and bioorthogonal chemistry." Their work enables rapid, predictable and high-yield chemical combination of reactants, including biomolecules. Click chemistry that can be carried out in cells, also known as bioorthogonal chemistry, is of particular interest to the life sciences community because it has applications in microscopy, molecular labeling and drug development.
"It is wonderful to see the prize awarded in a field that spans both chemistry and biology, and to have Carolyn Bertozzi recognized for her foundational contributions to the field that she literally named," Ann Stock, president of the American Society for Biochemistry and Molecular Biology, wrote in an email. "The clever synthetic strategies pioneered by the three prize winners are widely used in research laboratories and have opened the door for development of biotherapeutics."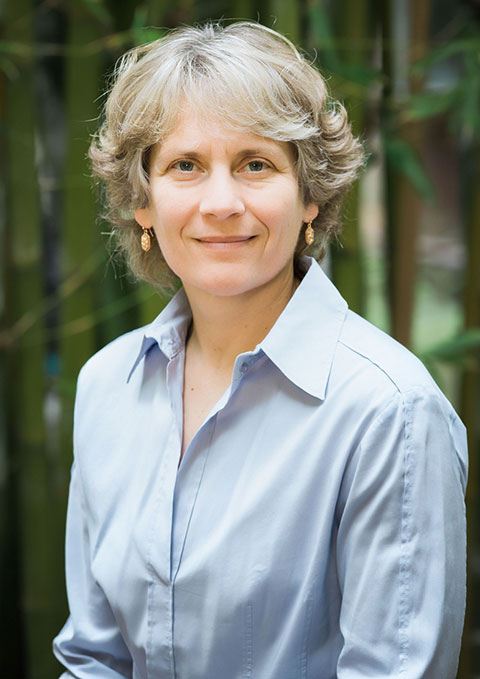 Courtesy of Carolyn Bertozzi
Carolyn Bertozzi won a MacArthur fellowship at the age of 33 and since then has been named a Howard Hughes Medical Institute investigator and an elected member of both the National Academy of Sciences as well as the National Academy of Medicine. ASBMB Today
interviewed her in 2016
about her use of Twitter to stay current on science and weigh in on the challenges of running a lab and parenting.
Click chemistry
Click chemistry solves the problem of how to drive forward a chemical reaction in a specific site on a molecule. Sharpless, a chemist at Scripps Research in La Jolla, California, developed click chemistry about 20 years ago. (He also received a Nobel Prize in 2001 for unrelated work developing chirally catalyzed oxidation reactions.)
In a paper published in the journal Angewandte Chemie in 2001, Sharpless and colleagues outlined the concept, which draws inspiration from polymerization reactions found in nature that link two carbon atoms through a third, different atom. Click chemistry, they explained, is "a set of powerful, highly reliable and selective reactions" that use chemical tags that are highly reactive, but only with one another, to create bonds between any pair of molecules, with limited side reactions.
The range of suitable chemical tags available at the time was limited. Some of the best options, such as a pair including an azide, which has three nitrogen atoms linked by double bonds, and an alkyne, which has two carbon atoms linked by a triple bond, required high heat or other challenging reaction conditions.
Meldal, a chemist at the University of Copenhagen, discovered with colleagues in 2002 that a reaction between an azide and an alkyne functional group could proceed rapidly at room temperature and in aqueous solutions if a copper catalyst was available.
Olof Ramstrom, a professor at the University of Massachusetts, Lowell, and the member of the chemistry Nobel committee who explained the prize to the media at a press conference, called the catalyzed azide–alkyne reaction "click chemistry's crown jewel." In fact, he noted, for many researchers the azide–alkyne reaction has become synonymous with click chemistry. It is widely used in synthetic and materials chemistry, including for manufacturing at industrial scales.
The concept of precisely targeting a reaction to a single molecule was extremely appealing to life scientists, but the copper catalyst required for the azide–alkyne reaction can be toxic to living cells. Bertozzi, a chemical biologist at the University of California, San Francisco, sought ways to achieve equally selective reactions in living cells.
In 2004, Bertozzi and her team developed a chemical tag using a strained alkyne that reacted with an azide without requiring copper. In the paper announcing their work, the group noted that the reaction could go forward in living cells without harming them. They termed the reaction bioorthogonal chemistry, meaning that it could be done in cells without interfering with or being affected by their complex chemical environments.
Bioorthogonal chemistry and its applications
Kevan Shokat, a professor at the University of California, San Francisco, was a graduate student in the same cohort as Bertozzi. "Bioorthogonal reactions allow chemical biologists to track down vanishingly rare components in extremely complex chemical reactions," he wrote in an email to ASBMB Today. With scope to assay nucleic acids, proteins and small molecules, he added, "its versatility is transformative."
For Bertozzi and her team, the biomolecules of greatest interest were glycans, sugar-based polymers that make up the bulk of many cellular surfaces but have historically received less attention than nucleic acids and proteins.
With a bioorthogonal reaction in hand, Bertozzi's lab used it to pursue their longstanding interest in glycobiology. They developed metabolically engineered cells that would take up sugars modified with an azide and incorporate them into glycans, which then could be labeled with bright fluorescent molecules for microscopy, or with other organic molecules that could bind drugs or recruit immune cells.
This week, several colleagues noted Bertozzi's role in bringing both chemical biology and glycobiology more attention. "She's a glycoambassador," said glycobiologist Iain Wilson of the University of Natural Resources and Life Sciences in Vienna.
Two of the most exciting current applications for biorthogonal chemistry, Bertozzi said in a press conference with the Nobel committee, are to deliver drugs to precise destinations in living tissue and as a tool "to discover new types of molecule that we didn't even know existed, because we have a new way of looking at them."
One such molecule came out of Bertozzi's lab, which reported in a 2021 article in the journal Cell the discovery of a new type of hybrid molecule, glycosylated RNA, on the surface of cells. According to Ryan Flynn, the paper's first author who was then a postdoc in the lab, the finding would have been impossible without the ability to label molecules in living cells without chemical interference from a bivalent copper catalyst.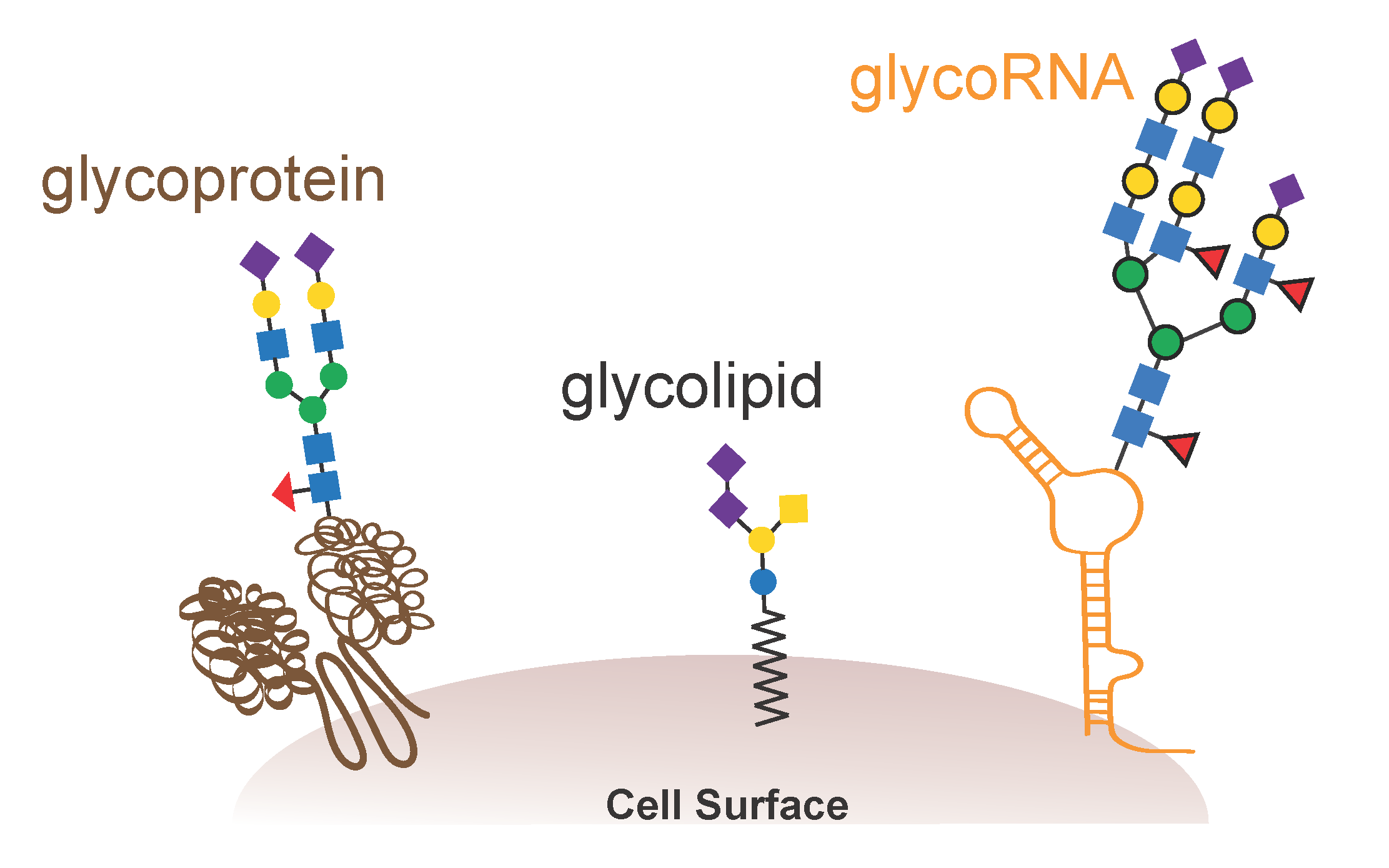 Courtesy of Ryan Flynn and Carolyn Bertozzi
Researchers have long known that glycolipids and glycoproteins are present on the cell surface. Work in the Bertozzi lab revealed what Ryan Flynn describes as the "third hand": glycoRNA.
A champion and a living playground
As a mentor, Flynn said, Bertozzi was thoughtful and intent. "When you're talking to her, she's hyper-present and thinks incredibly deeply about what you're saying. … In the context of being hilariously busy all the time, the ability to do this for whomever she's speaking to is special."
Yamuna Krishnan, a chemical biologist at the University of Chicago, met Bertozzi during a seminar visit Bertozzi made to Chicago when Krishnan was a recent immigrant and young professor. Noticing that Krishnan had yet to feel at home in the chemical biology community, Krishnan recounts, Bertozzi "with her characteristic warmth and brilliance said, 'Let's de-orphanize you!'" — and then made good on the intention.
Other trainees and mentees also lauded Bertozzi's mentorship. "She is a tireless champion for her students and a beacon for queer chemists everywhere," wrote Mireille Kamariza, who earned her Ph.D. in Bertozzi's lab. (Bertozzi is the first lesbian laureate in chemistry. She and Svante Pääbo, who received this year's prize in physiology or medicine, join a short list of openly LGBT Nobel laureates, very few of whom have been scientists.)
During Wednesday's Nobel press conference, which was held at roughly 3 a.m. California time, shortly after she received the news, Bertozzi said, "I'm absolutely stunned. … I'm still not entirely positive that it's real, but it's getting realer by the minute."
She may have been surprised, but many in the field had predicted this prize would come someday. Bertozzi is widely regarded as a leader in the field of chemical biology, and several public polls of chemists, for instance one run by Nature editor Stuart Cantrill, predicted a win for biorthogonal chemistry.
Bertozzi noted in the press conference that she was glad the prize will draw attention to the field of chemical biology and added that it made her "reflect on how fortunate I have been" to work with talented colleagues, students and postdocs over the years.
Those colleagues emphasize that Bertozzi's inventive thinking was key to her success.
"She threw caution to the winds and approached biology with an inventor's mindset," Krishnan wrote. "Suddenly her work made chemists look at biology a little differently — (as) a complex living playground to integrate new chemistries and understand a little more."
Enjoy reading ASBMB Today?
Become a member to receive the print edition monthly and the digital edition weekly.
Learn more
Get the latest from ASBMB Today
Enter your email address, and we'll send you a weekly email with recent articles, interviews and more.
Latest in People
People highlights or most popular articles