Feature
International collaborations
Professor brings undergrad researchers from Iowa to India
In January of 2017, seven undergraduate students from Drake University in Iowa landed at Mumbai's international airport. They were 12 hours later than expected and had lost their luggage in transit.
The students hoped to bridge the gap until their clothes caught up with them by shopping in the city nearest to Pravara Institute of Medical Sciences, where they were to spend a month studying. But when they arrived, they learned that a prominent local politician had died; the city was in mourning, stores would be closed for at least the next three days and their hosts at the medical college, founded by the late politician, wanted them to attend the funeral.
Thanks to a quietly organized after-hours shopping trip, the students acquired appropriate clothes and were able to attend the ceremony and pay their respects. According to Pramod Mahajan, the Drake professor who organized the course, that year's students learned at least as much from that experience as from their research projects.
Mahajan was instrumental in starting the exchange program that took the students to India. He used skills honed during his business career to sell an interscholastic partnership that has been running eight years; since 2015, he has accompanied every class.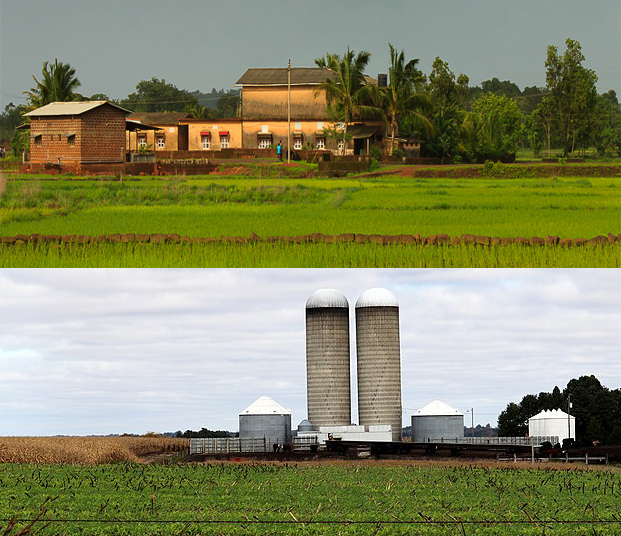 An exchange program run by Drake University and Pravara Institute of Medical Sciences brings students to rural Maharashtra (top photo) from rural Iowa (bottom photo). According to Pramod Mahajan, the Drake professor who helped start the program, the regions have more in common than one would think.Elroy Serrao/Wikimedia Commons
Putting together a program
Drake University prides itself on its study-abroad opportunities. But for years, it did not offer a health-related course in India. Despite efforts to connect with prominent Indian universities, Drake, a midsized, predominantly undergraduate institution, had trouble getting noticed.
Raylene Rospond, then dean of the school's College of Pharmacy and Health Sciences, spotted an opportunity in the announcement of the Obama–Singh 21st Century Knowledge Initiative, a grant designed by the two countries' then-leaders to develop collaborations between Indian and American schools.
To apply for the grant, the Drake faculty had to find a partner institution. And they needed to act fast; they began discussing the opportunity just a few months before the application deadline.
Mahajan knew of a likely candidate, a growing medical school near his wife's hometown in the state of Maharashtra. Pravara Institute of Medical Sciences is in Loni, a town of about 12,000 with a single movie theater, otherwise notable as the home of Asia's first cooperative sugar mill. The farmer who founded that mill in 1950 later turned to philanthropy, launching a medical trust. His son (whose funeral the Drake group attended in 2017) founded the college in 2003.
Every time Mahajan and his family visited his in-laws, he said, he saw more new buildings going up in Loni. So when Drake's faculty met in the summer of 2011 to discuss applying for an Obama–Singh grant, partnering with PIMS seemed an obvious choice. Mahajan used his business acumen to develop an analysis of strengths, weaknesses, threats and opportunities of a possible partnership, which he presented to the meeting. It convinced his colleagues.
Though familiar with the college in Loni, Mahajan didn't have a single contact there. So he sent a cold email. "They could have said, 'Drake University? We don't know them.' It could have dissolved right there," he said in a recent interview. "But that didn't happen."
After a brief email correspondence and a hastily arranged visit, the two institutions struck up a collaboration and wrote the grant, all within just six weeks.
"Regretfully, that grant did not come through — but that did not stop us," Mahajan said.
The institutions decided to offer the course, funded by tuition, starting in 2012. With support from the administration, international programs staff and key faculty at both schools, the program has grown to include student exchange and collaborative research projects.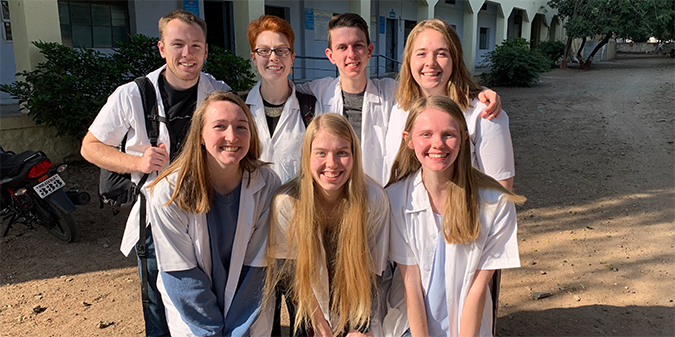 The seven Drake students who visited PIMS in January are, in back, from left to right, Drake Reiter, Danielle McKay, Andy Kosharek and Erin O'Keefe, and, in front, Mikayla Soelter, Erin Steffenson and JaNiese Jensen.Courtesy of Pramod Mahajan
The international experience
In late December 2018, this year's seven Drake students arrived at PIMS, ready to start four-week research projects at the college's Centre for Social Medicine.
In past years, students in the program have investigated cancer incidence, snakebites, burns and poisoning cases, using a mix of medical records and qualitative research methods. This year, they chose from three public health topics. One group of students looked retrospectively at postpartum hemorrhage, another team dug into a drop in HIV infection rates, and a pair of pharmacy students surveyed professors and practitioners of Ayurveda, a traditional medical discipline, to understand how they manage patients' pain.
Erin O'Keefe and Mikayla Soelter, who worked on the HIV project, got a chance to practice adapting their research question on the fly.
"Originally, (we were) going to investigate whether there was a change in HIV prevalence," said O'Keefe, a sophomore biochemistry major. "But the data that they gave us clearly told us that there was."
The students shifted their focus to a behavioral survey of high-risk groups, interviewing local sex workers under the guidance of PIMS public health students to understand what drove the decrease in infections. O'Keefe, who hopes to become a doctor, said the project challenged her to approach patients in a nonjudgmental way.
"If someone's going to a doctor, they clearly need help," she said. "You're not there to judge them; you're just there to give them the best care possible."
In addition to learning research methods, the students said, they learned a lot from the travel itself. "There's no way to describe what it's like to arrive on the other side of the world," sophomore Andrew Kosharek said.
For one thing, there were the crowds. Soelter, who hails from a small town in Minnesota, said, "I think 'rural' means (a town of) a couple thousand."
That's not the way it is in Maharashtra, where the population density more closely resembles New England than the American heartland. Laughing, Soelter added, "Crossing the street the first time involved screaming."
According to Mahajan, despite the obvious differences, some core similarities link health care in Loni and Des Moines. While the hospital at PIMS offers superb medical care, some villages within its service area are up to 50 miles from the nearest clinic. "That is exactly how rural Iowa is," Mahajan said. He added that "some of the healthcare issues we're facing there," including chemical exposure and injuries from farm equipment, "are exactly the same."
The Drake students said they learned a lot from seeing how public health professionals at PIMS approached these challenges — for example, with a mobile clinic program. Danielle McKay was one of the two pharmacy students studying Ayurveda. "What became a theme for us was that even though they might not have a perfect solution, they would go into the community … and go for the solutions, even if they weren't perfect," she said.
"You kind of go in with the mindset that you know how to fix other people's problems," added Drake Reiter, who worked with McKay. "But when you actually go to that place, you realize … they're the ones who know what problems they have, and they know what they want to do to solve them."
Mahajan doesn't expect all his students to take these insights into public health careers — although some have. But he finds giving students an introduction to public health research is its own reward.
In Texas, 20 years ago, "I was a faculty member entirely focused on getting that R01," Mahajan said. "After coming to Drake, I realized there's a lot to be done at the undergraduate level."
Mahajan's path to Drake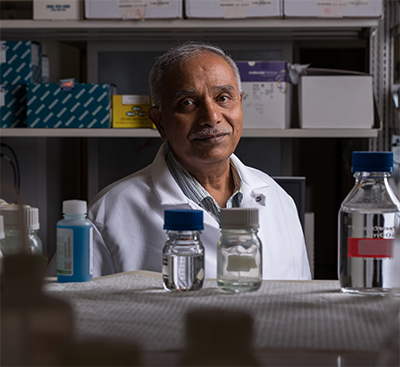 Pramod MahajanAnthony ArroyoPramod Mahajan, a deliberate speaker with a salt-and-pepper mustache, can tell a lot of stories about adapting to and overcoming obstacles. His career has taken him from academia to industry and back.
After a Ph.D. in enzymology and a stint in a government lab in India, where he researched new manufacturing methods for antibiotic precursor molecules, Mahajan came to the U.S. as a postdoctoral researcher. He landed a faculty job at the University of Texas Medical Branch at Galveston, where he studied transcription mechanisms. But pay lines from the National Institutes of Health were low — the field didn't explode in popularity until the mid-1990s. Seeking greater stability, he moved into biotechnology, joining an agricultural company called Pioneer Hi-Bred.
"Their interest was in modifying plant genomes," Mahajan said. "I used to joke that the only thing I knew about plants was how to eat them."
He learned fast, securing more than 30 patents in 15 years for improvements in gene targeting-based methods for plant engineering.
"We succeeded in doing targeted modifications to the genome, even at the single-nucleotide level," Mahajan said. "But (the technique) was so low-efficiency that it just wasn't practical. It was one of those cases where the surgery was successful, but the patient did not survive."
In 2004, when agricultural giant DuPont bought and restructured Pioneer, Mahajan and many of his colleagues were laid off. With a family happily settled in Des Moines, Mahajan was glad to join the faculty at nearby Drake University as a professor in the pharmacy program.
Join the ASBMB Today mailing list
Sign up to get updates on articles, interviews and events.
Latest in People
People highlights or most popular articles