Retrospective
Frank Talamantes (1943—2018)
Frank Talamantes was a renowned scientist who spent much of his career advancing the research community's understanding of endocrinology. Specifically, Frank was known for his work elucidating the mechanisms of placental lactogens, prolactins and growth factors in reproduction. He also was known for his mentoring of younger scientists and colleagues.
With his peaceful death on Oct. 8, we all lost a trusted friend.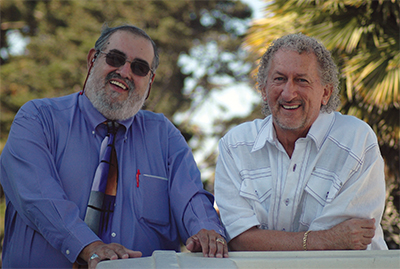 Frank Talamantes, left, and Thomas Landefeld share a laugh at Landefeld's wedding in 2012, where Talamantes served as best man.PHOTOS COURTESY OF THOMAS LANDEFELD
Frank joined the University of California, Santa Cruz, faculty in 1974 as a member of the molecular, cell and developmental biology department. There, he and his research group conducted seminal studies of the roles of placental lactogens in pregnancy. He later was appointed to administrative roles, including vice provost and dean of graduate studies from 2000 to 2004.
In 2004, Frank retired from UC Santa Cruz and subsequently joined the faculty of the Paul L. Foster Medical School at the Texas Tech University Health Sciences Center in El Paso in 2005 as a professor and assistant dean for research. He was recognized widely for his pioneering research on reproductive hormones and hormone receptors.
Frank was deeply committed to supporting the careers of students and early-career scientists, particularly those who have not been historically well-represented in molecular biology and biochemistry. He was a charter member of the Society for the Advancement of Chicanos and Native Americans in Science, or SACNAS, and later served as the society's president at a pivotal time in its history, 1987–1990. His outstanding work in that arena was recognized in 1989 with a national award from the American Association for Higher Education. After his death, SACNAS established a scholarship in Frank's name to help students travel to the annual SACNAS conference, honoring his commitment and advocacy.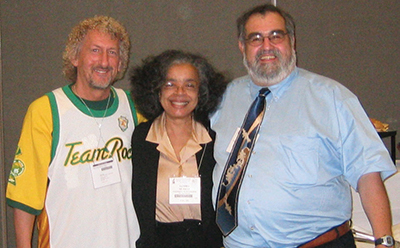 Frank Talamantes, right, poses with his friends and fellow endocrinologists Thomas Landefeld and Sandra Murray at a Federation of American Societies for Experimental Biology meeting.Frank was recruited to the American Society for Biochemistry and Molecular Biology Minority Affairs Committee in 2006 and served two terms. During that time, the MAC established the Ruth Kirschstein Diversity in Science Award and nominated a number of renowned scientists for other national awards. The MAC will remember his ability to mentor and inspire other members of the committee effortlessly and often without even knowing it.
Frank was a native of El Paso, Texas. He earned a bachelor's degree in biology from the University of St. Thomas in Houston and a master's in biology from Sam Houston State University in Huntsville, Texas. He earned his Ph.D. in endocrinology from the University of California, Berkeley, in 1974.
Throughout his life, Frank was a bold trailblazer who took risks in many aspects of the scientific enterprise. After his retirement, he continued to promote diversity from his home in El Paso for as long his health allowed. His legacy continues through his former students and mentees.
Frank is survived by two daughters, Margaret and Laura Talamantes, and three grandchildren.
Remembrances
While I was a member of the Minority Affairs Committee, Frank was one person that I counted on for support. He never pulled me aside to pump me up, but instead he had this ability to speak about the issues we addressed during meetings that made one feel supported. As I pushed for the ASBMB to have a bigger presence in K–12 education, Frank would cite the many reasons why this mattered and should matter to us all. His words help me continue to work on tough issues.
— Regina Stevens–Truss
professor of chemistry
Kalamazoo College
---
Frank and I were both endocrinologists, and he was a member of the inaugural Endocrine Society Minority Affairs Committee, which I organized and established over 20 years ago. I recommended him for membership on the American Society for Biochemistry and Molecular Biology MAC and the Federation of American Societies for Experimental Biology's Maximizing Access to Research Careers program. His work with these groups was based on his tremendous commitment to and advocacy for underrepresented minorities in science.
As the consummate academic/scientific mentor, Frank mentored everyone, from students to peers, minorities to non-minorities, and he mentored constantly, at conferences, meetings, in Starbucks, even at weddings (he was my best man). I considered myself a mentor in many of the same areas as Frank, but I always held him up as the mentor I most wanted to emulate.
Frank was also just a fun and nice guy to be around. I remember when he and I were at an International Congress of Endocrinology meeting in Osaka, Japan, we were walking around, not sure where we were or where we were going and obviously not able to speak or understand the native language. As I started to worry a bit, Frank calmly said, "Don't worry, we will be fine. They will think that I am a famous sumo wrestler and you are my manager."
Frank often said, "A mentor is like a tattoo. Once you have it, you have it forever." Anyone who was touched by Frank will never forget him.
— Thomas Landefeld,
professor of biology
California State University, Dominguez Hills
---
Frank was a wonderful person and an important mentor, and he lived what he loved. As I look back on my many interactions with him I realize now that he was always my "guide on the side." He never shone the spotlight on himself or what he was doing for others, but whenever needed he was always willing to share his insights and experience. It is clear to me now that Frank knew that his accomplishments would only be as deep as his legacy — and that legacy is in the many people who he mentored, guided, supported and promoted. I owe a great deal of my personal success to him, as he was a role model for me and I'm a far better person because I had him in my life, I hope to keep his spirit alive by paying forward what he did for me. He will be dearly missed, but not soon forgotten, and his legacy and spirit will live on for many years.
— Phillip A. Ortiz
assistant provost, undergraduate and STEM education
The State University of New York
Make a donation
In honor of Frank Talamantes' commitment to mentorship and student advancement, the Society for the Advancement of Chicanos and Native Americans in Science has established the Frank Talamantes Memorial Travel Scholarship to help students attend the SACNAS annual meeting. To donate directly to this scholarship, go to sacnas.org, click on the Donate button and enter "Frank Talamantes" in the tribute message box.
Join the ASBMB Today mailing list
Sign up to get updates on articles, interviews and events.
Latest in People
People highlights or most popular articles